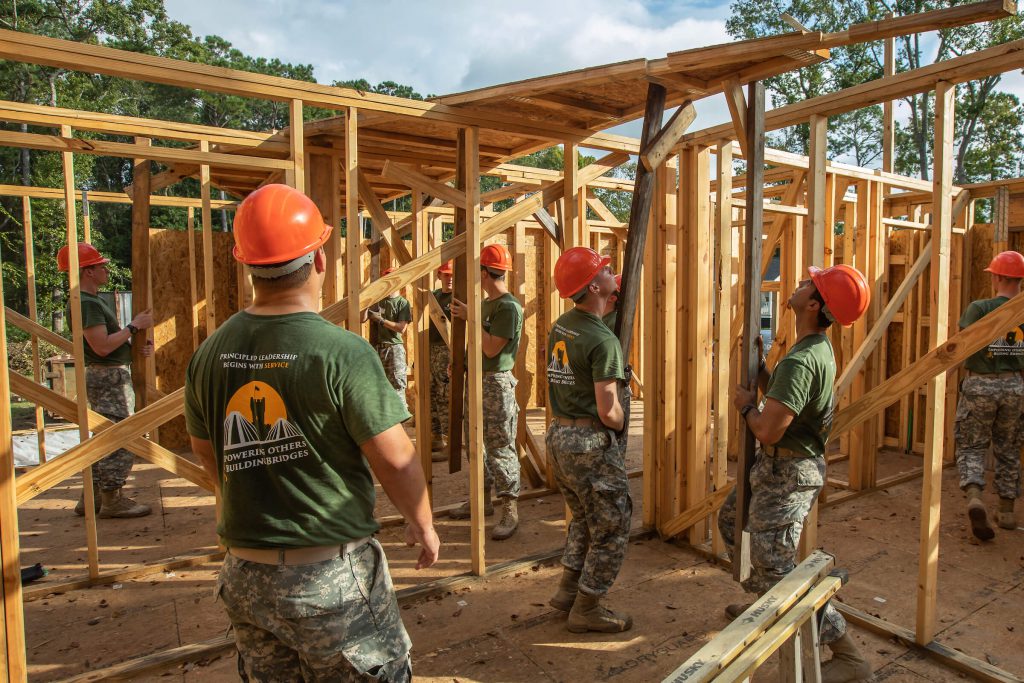 War on Terror Medal of Honor recipient to participate
Photo above: Citadel cadets frame a house for Habitat for Humanity on Leadership Day 2018
The Citadel Class of 1979 Leadership Day is an annual event when more than 1,000 cadets go out into the Lowcountry to help community partners through volunteer service. Others study leadership and ethics with professionals on and off campus. And, each year, a Medal of Honor recipient visits to share their leadership story.
The day is organized by the college's Krause Center for Leadership and Ethics and is now being funded by The Citadel Class of 1979.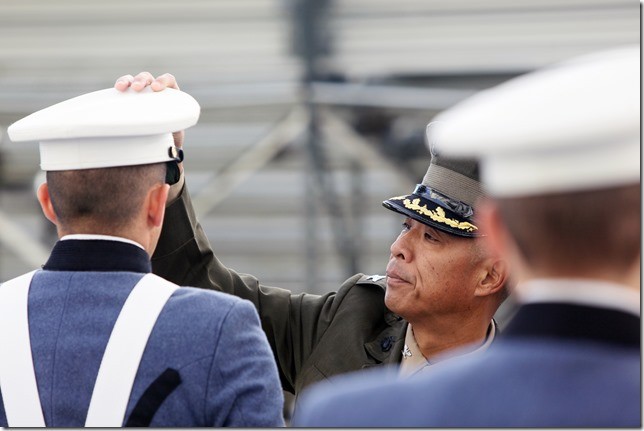 We believe our endowment of The Class of 1979 Leadership Day will have a positive and lasting impact on every cadet, in every class, long after they graduate. It also ensures that the legacy of the Class of 1979 extends well beyond The Citadel's gates and into the future.

Col. Leo Mercado, USMC (Ret.), former Commandant of Cadets, The Citadel Class of 1979
On this day the regular class schedule is paused and cadets, students and many members of faculty and staff are involved in service learning. Before the pandemic, The Citadel provided an average of 20,000 hours of community service annually. The college hopes to eventually get back to that level of service as more face to face opportunities for volunteers become available.
Honored guest for the day: Sgt. Kyle White, Medal of Honor Recipient
Specialist Kyle J. White distinguished himself by acts of gallantry and intrepidity at the risk of his life above and beyond the call of duty while serving as a radio telephone operator with Company C, 2d Battalion (Airborne), 503d Infantry Regiment, 173d Airborne Brigade, during combat operations against an armed enemy in Nuristan Province, Afghanistan on November 9, 2007.
Those are the words from the beginning of White's Medal of Honor citation on the Congressional Medal of Honor website. White will be at The Citadel on Oct. 20 to share his story personally. He'll be addressing freshmen at 9:30 a.m. in McAlister Field House, which is open to the public. Later in the day, White will be honored by the South Carolina Corps of Cadets on campus during a closing activity.
According to the Congressional Medal of Honor Society, there have been 3,508 recipients total. White is one of 66 living recipients.
What cadets will do
Leadership Day assignments depend on the grade level of the cadets, as listed below.
Freshmen are led by trained upperclassmen and normally visit elementary schools, engaging the students in an activity to increase their awareness of heroism and service to others. Due to the pandemic, the freshmen will stay on campus this year and create packages and materials for teachers to provide the lesson on heroism at a later date.
Sophomores choose from a variety of service projects on and off campus. Below are some of the places they will be volunteering.
Bicycles for Humanity at Porter-Gaud School
Bulls Island, Cape Romain Wildlife Refuge
Keep Charleston Beautiful cleanup locations: Gadsden Green Housing Authority, Food Lion (King St.), South Carolina Aquarium, Sanders Clyde Elementary School
Learn Horse Rescue, Awendaw
Lowcountry Orphan Relief
Sea Island Habitat for Humanity in Ravenel
The Green Heart Project
Juniors The Junior Ethics Enrichment Experience is a one-day seminar on ethical decision making and character development designed to promote ethical culture. Cadets will learn how to recognize the moral dimensions of complex cases, make ethical decisions using well-developed theories and develop their character using virtue ethics.
Seniors The LDRS 411 Senior Leadership Integration Seminar is typically an off-campus, full-day professional development seminar. Cadets engage with career professionals to learn about their leadership and ethics practices, then faculty facilitators aid cadets in planning how to apply their four-year, Citadel Leader Development Program education to their lives their lives after graduation based on their field of study.
New this year will be a closing celebration, honoring Sgt. White, with the entire South Carolina Corps of Cadets on Summerall Field beginning at 5:15 p.m.