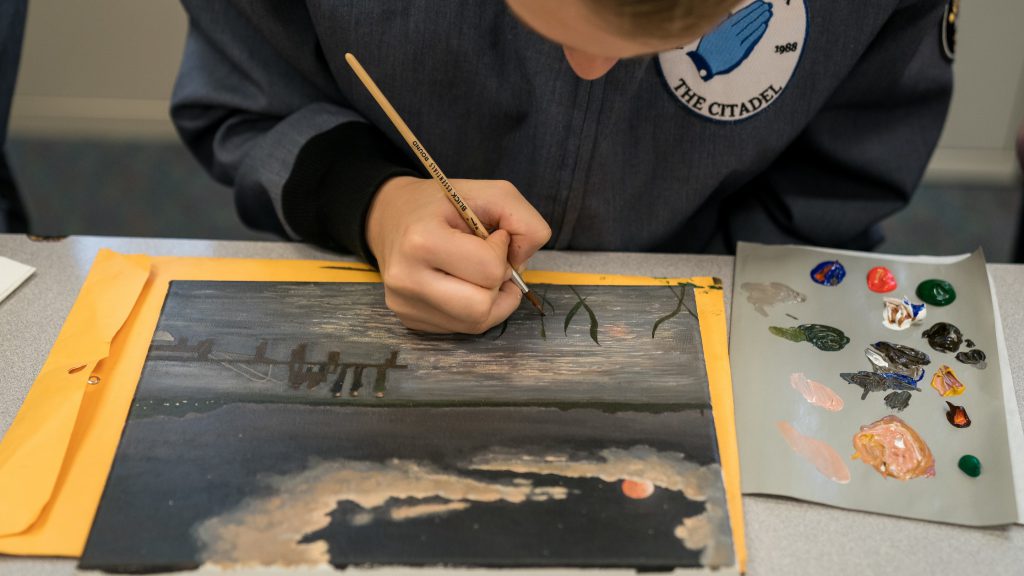 Though it's an academic minor at The Citadel, Fine Arts has a major appeal for the South Carolina Corps of Cadets.
The program provides cadets opportunities to enhance their creative thinking and ingenuity. It also offers some balance from the regimented, 24/7 military lifestyle on campus.
"Creative problem-solving, analysis of detail and insightful perspective are the hallmarks of our Fine Arts cadets and students," said Tiffany Silverman, director of the Fine Arts program. "The Fine Arts have been a part of The Citadel's curriculum since 1949 because these skills and experiences complement so many other disciplines."
More than 300 cadets took a Fine Arts class in the fall 2021 semester, and they had plenty of subjects to choose from.
The 16 courses offered include Art Appreciation, Graphic Design, Acting, Photojournalism and Forensic Photography.
At the end of each semester, cadets and students in the program are recognized in an awards ceremony. The fall celebration was was held Dec. 6 at the Swain Boating Center.
Awards presented include:
James Glass Cooley Art Prize – given in honor of Army veteran James Glass Cooley, whose love of the arts inspired his family to create this award in his honor (18 prizes given with cash awards)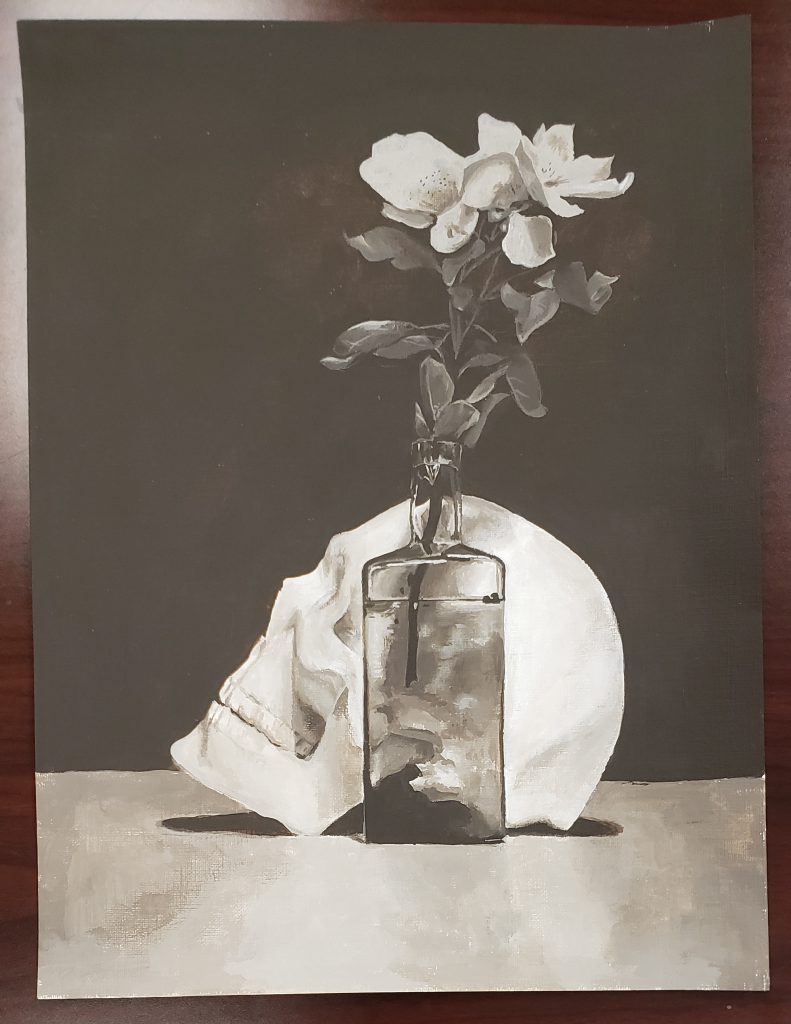 Stacy L. Pearsall Citation for Photographic Excellence – given by decorated combat photojournalist, School of Humanities and Social Sciences Board Member and honorary graduate Stacy Pearsall in recognition of merit in photography and photojournalism classes (five prizes given with book awards)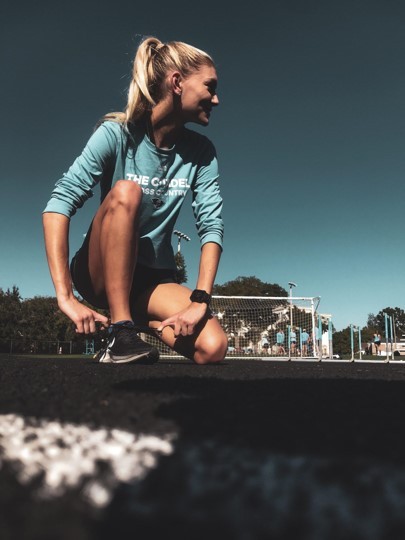 Todd Schenk Award for Excellence in Forensic Photography – given by Lt. Todd Schenk, Class of 2013, who took Silverman's Photography course and was hired by SLED as a crime scene investigator. He returned to provide professional support to Professor Kevin Free's Forensic Photography class and recognizes the most outstanding student of the semester.
During the ceremony, Fine Arts faculty also recognized the leadership of the Fine Arts Club — Cadet Lauren Sordo, the president, Cadet Will McNay, vice president — as well as the six fine arts minor who graduated in December.
Other 2021 events supported by the Fine Arts program included:
Cadet and faculty leadership throughout the conservation project for the Riverview Room's large landscape mural
Presentation of the World Trade Center fragment during the 9/11 campus commemoration at Homecoming
Charleston Museum field trip with 75 cadets who met with CEO Carl Borick
Leadership Day engagement with city art leaders including from Gibbes Museum, Mayor Tecklenberg, Dock Street Theatre and the City Gallery
Cadet-led, trash sweep service project that became a recycled art project inspired by coastal preservation art of Mary Edna Fraser
Open Mic Nights for cadets to perform in the Mark Clark Hall Lounge
Fine Arts classes are being primarily held in Bond Hall during the Capers Hall Replacement Project. When that project is complete, the new building will include a dedicated art studio, a 250-seat performance auditorium, art exhibition space and a cutting-edge digital media lab.
With more than 100 cadets and students declaring Fine Arts as their minor, it's one of the largest in the college.
For more information on the Fine Arts minor, click here.