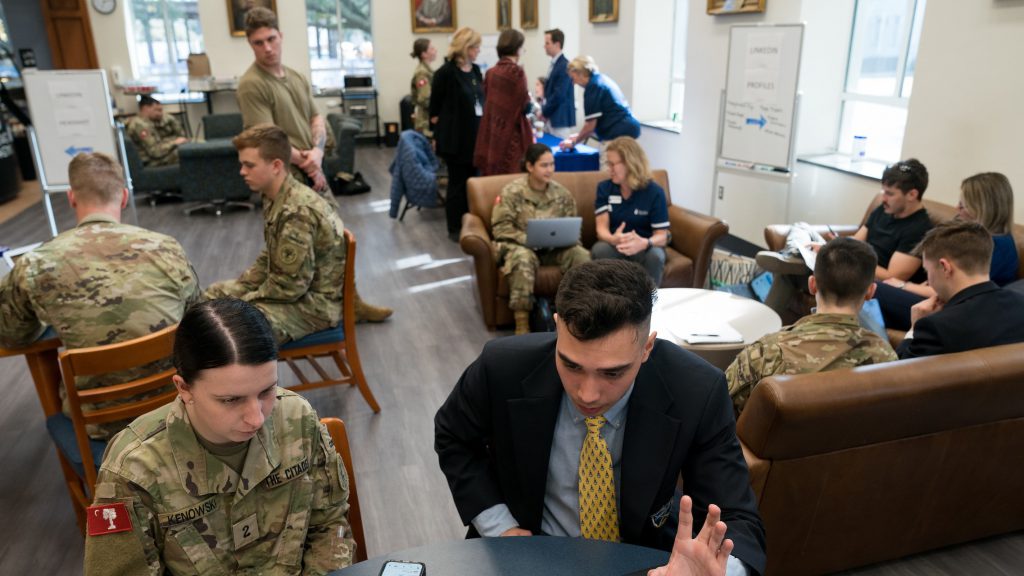 Photo: Cadets and students at various workstations during The Citadel Career Center's "Ready, Set, Hire!" event in Daniel Library.
By Alaina Rink, CGC '22
More than 120 cadets and students are another step closer to their dream jobs after stopping by Daniel Library for the Career Center's job fair prep event, "Ready, Set, Hire!"
The participants received personalized guidance on building LinkedIn profiles, delivering elevator pitches, conducting real-life professional interactions and, of course, writing resumes.
Cadet Sam Zeron is majoring in Business Administration with the Baker School of Business. He said, "I came to here to get the type of verbage needed for resumes. I think I have good, hirable qualities, but want to convey them better."
The Career Center's internship coordinator, Susan Pope, shared some of her top resume tips:
Start LinkedIn and resume building during your first year at The Citadel. Update these regularly.
Identify which of your skills employers are looking for and articulate how you have developed them.
Tailor each application to each specific job; have multiple versions of your resume. Get another person to proofread.
As undergraduates, your resume should only be one side of one page. PDFs keep formatting intact.
As director of the Career Center, Page Tisdale has seen students reluctantly attend resume workshops, decide they might as well attend the job fair and then land the job they didn't know they were looking for. "Even if you think there is no company you want to work for in the future, just practice interviewing," she said.
The Career Center is there for every step. Thanks to the generosity of donors, they have a closet of men's and women's suits available to be borrowed by cadets attending events that require professional attire. Photography professor Kevin Free encouraged students to take advantage of this resource as he took their headshots for LinkedIn profiles.
"We worked collaboratively with the Career Center, Citadel Student Success Center's Writing Lab and Speaking Lab to help prepare students to engage professionally with employer partners and practice their professionalism," said Tisdale.
It's efforts like these that aid The Citadel's strategic initiative to infuse career readiness as a leading part of the college's culture.
For more information on joining the South Carolina Corps of Cadets, click here.
---
Alaina Rink is a graduate assistant in the Office of Communications and Marketing while pursuing a master's degree in English. She earned her undergraduate degree from the College of Charleston in secondary education English and taught in the Charleston area for four years.