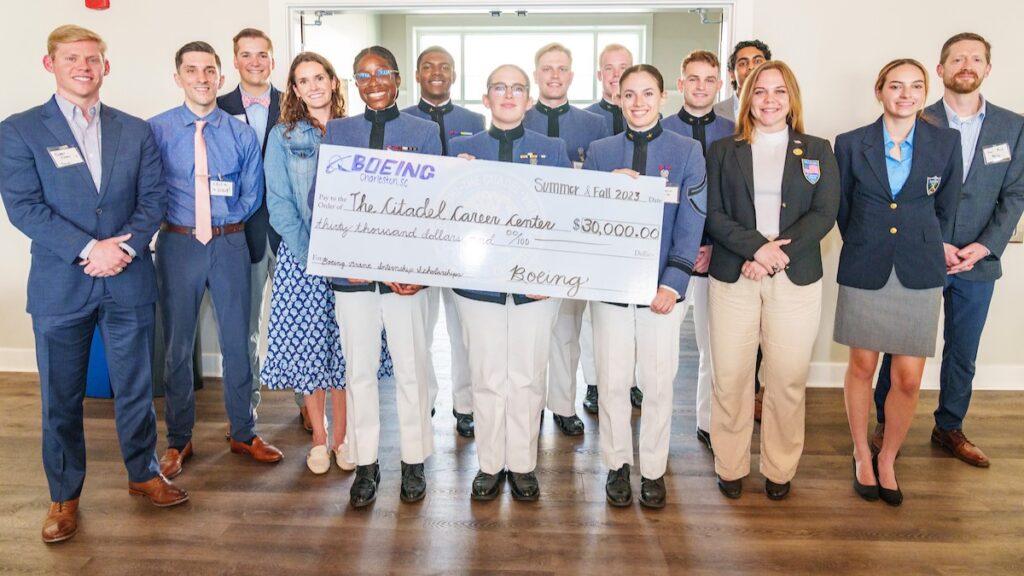 For the second year in a row, The Citadel Foundation received a $30,000 grant from Boeing to support The Citadel Career Center, which connected cadets and students with internships that will help them reach their professional aspirations. To celebrate their accomplishments, the Career Center held an appreciation event to give cadets and students, as well as their site supervisors, a chance to talk about their internship experience that took place throughout the summer and fall.
This year saw a varied representation of majors: Supply Chain Management, Biology, Chemistry, Civil, Electrical and Mechanical Engineering, Criminal Justice, Exercise Science, Finance, Marketing and Business Development and Psychology — from 14 different cadets and students.
"Without this grant we could not serve our students. Our students are going through college, military and a whole bunch of other things, so finding time in their full schedules for internship opportunities is amazing — they are a reflection of this institution," said Susan Pope, internship coordinator for the Career Center. "In regards to the event, it was a great opportunity to have all of that talent in one space and to learn of their individual internships through the financial opportunity provided by our neighbor and investor, Boeing."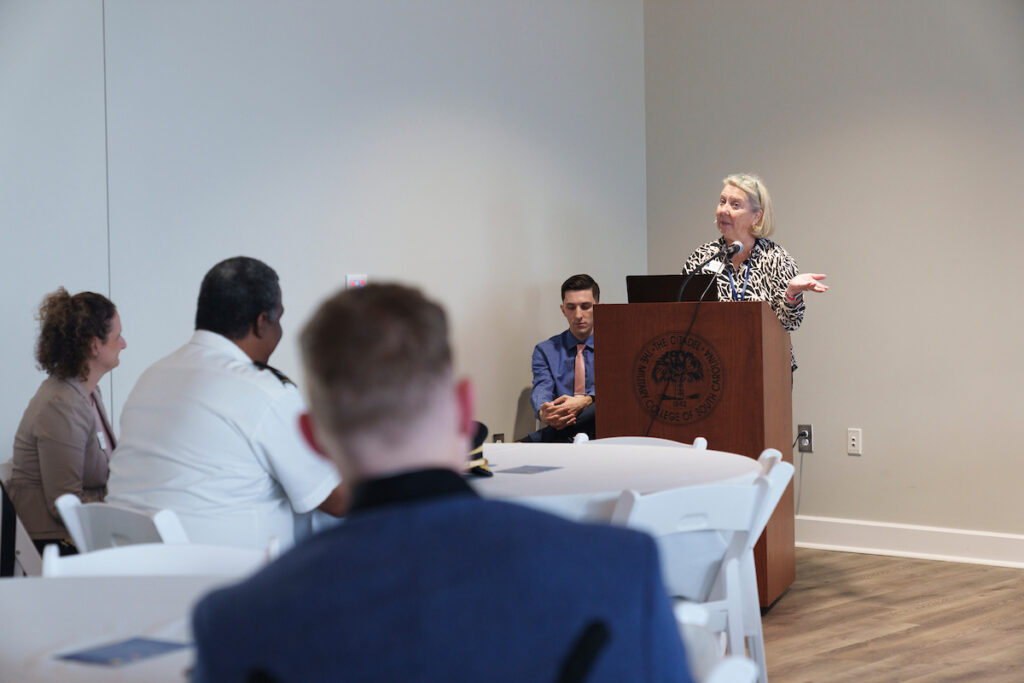 Cadet Andrew Hanson, a senior majoring in Civil Engineering, worked with Scott Curtis, Ph.D., professor and director of the Near Center for Climate Studies. His internship experience involved research, specifically focused on heat in the Gadsden Green area. The purpose of this research was to see if the weather in this neighborhood was different or similar in the surrounding areas and how to combat heat-related issues in that area.
Veteran day student Ashlyn Howard also had her internship right on campus — she interned in The Citadel's Office of Communications and Marketing, where her experience as a veteran student came in handy. Howard worked on marketing campaigns for veterans and active-duty students, including digital advertising, focus groups, photo shoots and working with third-party vendors.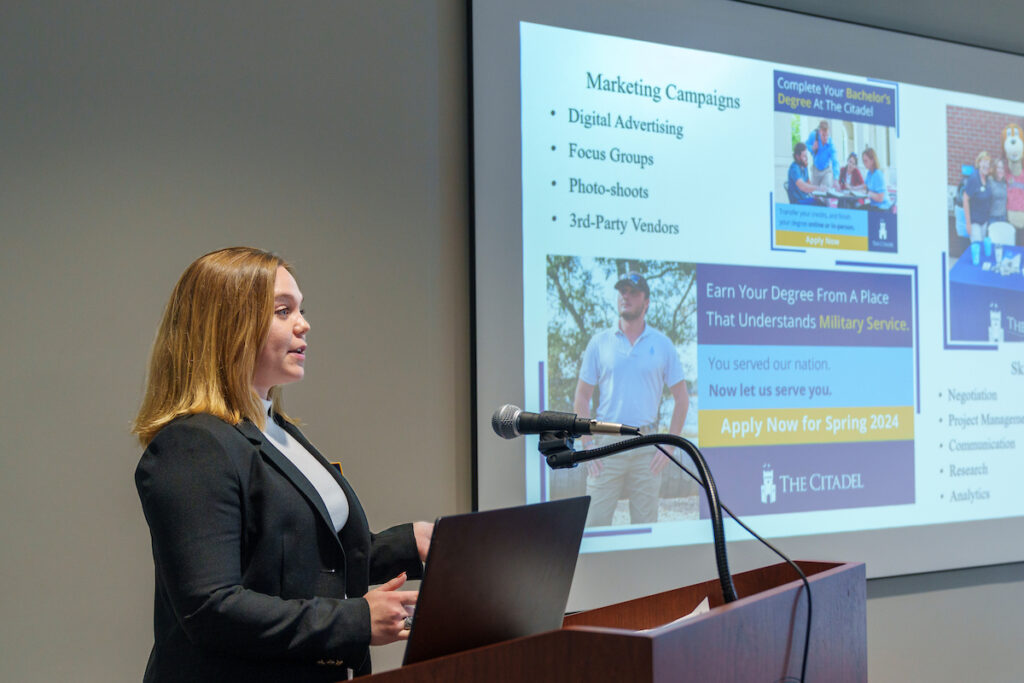 "It's been exciting, I'm sad to be leaving when I graduate, but I have gained so much experience from this internship," said Howard.
Cadet Austin Brown interned with The Citadel's Department of Facilities and Engineering, where he helped fulfill work orders, attended meetings and more. Brown was featured on The Citadel's official Instagram page discussing his experience interning with the department, which included helping maintain the solar panels on top of the new Capers Hall. During the event, Brown spoke about how his internship has been one of the biggest learning experiences of his cadet career.
Interning with the Isle of Palms Police Department was Cadet Brianna Owens, a Criminal Justice major who said this experience has pushed her further down the path of pursuing a career in law enforcement. While Owens' work did have quite a bit of learning and paperwork involved, she was also able to work several events within the Isle of Palms community to strengthen the bond between police officers and residents.
Bricee McEntire, a graduate student at The Citadel pursuing her master's in clinical counseling, interned with Empowered Family SC, a local private practice. McEntire was able to work with children, attend the Lowcountry Mental Health Conference and gain invaluable experience in her field.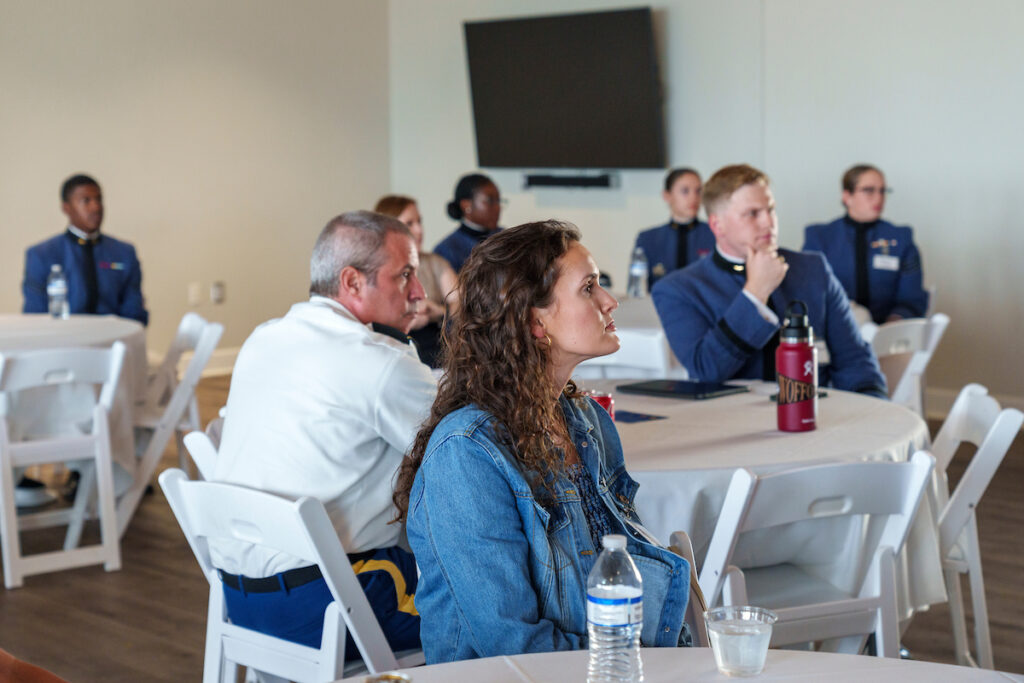 "I want to thank the Career Center and Boeing — I've seen what this grant can do for other students and cadets and being in the mental health field. It's hard to find a paid internship, so having a paid internship is a huge benefit to my experience," said McEntire.
Chad Sanders is a veteran day student majoring in Electrical Engineering. His internship took place at the Naval Information Warfare Center, or NIWC. He worked with the U.S. Marine Corps Electronic Security Systems lab where they tested and advised on which technology would be suitable for the Marine Corps' security systems. Sanders said as a Marine Corps veteran, this internship experience felt like home.
Cadet Evans Banks, a Chemistry major, plans to attend dental school after he graduates. As part of the Boeing grant, he was able to intern with North Charleston Dental Outreach and gained clinical hours for his work there. Banks worked in the sanitation department and assisted the doctors and is excited to continue his work.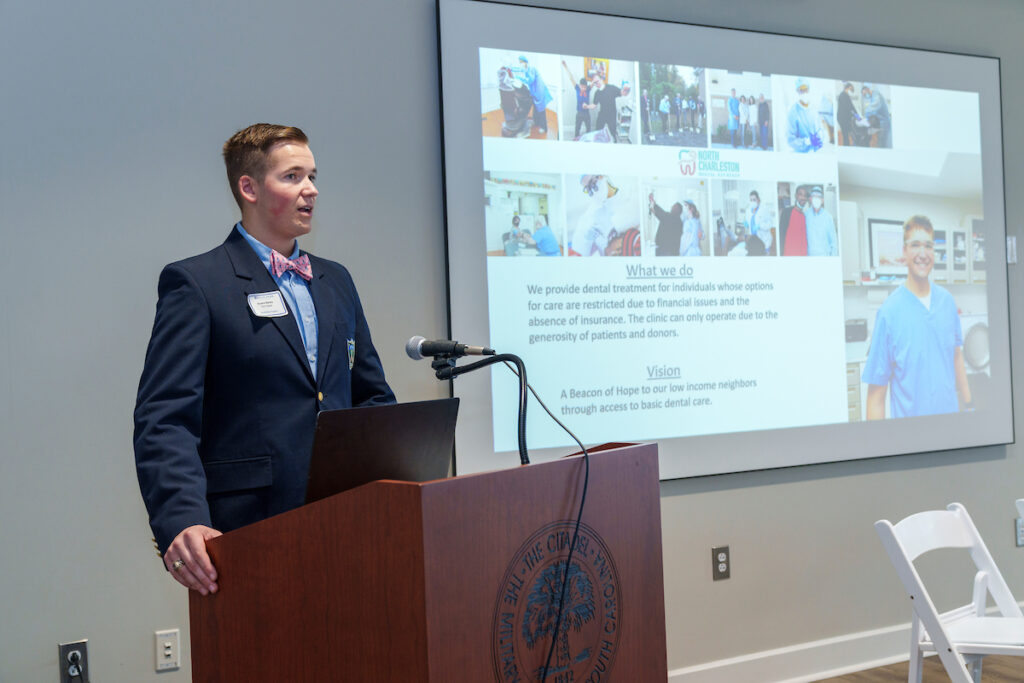 "Sometimes, as a cadet, your life can be dull — this is not dull. I go every Thursday, and it truly makes me happy. This work is interesting, it's helping me prepare for my future and it's giving me information about what my future career could be. This internship is giving me hands-on experience, and I am able to interact and connect with parts of the community that I never had before. The experiences have been lifelong. To Boeing, thank you so much," said Banks.
Cadet Frederick Vogel had internships in two different areas — at the Veterans Affairs office, he interacted with dementia patients and shadowed a doctor in the clinic, and at the Rhodes Engineering Research Center, he learned about independent component analysis and how audio data is structured and altered.
Another veteran day student who received an internship through the Boeing grant was Kaid Kravat. Kravat interned at Defense Engineering Services, or DES, where he said his engineering tasks were balanced between computer design, research work and hands-on shop work.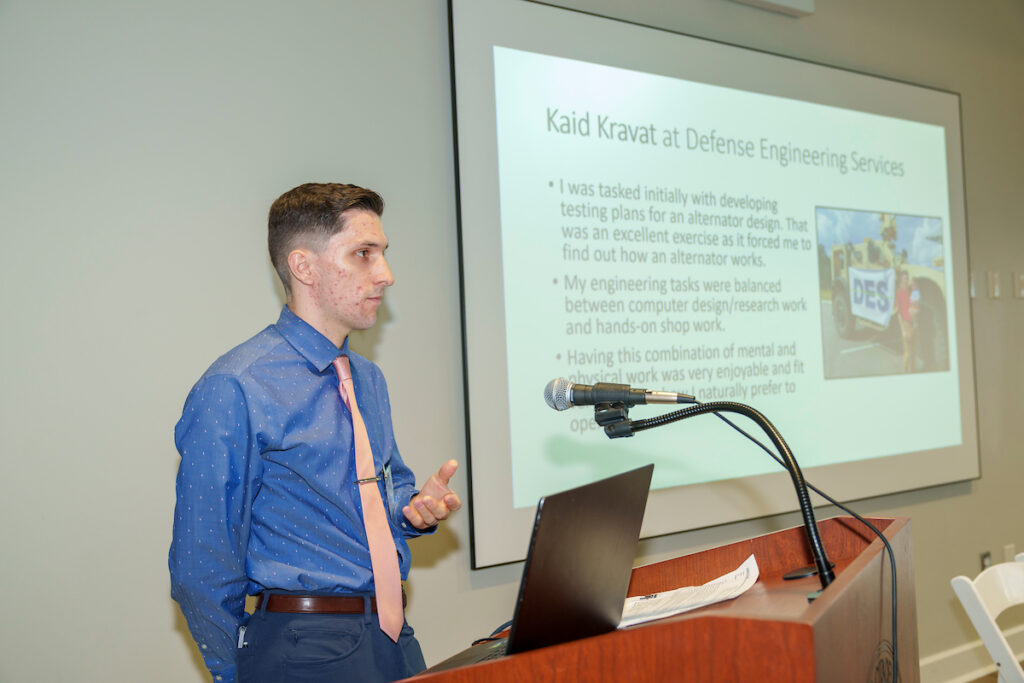 "I was initially tasked with developing testing plans for an alternator design," said Kravat. "Having a combination of mental and physical work was very enjoyable and fit well into how I naturally operate. Overall, DES provided an excellent learning experience and a glimpse of the real-world work life of an engineer. The company had great morale, leadership, work ethic and comradery. I truly enjoyed being a part of the team."
Through her internship, Cadet Madeline Schmuck enhanced biodiversity within the historic range of the longleaf pine ecosystem. The goal of the research Schmuck was part of was to introduce native species within the area by using seedballs. Through this experience, Schmuck was able to put her biology degree to use in a real-world setting.
Cadet Matthew Beitel interned at the South Carolina Ports Authority. Beitel worked majority in breakbulk operations, which is the handling and transportation of cargo that is not containerized. During his time there, Beitel imported sprinter vans and heavy machinery, and exported BMW and Volvo vehicles.
Rohan Shah is a senior undergraduate day student who is currently in an internship with The Beach Company Real Estate Funds. Shah had the opportunity to do a site tour for a potential acquisition, where he also assisted in due diligence of the property, created investor pitchbook and official memo for investors and constructed parts of a financial model.
Cadet Taylor Davis interned with Shifa Healthcare Clinic, which provides medical care to uninsured patients. This clinic also works with local organizations to provide nutritious food options to families. In addition to the clinic, Davis also interned with The Citadel's Krause Center. She helped with WarriorWOD, a program that emphasizes on helping veterans with their physical fitness, nutrition and mentorship.
Cadet Zoe Crecos also interned with the Krause Center. Her responsibilities were recruiting and publicity, which largely included running the Krause Center's table at events, creating flyers and event planning. Each Krause Center intern plans at least one community service event and oversees the cadets who volunteer at the event as well as communicating with the community partner. Crecos has recently started helping WarriorWOD as well, by assisting with social media and corporate outreach for donations.
Several of the internship site supervisors were at the event as well. They spoke about the caliber of work and detail that Citadel cadets and students bring to their workplace and thanked Boeing for their partnership. Phil Reichner, director of marketing in The Citadel's Department of Communications and Marketing, spoke on his experience working with Boeing grant recipient, Ashlyn Howard.
"Everything that Ashlyn has done adds authenticity to what we do as an institution. This kind of talent is rare. The talent that I've seen from our Corps of Cadets, our veteran students and others is amazing. Thank you to our partners in Boeing — your generosity allows students like her to come and work for us," said Reichner.
"Our community investment has three pillars, and that's our home, our heroes and our future. It's obvious why The Citadel is on target for all three of those. Even though this is the second year, I've heard a lot of firsts, which is great, and the one word that I can think of is just, impressive," said Bobby Houck, Class of 2019, chief of staff at Boeing.
In addition to cadets and students benefiting from the Boeing grant, two faculty members will also be receiving funds that will support research projects. Scott Curtis, Ph.D. and Sergey Ponomarov, Ph.D., were in attendance to discuss the important work the grant will help them continue.
"We can't do this work without partners like Boeing — this type of grant is gamechanger. This work, what it's all about, has been about supporting our local community and our state. I think what's been amazing is how the diversity of majors makes such an impact in so many areas. I am truly grateful for the work you all provide, not just as a company but for us as a community," said Jennifer Santoro Cleveland, director of the Career Center.