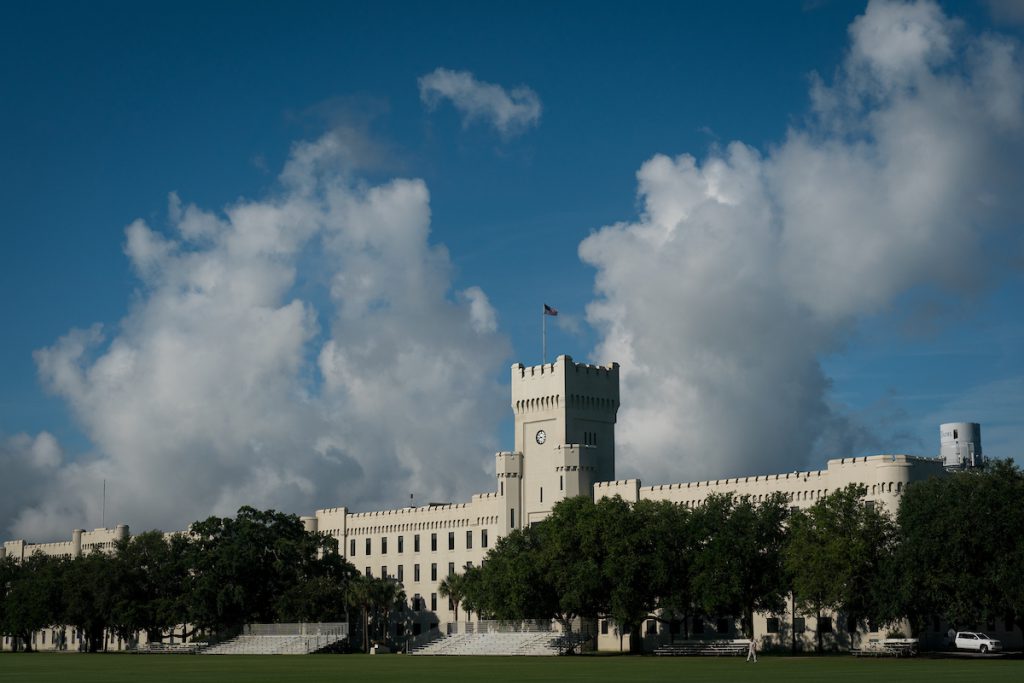 During its annual, two-day fall meeting on Oct. 29-30, The Citadel Board of Visitors (BOV) approved a modest tuition increase for the 2022-23 academic year. After two years with no tuition increases, the need for a 2.7% increase for members of the Corps of Cadets and for students in The Citadel Graduate College was explained by the Vice President of Finance and Business as a means of maintaining the college's solid financial footing.
The increase is in keeping with the Higher Education Price Index (HEPI) projection of a 2.7% increase. HEPI is a national inflation index designed to track cost drivers in higher education. Several years ago, the BOV began voting on tuition rates in the fall, rather than waiting until spring, to help families and students plan ahead, particularly with regard to securing financial aid packages.
"The Citadel Board of Visitors is supporting the college's leadership in balancing the commitment to maintain outstanding cadet and student experiences, while addressing inflationary pressures," said Col. Dylan W. Goff, '02, BOV chair. "A modest 2.7% increase will position the college to remain steady in the ability to address unforeseen expenses, without negatively impacting the transformational education and development The Citadel provides."
Approximately 61% of cadets are from South Carolina. For in-state, upper-class cadets, all-in costs for tuition and fees will increase by $804 next year. Out-of-state cadets' all-in tuition and fees will go up by $1,431. Details about increases for freshmen and for non-cadet students are below.
"If an alternative adjustment can be considered, we will revisit this decision in the spring," Goff added.
Last year at this time, the BOV voted to raise tuition 2.5%, but rescinded that decision in the spring, when more information became available. In addition, activities by the South Carolina General Assembly in 2022 might present an opportunity for adjustment.
The South Carolina Corps of Cadets
The Citadel is one of the only two remaining 24/7 military institutions, aside from the federal academies. As such, when comparing college tuition rates, it is important to note that The Citadel's fee structure is different because the costs of room and board, and multiple sets of military uniforms, comprise the overall "all-in" rate. This is because members of the South Carolina Corps of Cadets — all undergraduates — must live in the barracks, eat most meals in the mess hall and wear uniforms while on campus. Laundry, dry cleaning and books are also included in the all-in rate, with those costs calculated as part of each cadet's One Card/Quartermaster Account.
The all-in rate does not include other items such as fees that vary according to the academic major or schedule of each cadet or student. Those major-specific fees align with the higher cost of some majors for faculty, labs, materials or programming.
The costs of attendance for the 2022-23 academic year are below. Freshman year charges are higher because of first-year uniform purchases.
| | | |
| --- | --- | --- |
| All-in cost for Cadets | In-state | Out-of-state |
| Upper-class | 26,189 | 50,072 |
| Freshmen | 31,704 | 55,587 |
2022-23 academic year tuition rates
The Leadership Lab fee is set to increase by $31 for freshman and $27 for upperclassmen, also as aligned with HEPI. Room and board will increase by $297 for all cadets based on the Consumer Price Index for All Urban Consumers (CPI-U).
The Citadel Graduate College
Students in The Citadel Graduate College's on campus and online programs will also see a 2.7% increase in tuition.
The Citadel Graduate College Programs
(*per credit hour)
In-state
Out-of-state
College Transfer/Evening Undergraduates
501
950
Graduate Students
611
1048
Online College Transfer Undergraduates
514
514
Online Graduate Students
714
714
2022-23 academic year tuition rates
About The Citadel Effect
The Citadel has a consistent track record of achieving some of the highest four-year graduation rates in the state of South Carolina, as well as some of the highest rates of employment and salaries after graduation. The institution was recently recognized for achieving the highest return on investment of any four-year college in South Carolina and rated in the top 5% nationally. This combination of high four-year graduation rates, high employment and high salaries helped The Citadel earn recognition as #1 Public College in the South by U.S. News & World Report for eleven consecutive years.