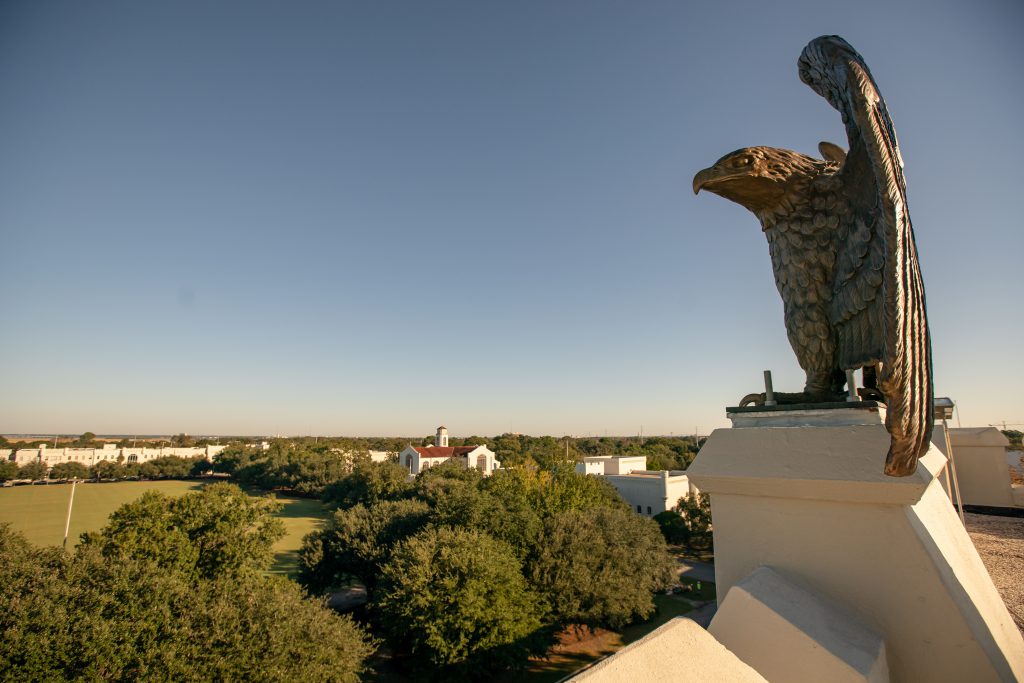 New positions to take effect July 1, 2021
The Citadel Board of Visitors (BOV) elected a new chair and vice chair during the board's meeting on April 24.
Col. Dylan W. Goff, The Citadel Class of 2002 was elected chair, and Col. Peter M. McCoy Sr., The Citadel Class of 1974, was re-elected as vice chair.
Goff is a native of Columbia, South Carolina, where he practices law. He has served as an armor officer in the U.S. Army Reserve and South Carolina National Guard since 2000. Currently, he serves as an Army Command and General Staff College instructor. In 2007 Goff deployed as a foreign military advisor to the Afghan National Police Forces in Helmand Province, Afghanistan, in support of Operation Enduring Freedom. His military decorations include the Bronze Star Medal and the Combat Action Badge. Goff was first elected to the BOV by the South Carolina General Assembly in 2010, and again for his current term from 2016 – 2022. He served as vice chair for the BOV from 2013-2017.
McCoy was first elected to the BOV by the South Carolina General Assembly in 2012, and then again for his current term running from 2018 – 2024. He has volunteered in support of his alma mater for years in a variety of capacities. Professionally, McCoy was a 35-year employee with Sonoco Products Company before his retirement. Sonoco Products Company is a global packaging solutions business headquartered in Hartsville, South Carolina.
The positions take effect on July 1, 2021, when Col. Myron C. Harrington Jr., U.S. Marine Corps (Ret.), '60, completes his term as chair, as well as his many years serving on the college's BOV. Harrington has served his alma mater in numerous capacities for decades, including on the BOV as secretary, general board member, vice chair and, most recently, chair. He has been recognized by The Citadel with numerous awards of distinction including the Palmetto Medal Award and the Krause Center Award for Distinguished Service, Leadership and Ethics.
The Citadel BOV has 14 voting members. Ex-officio members include the governor, the adjutant general and the state superintendent of education; the other 11 members are graduates of The Citadel. Members serve six-year terms. There is no limit to the number of terms that a board member may serve and no age limit. Board members have the honorary rank of colonel in the Unorganized Militia of South Carolina. (If members have earned a higher rank in U.S. military service, they may retain that rank.)
The 2020-21 Citadel Board of Visitors
Voting Members (listed in order of seniority)
Colonel Myron C. Harrington Jr., USMC (Retired), '60, Chair
Colonel Peter M. McCoy Sr., '74, Vice Chair
Colonel Allison Dean Love, CGC, '93
Colonel Dylan W. Goff, '02
Colonel L. E. "Gene" Pinson, '72
Colonel Stanley L. Myers Sr., '98
Colonel John C. Dominick, USAF (Retired), '71
Colonel James E. Nicholson Jr., '85
Colonel F. G. "Greg" Delleney Jr., '74
Colonel Robert E. Lyon Jr., '71
Vacant – Governor's Appointee
Ex-Officio Voting Members
The Honorable Henry D. McMaster, Governor of the State of South Carolina
Major General R. Van McCarty, SCNG, '82, Adjutant General of South Carolina
The Honorable Molly M. Spearman, State Superintendent of Education
Emeritus Members
Colonel Leonard C. Fulghum Jr., '51, Chairman Emeritus
Colonel William E. Jenkinson III, '68
Colonel Douglas A. Snyder, '82
Non-Voting Representatives
Dr. Christopher C. Swain, '81, Chairman, The Citadel Foundation
Commander Drury C. "Chip" Nimmich Jr., USN (Retired), '76, President, The Citadel Alumni Association
Colonel John A. Olshefski, USA (Retired), '80, President, The Citadel Brigadier Foundation