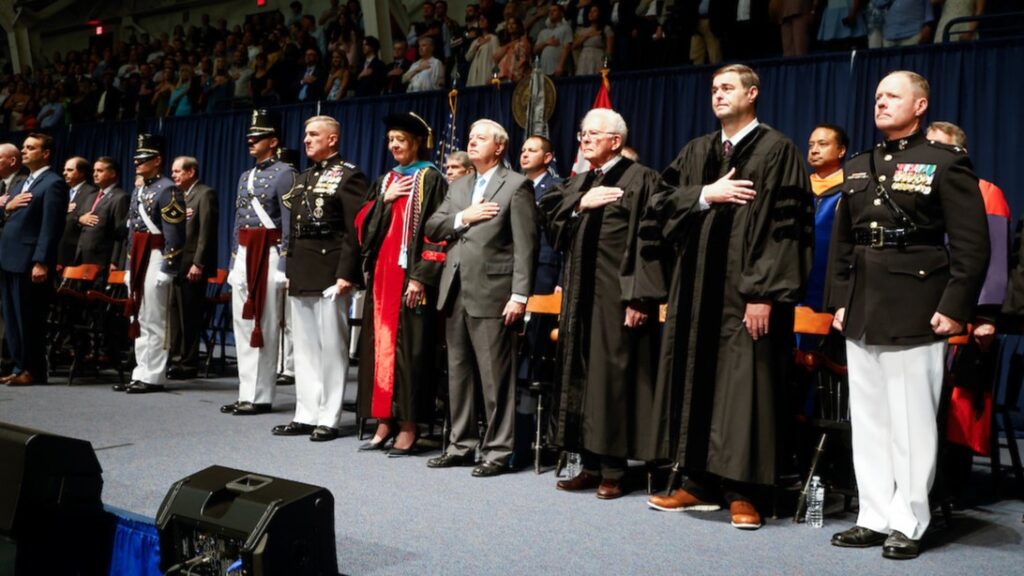 The Citadel Board of Visitors presented honorary degrees to recipients during the commencement celebrations for the Class of 2023.
Honorary degrees are awarded to the speakers for the commencement ceremonies for The South Carolina Corps of Cadets and The Citadel Graduate College, as well as those who have demonstrated exceptional commitment to the college during their lifetime. Two honorary degrees were conferred during the 2023 commencement ceremony, one will be awarded at a later date.
Below are the citations for each of this year's honorary degree recipients.
Richard E. Bastin, '65
Richard E. Bastin is an astute businessman, a United States Army veteran and a loyal and dedicated alumnus.
After graduating from The Citadel in 1965, Mr. Bastin earned a Master of Business Administration degree from Emory University and then went on to serve in the Army for three years. He then returned to his home state of Florida to work in his family's Mercedes-Benz dealership in Palm Beach, which he eventually came to own. Throughout his career, Mr. Bastin owned a variety of automobile dealerships, representing such manufacturers as Honda, Volvo, Volkswagen, Subaru and Mercedes-Benz, and has received the Dealer of Excellence Award from both Volvo and Mercedes-Benz.
A proud advocate and faithful volunteer in support of his alma mater, Mr. Bastin has been an influential member of the Baker School of Business Advisory Board since 2005, and he is a recipient of the school's 2012 Leader of Principle Award. He served on The Citadel Foundation Board of Directors from 2013 through 2021 as a member of the Audit and Investment Committees, and he currently remains active as an advisor to the board. He previously served as vice-chair for the School of Business Building Committee for The Citadel Foundation's $250 million Foundation for Leadership campaign, which successfully concluded in 2018.
For his spirit of leadership, generosity and service, The Citadel Board of Visitors is proud to award Richard Bastin the honorary Doctor of Commerce degree.
Col. Myron Charles Harrington Jr., USMC (Ret.), '60
Retired United States Marine Corps Col. Myron Charles Harrington Jr. is a loyal alumnus, a patriot and a servant leader who embodies The Citadel's core values—honor, duty, respect.
Col. Harrington was commissioned a second lieutenant in the Marine Corps in May 1961. Over the following three decades, he went on to enjoy a celebrated career with tours that included Vietnam, Australia and Lebanon. He is a recipient of the Navy Cross for his extraordinary heroism, while serving as commanding officer for Delta Company, First Battalion, Fifth Marines during the Battle of Hué, as part of the Tet Offensive in the Republic of Vietnam. After leaving the Marine Corps, Col. Harrington became active in independent school education, serving as headmaster of Trident Academy for fifteen years.
A member of the Class of 1960, Colonel Harrington has remained a faithful steward to his alma mater. From 2006 to 2021, he served the Board of Visitors in a number of capacities, including secretary, board member, vice chair and chair.
For a lifetime of service to his country, his state and his local community, along with his exemplary character and consistent demonstration of service, leadership and commitment to his alma mater, The Citadel is proud to award Col. Myron Harrington the honorary Doctor of Leadership degree.
S.C. Speaker George Murrell Smith Jr.
The Honorable George Murrell Smith Jr. is an attorney and the speaker of the South Carolina House of Representatives.
Smith grew up in Sumter, where he graduated from Wilson Hall in 1986 and attended Wofford College. After earning a Bachelor of Arts degree in History and Government in 1990, he enrolled in the University of South Carolina School of Law, where he earned his Juris Doctor degree in 1993. After law school, Smith began practicing law in his hometown while serving as a part-time public defender. Since 2019, he has been a partner at Smith Robinson law firm, representing clients throughout the state of South Carolina.
In 2000, Smith began his political career. The newly elected District 67 Representative began his tenure as a member of the House Judiciary Committee, eventually rising to the position of First Vice Chairman. In 2009, he was appointed to serve on the House Ways and Means Committee, and in 2012, he was named Chairman of the Health and Human Services Subcommittee. In 2018, he became Chairman of the South Carolina House Ways and Means Committee. Smith has also served as Chairman of the House Ethics Committee and was a member of the South Carolina Judicial Merit Selection Commission. On May 12, 2022, Representative Smith became the 61st Speaker of the South Carolina House of Representatives.
For his loyalty and service to the state of South Carolina, The Citadel Board of Visitors is proud to award the Honorable George Murrell Smith Jr. the honorary Doctor of Public Administration degree.