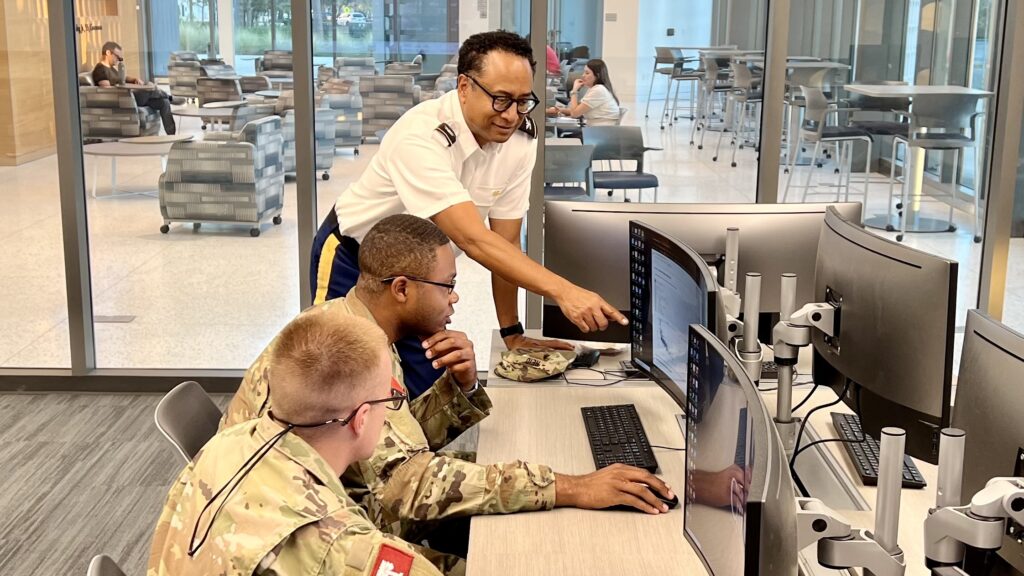 Photo: Andrew Williams, Ph.D, dean of The Citadel School of Engineering, leading cadets in an AI workshop.
The Citadel School of Engineering is taking a big step forward in artificial intelligence research and development through a grant awarded by the National Science Foundation. The grant, in partnership with other higher education institutions, will provide one million dollars to The Citadel over a period of five years to fund the new Center for Artificial Intelligence, Algorithmic Integrity and Autonomy Innovation, or AI3.
As AI continues to expand, The Citadel will now have the opportunity to work across the state to use the power of AI to transform and enhance healthcare for South Carolina residents. The college will work to advance AI-enabled medical devices and to train an AI-ready workforce.
Collaborators include:
Benedict College
Claflin University
Clemson University
College of Charleston
Francis Marion University
Medical University of South Carolina
South Carolina State University
Tri-County Technical College
University of South Carolina
Winthrop University
Andrew Williams, Ph.D., dean for The Citadel's School of Engineering, will serve as the director of AI3. Williams will lead and direct the National Science Foundation's EPSCoR activities for Citadel faculty and staff who will be conducting research and K-12 outreach.
"We are thrilled this NSF EPSCoR grant and collaboration will allow us to educate our cadets and students so they can thrive and contribute toward an AI-enhanced healthcare environment in South Carolina," said Williams. "The new center that this grant will fund will enable The Citadel School of Engineering to partner with Clemson and other key institutions in our state to transform healthcare through research, workforce development and outreach."
The project — called Artificial Intelligence-Enabled Devices for the Advancement of Personalized and Transformative Health Care in South Carolina, or ADAPT-SC — will be funded through the National Science Foundation in collaboration with other institutions. This funding comes from the National Science Foundation's Established Program to Stimulate Competitive Research (EPSCoR) Research Infrastructure Improvement Track-1 Award. The EPSCoR program seeks to establish sustainable STEM education, training and professional development pathways, and to encourage wider participation of diverse institutions in science and engineering research and educational initiatives.
The Citadel Center for A3 will eventually be housed in the college's new building for the School of Engineering. The Citadel has been in the Top 25 Undergraduate Engineering programs since 2012 and is one of the first five engineering programs in the country, providing a superior experience and education to each cadet and student.