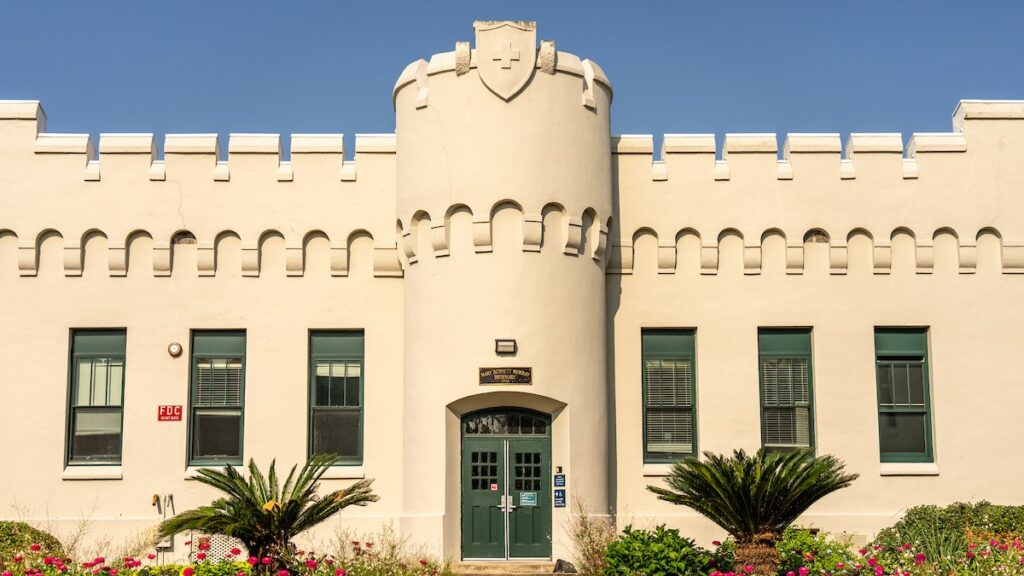 The year-old partnership between The Citadel and the Medical University of South Carolina (MUSC Health) has entered a new phase.
As of July 1, 2023, services offered by The Citadel's Mary Bennett Murray Infirmary have been expanded to include counseling, additional sports medicine offerings and on-site physical therapy.
"Taking care of the Corps of Cadets is one of The Citadel's highest priorities, and we appreciate MUSC Health for helping to ensure that our cadets remain physically and mentally healthy throughout their time in the Corps," said The Citadel President Gen. Glenn Walters, USMC (Ret.), '79. "The Citadel is grateful for the work MUSC Health has already done over the past year to expand and improve upon our on-campus services, and we look forward to finding additional ways to increase our healthcare offerings on campus."
The Citadel and MUSC Health began working together last year to expand the infirmary's offerings. Expanded services included MUSC Health's 24/7 Virtual Urgent Care platform and an improved availability to clinical care, as well as integrated imaging, lab and pharmacy services.
"We're very excited to expand our relationship with The Citadel and our team has thoroughly enjoyed serving the Corps of Cadets this past year," said Eugene Hong, M.D., MUSC Health chief physician executive. "We're going to continue working together to customize the offerings of high-quality and convenient care for the ongoing health and well-being of the Corps and we're particularly excited about holistically serving the cadet community, including primary, mental health, urgent and sports medicine care."
Following the agreement's expansion, The Citadel's Counseling Center and staff moved into the infirmary. In addition to upgrades to the clinical spaces, MUSC Health will also hire a new psychiatrist to work on campus. The athletic trainers for The Citadel, who provide sports medicine care and coverage to The Citadel athletes, have also been incorporated into the MUSC Health system and sports medicine team. MUSC Health will also add an additional primary care sports medicine physician, sports medicine orthopedic surgeon and physical therapist to the medical team.
The Citadel has a robust infirmary on campus, different from other colleges, where cadets are provided primary medical care, diagnostic tests and treatments, wellness education and inpatient care when needed. The Mary Bennett Murray Infirmary was one of the first buildings constructed when The Citadel moved to its current location from Marion Square in the 1920s. Since its construction, nurses and a physician employed by the college staffed the facility. Now, the infirmary is staffed by doctors, nurses and care providers from MUSC Health.
The Citadel's partnership with MUSC Health is a phased, multiyear initiative and services are currently limited to the Corps of Cadets.
About MUSC
Founded in 1824 in Charleston, MUSC is the state's only comprehensive academic health system, with a unique mission to preserve and optimize human life in South Carolina through education, research and patient care. Each year, MUSC educates more than 3,200 students in six colleges – Dental Medicine, Graduate Studies, Health Professions, Medicine, Nursing and Pharmacy – and trains more than 900 residents and fellows in its health system. MUSC brought in more than $298 million in research funds in fiscal year 2022, leading the state overall in research funding. MUSC also leads the state in federal and National Institutes of Health funding, with more than $220 million. For information on academic programs, visit musc.edu.
As the health care system of the Medical University of South Carolina, MUSC Health is dedicated to delivering the highest-quality and safest patient care while educating and training generations of outstanding health care providers and leaders to serve the people of South Carolina and beyond. Patient care is provided at 16 hospitals (includes owned and affiliated), with approximately 2,700 beds and four additional hospital locations in development; more than 350 telehealth sites and connectivity to patients' homes; and nearly 750 care locations situated in all regions of South Carolina. In 2022, for the eighth consecutive year, U.S. News & World Report named MUSC Health University Medical Center in Charleston the No. 1 hospital in South Carolina. To learn more about clinical patient services, visit muschealth.org.
MUSC has a total enterprise annual operating budget of $5.1 billion. The nearly 26,000 MUSC family members include world-class faculty, physicians, specialty providers, scientists, students, affiliates and care team members who deliver groundbreaking education, research, and patient care.
The Citadel
The Citadel is a landmark in Charleston and South Carolina that is noted for its educational reputation as well as its rich history. Founded in 1842, The Citadel has an undergraduate student body of about 2,300 students who make up the South Carolina Corps of Cadets. Another 1,000 students attend The Citadel Graduate College, a civilian evening and online program that offers graduate and professional degrees as well as undergraduate programs.
The Citadel is best known nationally for its Corps of Cadets, which draws students from about 45 states and a dozen countries. The men and women in the Corps live and study under a classical military system that makes leadership and character development an essential part of the educational experience. The Citadel has been ranked #1 Top Public College in the South by U.S. News & World Report for 12 consecutive years.