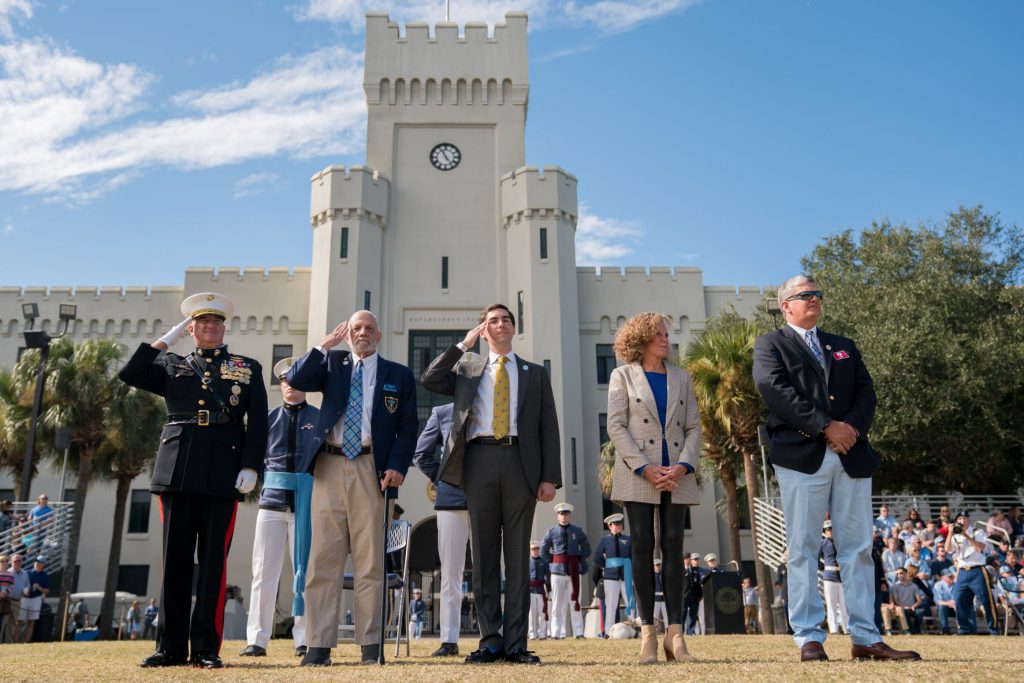 Photo above: some of The Citadel Alumni Association's 2021 awards recipients taking review at the 2021 Homecoming parade on campus.
The Citadel Alumni Association (CAA), in accordance with its bylaws, annually recognizes alumni for their contributions to The Citadel and CAA.
The 2021 CAA award recipients are as follows:
Distinguished Life Member
Charles D. Burnside, '65
Charles D. Burnside's remarkable lifetime of service was in keeping with such high standards of integrity and distinction that Citadel faculty, cadets, students and alumni will take pride in, and be inspired by, the legacy he leaves as a Distinguished Life Member. His impeccable character, loyalty and personal sacrifice of time, talents and treasure in his personal and professional life represented a true embodiment of those noble virtues upheld by The Citadel. Burnside's sincere passion for The Citadel was infectious and motivated those with whom he interacted to be actively involved with The Citadel and their respective CAA clubs; his commitment and service record to The Citadel and CAA are high standards worthy of being emulated.
Burnside's record of service is not only reflective of his invaluable contributions to The Citadel and CAA, but also represents his professional achievements as an electrical engineer. His commitment to excellence as a professional engineer was directly attributable to his very wholesome experience at The Citadel—an experience that forged and shaped his character in its core values and challenged his intellect through a sound academic regimen.
Note: Mr. Burnside passed away Nov. 11, 2021, thus the CAA recognized his achievements posthumously during their annual meeting on Nov. 12.
Alumnus of the Year
David D. Delk, '98
David D. Delk is being recognized for his significant and extraordinary work for the Middle Tennessee Citadel Club, The Citadel, The Citadel Alumni Association and his community. His work extends to "A Soldier's Child" organization whose mission is to serve the children of military personnel who lost their lives on active duty defending our country. Delk elevated the Middle Tennessee alumni club and the events it holds. His contributions span many years and reflect positively on The Citadel and its core values. In addition to his community work and role as club president, Delk is an exemplary brand ambassador for The Citadel, a mentor to current cadets and actively engaged Citadel Alumni Recruiter. In addition, Delk provided financial support for cadets' life memberships and rings. He is a humble, quiet leader who in deed and action reflects the core values of The Citadel in his private and professional life.
Honorary Life Member
Lt. Col. Pamela Barton, USA (Ret.)
Lt. Col. Pamela Barton is being recognized for her 22 years of service and contributions to The Citadel. Her service with four presidents, four commandants, numerous faculty and staff members, and thousands of cadets exemplified her devotion to The Citadel and was integral to perpetuating the legacy of the Corps of Cadets. In 2010, Barton, as the Commandant's Department action officer and in coordination with the Krause Center for Leadership and Ethics, planned and executed the initial Corps-wide community service day that has evolved into Leadership Day. Cadet and student engagement that day throughout the Charleston community and adjacent counties has become The Citadel's most visible and significant philanthropic event. In addition, Barton was the commandant's primary action officer for the CAA Executive Director and staff to coordinate cadet participation including, but are not limited to: the Ring Ceremony, all aspects of commencement week, homecoming activities, Corps Day and the Young Alumni Reception. In essence, there were no activities involving cadets or alumni for which Barton did not provide some staff support. She has been a role model to the South Carolina Corps of Cadets, personifying the highest ideals of The Citadel's core values and principled leadership. Barton's positive influence and lasting legacy are inextricably linked to several thousand former cadets spanning over two decades who have become principled leaders in their own right and are now contributing members of their communities throughout the state of South Carolina, the nation and the world.
Young Alumnus of the Year
Matthew M. Breen, Esq., '13
Matthew M. Breen is being recognized for his professional and personal accomplishments. After graduating, Breen attended Charleston School of Law where he was President of the Phi Delta Phi Legal Honor Society, a senator in the Student Bar Association and an editor of the Maritime Law Review. He was also selected to be a Dr. Raymond S. Greenberg Presidential Scholar for demonstrating leadership and an interest in inter-professionalism, the healthcare system and community health. Breen takes pride in his legal work and has excelled as an attorney, recently named to the Super Lawyers Rising Stars list for 2020 and 2021. Within the community, he serves as the vice president and solicitor for the Sons of the Revolution in the State of South Carolina and the Chancellor of the South Carolina Society of the Sons of the American Revolution. He is the chairman of the college's ROTC/JROTC Committee.
District Director of the Year – Thomas H. Churchill III, '91
Club President of the Year – Dr. William J. Washo, '71
Large Club of the Year – Spartanburg Area Citadel Club
Small Club of the Year – The Houston Citadel Club
2021 Gold Star Clubs
Atlanta Citadel Club
Beaufort Citadel Club
Cape Fear Citadel Club
Central Florida Citadel Club
Central Savannah River Area Citadel Club
Charleston Citadel Club
Charlotte Area Citadel Club
Citadel Club of Central Texas
Citadel Clubs of Europe
Columbia Citadel Club
Colorado Citadel Club
Fayetteville-Sandhills Citadel Club
Greater Greenwood Citadel Club
Greater Washington D.C. Citadel Club
Greenville Citadel Club
Horry County Citadel Club
Houston Citadel Club
Lexington Citadel Club
Maine Citadel Club
Middle Georgia Citadel Club
Middle Tennessee Citadel Club
New Jersey Citadel Club
Northeast Florida Citadel Club
North Texas Citadel Club
Pacific Northwest Citadel Club
Pee Dee Area Citadel Club
Piedmont Triad Citadel Club
Pittsburgh Area Citadel Club
San Antonio Citadel Club
Savannah Citadel Club
Southside Atlanta Citadel Club
Spartanburg Citadel Club
Summerville Citadel Club
Tampa Bay Citadel Club
Tennessee Valley Citadel Club