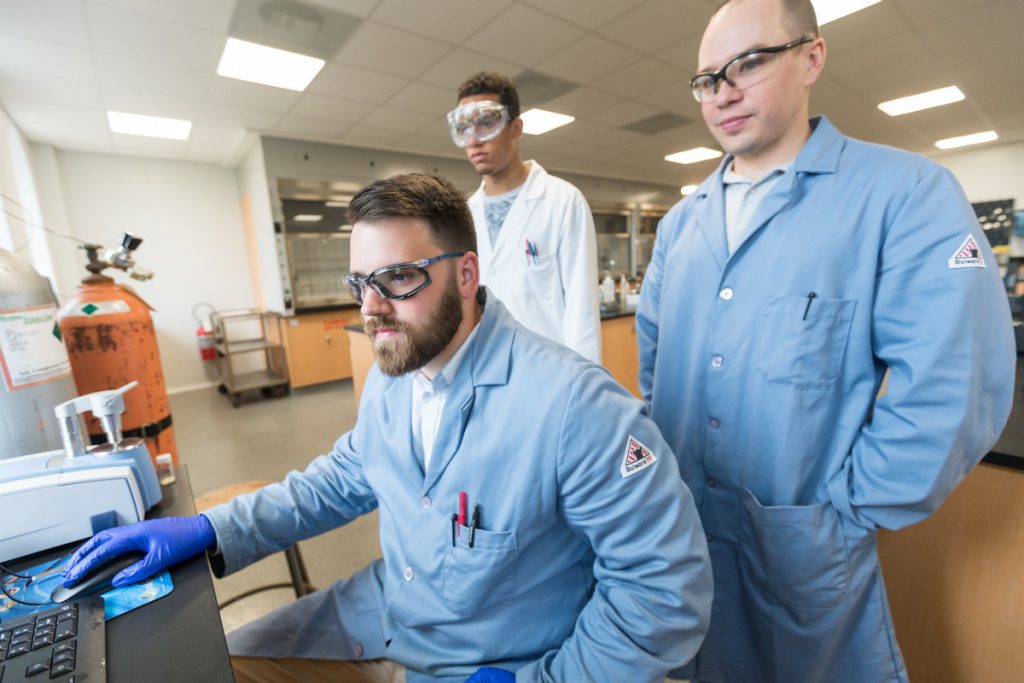 Citadel undergraduate students studying chemistry are creating and studying compounds that could be used to produce a new pain relief drug or could contain new biological activities.
The work is completed with support from The Citadel Department of Chemistry and the Summer Undergraduate Research Experience (SURE) program, which provides students a paid opportunity to complete research while also refining their career path.
Tremendous interest in the creation of new compounds
Each year, millions of people take prescription drugs to alleviate pain from arthritis, acute pain and other ailments. Many of these pain relief drugs are known as nonsteroidal anti-inflammatory drugs or NSAIDs.
One group of NSAIDs specifically target the COX-2 enzyme, which is a protein involved in pain and inflammation. Drugs in this class have frequently been pulled from the market after studies revealed they may increase the risk of heart attacks and strokes. Currently, the only COX-2 inhibitor available by prescription is Celebrex®, generically known as "celecoxib."
"Because there is only one COX-2 inhibiting drug on the market, developing new compounds that have a comparable structure to Celebrex is of great interest," said John Knight, Ph.D., visiting assistant professor in The Citadel Department of Chemistry and faculty advisor over this summer research project.
With Knight's guidance, students use organic chemistry to create compounds similar to Celebrex, but with one or two varying molecules. The molecules they plan to change have never been reported on, and likely have never been made, until now.
Once the compounds are created, their properties are measured using methods such as nuclear magnetic resonance and infrared spectrometry to verify their exact chemical structure. Each compound made in the lab becomes part of a library of compounds made by the research team.
The library of compounds can be biologically tested to see how the new molecules compare to Celebrex.
"Once tested, researchers can see how the changes we made to the compounds impact their ability to act as a pain reliever," said Knight. "Small changes to a molecule's structure can have profound impacts on its biological activity. It could be that the changes we are making would enhance the pain-relieving properties of the drug or reduce them. They could also have different effects."
In addition to creating compounds similar to Celebrex, students have also spent the summer learning more about organic chemistry in general and have used organic synthesis to make other novel compounds that could be biologically relevant.
Encouraging undergraduate research
Jeffery Brister is one of the three undergraduate students working on this research project. Brister is a veteran student studying chemistry and is participating courtesy of The Citadel SURE program.
The SURE program provides stipends to cadets and students, allowing them to focus entirely on their research. Cadets and students selected to participate in program receive $2,500 to $3,000 for their summer experience. Faculty members also receive a stipend for working with the students. The funding comes from a combination of grants and support from the Office of the Provost.
Students supported by this year's SURE program will share their summer research experiences at 1 p.m., Monday, Aug. 20 at the Daniel Library's Re-Discover the Library event.
Desmond Lewis, a sophomore cadet studying biochemistry, and Kevin Hall, a junior cadet studying chemistry are also involved in the research.
Both Lewis and Hall were able to participate in the research project through support from The Citadel Department of Chemistry.