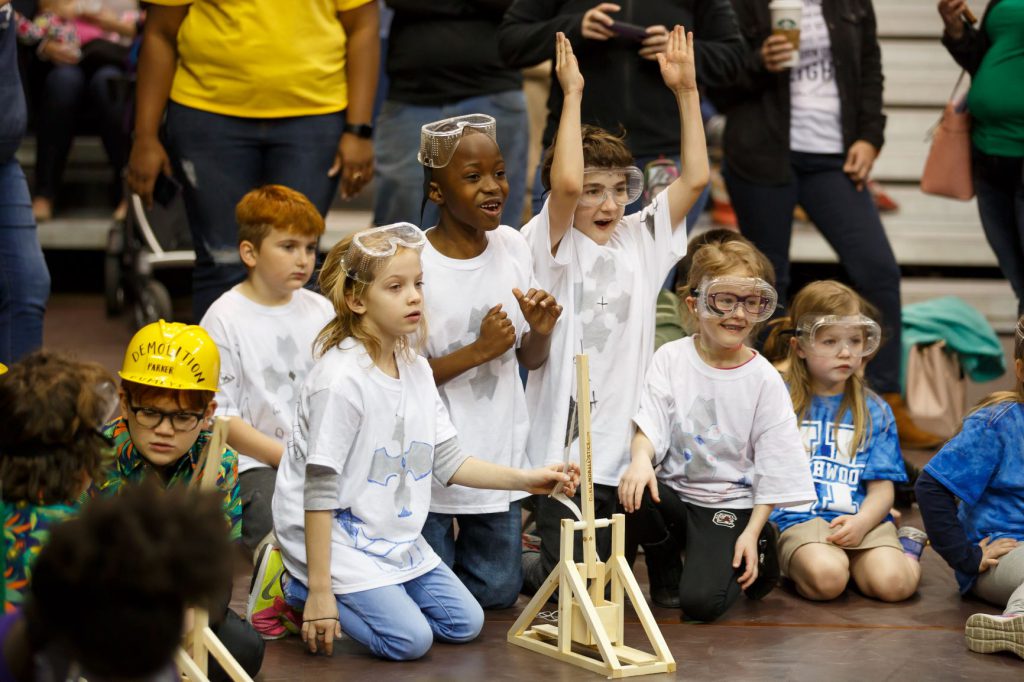 Photo: Students competing at Storm The Citadel 2019
Celebrating its tenth anniversary, the 2020 Storm The Citadel competition will challenge young competitors with science, math and engineering challenges as they design, build and test their trebuchets, or medieval-style catapults, as well as robots and water bottle rockets.
Storm The Citadel 2020 will be held on Saturday, Feb. 8 from 8 a.m. – 2 p.m. across The Citadel campus.
The STEM event, for K-12 grade students, will once again bring up to 3,000 visitors to campus for what is now a tradition for many of the teams that compete. The team coming from the farthest distance: The St. Augustine Sea Cadets, from Florida.
Co-hosted by Google and The Citadel's STEM Center of Excellence along with the School of Engineering, Zucker Family School of Education and the Swain Family School of Science and Mathematics, Storm The Citadel promotes STEM education and allows students to use the skills they learn in the classroom in tangible, exciting ways.
Teams traveling to campus with their teachers, coaches and families will battle in the day-long event that includes four competitions:
Bridge building
Robotics
Trebuchet (medieval-style launching device)
Water bottle rocket competitions
More STEM events in 2020
Other events hosted by The Citadel STEM Center of Excellence include:
| | |
| --- | --- |
| Saturday, January 25, 2020 | STEM Competition Training |
| Saturday, February 22, 2020 | Science Olympiad – Div. A (The Citadel) |
| Saturday, February 29, 2020 | SC Middle School VEX REC Competition |
| Saturday, March 7, 2020 | Charleston STEM Festival |
| Saturday, March 14, 2020 | State Science Olympiad (at Newberry College) |
| Wednesday, March 25, 2020 | NASA and Charleston County Government STEM Expo |
| Saturday, April 25, 2020 | KidWind Competition |