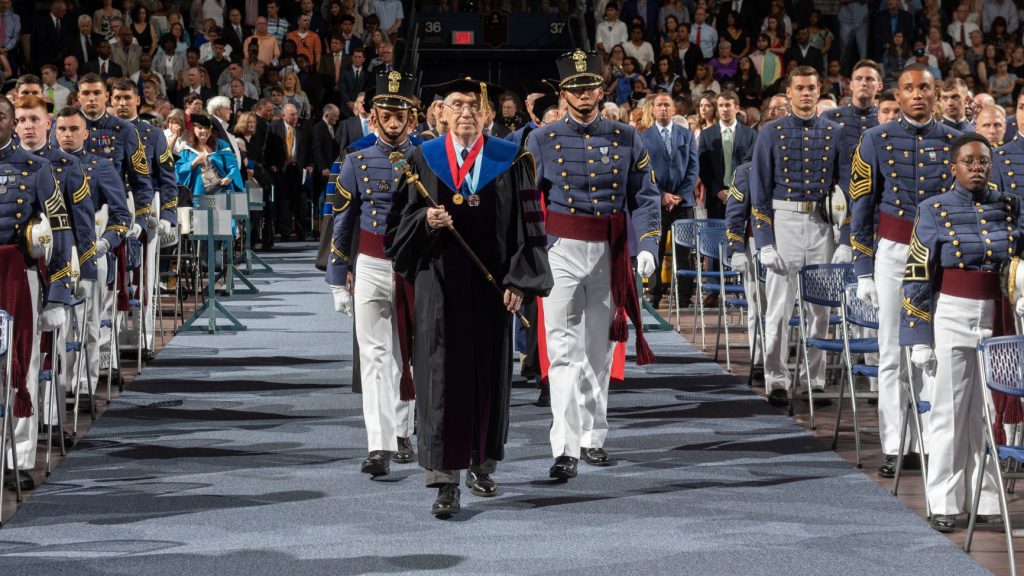 The recipients are being recognized for their outstanding academic and professional achievements
The Citadel honored four of its most outstanding cadets and two distinguished faculty members during the South Carolina Corps of Cadets commencement Sat., May 4.
The awards recognize the two cadets with the highest grade point averages, the most courteous member of the graduating class, a cadet and a faculty member who achieved academic excellence, and a faculty member for his or her love of teaching.
Cadets receive Corps' most prestigious honors
Cadets whose grade point averages were the highest in the Class of 2019, based on total college record, are recognized as the David Shingler Spell First and Second Honor Graduates. Recipients of the award receive an inscribed plaque and a stipend for educational expenses at the graduate level.
Cadet Nicolas Cucinotta, a civil engineering major from Alexandria, Virginia, was named the first honor graduate. Cucinotta is a Navy ROTC scholarship student, a member of both Tau Beta Phi and Phi Kappa Phi honor societies, and commander of Lima Company. Cucinotta will attend The Basic School in Quantico, Virginia in preparation to become a Marine Corps Infantry Officer.
Cadet McKinley Forster, a civil engineering major from Brazil, Indiana, was named the second honor graduate. Forster is the recipient of numerous academic scholarships, the treasurer of the student chapter of the National Civil Engineering Society, a member of both Tau Beta Phi and Phi Kappa Phi honor societies, and the academic officer of Sierra Company. Forster will pursue his graduate studies at Purdue University.
Battalion commander awarded John O. Willson Ring
Cadet Mitchell Felt, a mechanical engineering major from Simpsonville, South Carolina, was presented the John O. Willson Ring. The ring has been awarded annually since 1911 to a senior elected by their peers as the finest, purest and most courteous member of the class.
Because of his outstanding leadership abilities, Felt was selected to serve as commander of Fifth Battalion. Felt has also excelled academically, earning gold stars recognition for all eight semesters he's attended The Citadel.
Felt is a distinguished military graduate, having already the Cadet Medal of Merit Award and the Robert G. Miller Memorial Sword during the awards convocation on May 2.
He will enter the Navy, where his first assignment is to attend pilot training in Pensacola, Florida.
Algernon Sydney Sullivan Awards presented to two dedicated to academic excellence
The Algernon Sydney Sullivan Awards were presented to Cadet Matthew Lanetti and Sarah Imam, M.D. The awards are presented annually through the New York Southern Society to a student and faculty member in recognition of high thought and noble endeavor.
Lanetti is a student from the Honors Program, with a double major in Chemistry and French. He also received a Star of the West Scholarship along with several other academic awards. He is the Regimental Academic Officer, where he served as liaison among the Provost's office, faculty and students. Lanetti has been involved in service to The Citadel an the Charleston community: as an Eagle Scout, he volunteered with local Boy Scout troops and has served as a volunteer at The Charleston STEM Festival, as well as chemistry outreach activities. Lanetti will enroll in the Ph.D. in Chemistry program at the University of North Carolina, Chapel Hill.
Imam is an assistant professor in the Department of Health and Human Performance. Examples of her service to others can be seen in her work at the Lowcountry Food Bank, Random Acts of Kindness, the Special Olympics "Buddy Dance," a free medical clinic and MUSC volunteer programs. She also founded the "Feed a Friend Friday" initiative at The Citadel, and is also responsible for the establishment of The Citadel's globally recognized healthcare study abroad program to Lithuania.
Grimsley Award presented to business professor, director of the Innovation Lab
James Bezjian, Ph.D., received the James A. Grimsley Jr. Award for Undergraduate Teaching Excellence for his love of teaching, commitment to scholarship and dedication to the Corps of Cadets.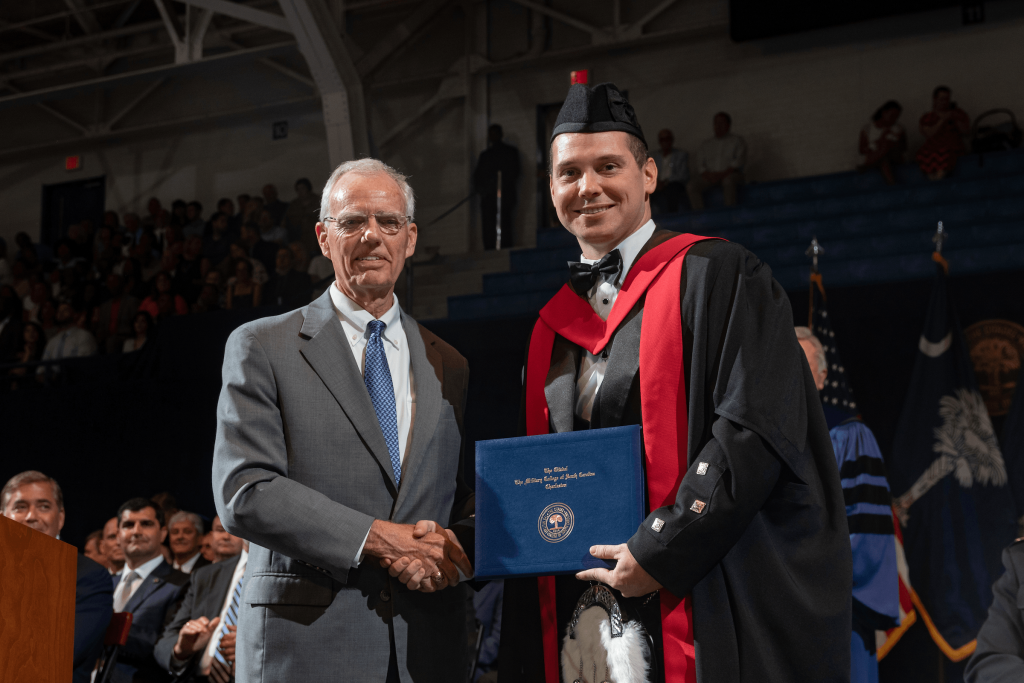 Bezjian is an assistant professor of entrepreneurship, whose research and teaching interests are focused on innovation management as well as entrepreneurship. Bezjian is also the director of the Baker School of Business Innovation Lab, where he and his students use technology to solve complex problems for companies, governments and non-profit organizations.
His passion for teaching is evident through his service as a faculty representative for the Network Globally, Act Locally program. It exchanges entrepreneurship teams from universities in the United States and Estonia each summer to learn the fundamentals of entrepreneurship and develop business plans.