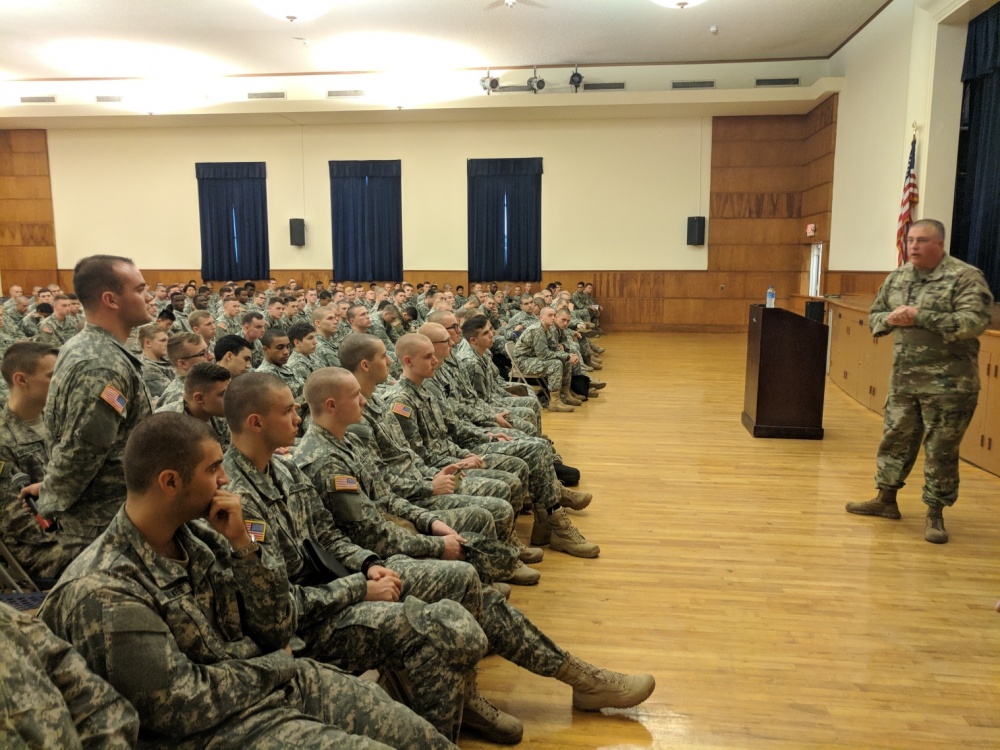 As seen in South Carolina National Guard News, by Lt. Col. Cindi King
"Watch your thoughts, they become your words; watch your words, they become your actions; watch your actions, they become your habits; watch your habits, they become your character; watch your character, it becomes your destiny," is a proverb that was shared with U.S. Army Reserve Officer Training Corps cadets from The Citadel during a leadership lab held January 11, 2018.
U.S. Army Maj. Gen. R. Van McCarty, deputy adjutant general for South Carolina and 1982 graduate of The Citadel, shared the quote he found showcased in Dr. Len Marrell's book, "In Search of Ethics" to highlight the importance of integrity in decision making. He read the quote during his presentation to Freshmen and Sophomore cadets as their guest speaker, providing insight on professional development and answering questions about military leadership.
"Be hungry for knowledge, be willing to step out of you comfort zone, be willing to take mitigated chances for the good and learn from your mistakes," said McCarty.
Col. John M. Cyrulik, Professor of Military Science at The Citadel introduced McCarty. Cyrulik remarked there were over 200 Freshmen and Sophomore scholarship cadets. He added that the upcoming graduating Army ROTC class was expected to commission over 100 officers, with 26 of these future leaders in the South Carolina Army National Guard.
The leadership lab was the first major event for 2018 for the more than 300 cadets listening to McCarty, who has held multiple leadership positions in the South Carolina Army National Guard. He spoke of the Army Values and about being a good leader, follower, and person. He also shared stories of his own experiences and challenges while a cadet at The Citadel and said the road was not always easy. He joked that one of the most surprised and pleased individuals to watch him graduate was his mother.
"You will face adversity in life and you may experience failure," said McCarty. "You are not defeated unless you allow yourself to be. Stay focused on your goals, work hard and never ever give up."
He went on to say that even during those tough times, looking back he believes those lessons were tests of character and he is glad he always looked forward.
"Be passionate and enthusiastic about your profession," said McCarty. "Your attitude whether positive or negative defines you; have a positive one and others will notice."
At the conclusion of the lab, McCarty awarded challenge coins to four top performing cadets. Coins were presented to Cadets Etienne Founteneau, Nicholas Friccione and Jordan Neeley from the Citadel and Cadet Emily Tran from the College of Charleston.
McCarty was presented with a Certificate of Appreciation by Cyrulik, joined by the Sgt. Maj. Isaac Ragusa and Maj. Marion Yarborough.
"We deeply appreciated the presentation by Maj. Gen. McCarty," said Cyrulik. "It's always an honor to have one of The Citadel's own return to share insight and connect with our future leaders in the Army."