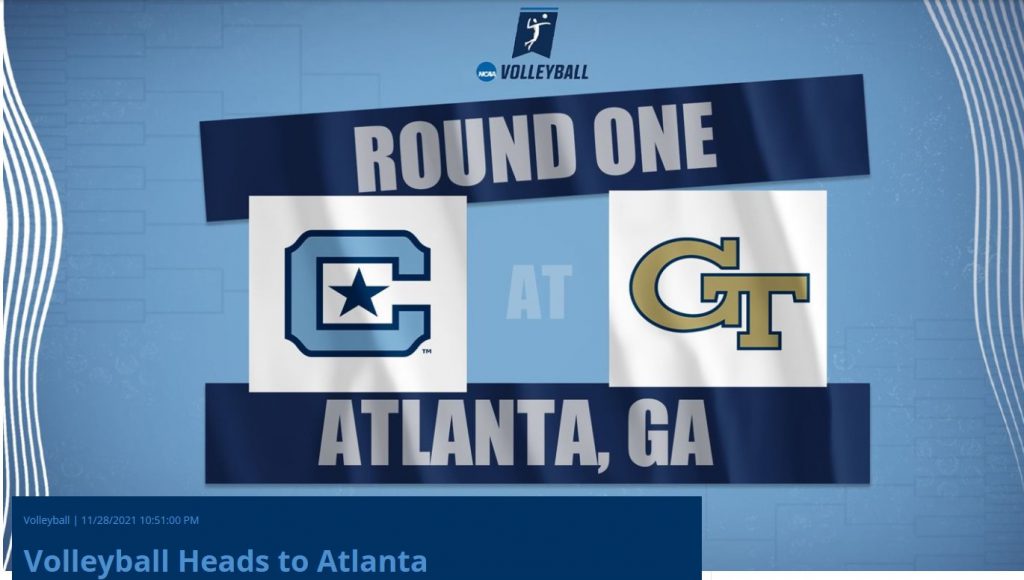 Volleyball team heads to Atlanta
The Citadel volleyball team will open the 2021 NCAA Volleyball Tournament at 7 p.m., Friday, Dec. 3, as the Bulldogs take on No. 8 Georgia Tech inside O'Keefe Gymnasium in Atlanta.

The winner of The Citadel-Georgia Tech match will face the winner of Western Kentucky-South Carolina on Saturday at 7 p.m.

The Bulldogs are making their first appearance in the NCAA Tournament after capturing the school's first conference championship for a women's program. The Citadel defeated the No. 2, No. 3 and No. 4 seeds on their way to the Southern Conference Championship.
Team visits The Citadel President's home for bracket watching celebration
As seen on WCSC-TV
Follow Bulldogs volleyball
For more information and score updates on The Citadel volleyball team, please visit CitadelSports.com or follow @CitadelVB on Twitter, @CitadelVolleyball on Instagram and here on Facebook.

Membership in The Citadel Brigadier Foundation is open to alumni and friends of The Citadel who are interested in supporting Bulldog athletics. By joining, you provide annual charitable contributions that fund scholarships for cadet-student-athletes. Supporters interested in joining TCBF or for more information, please click HERE.