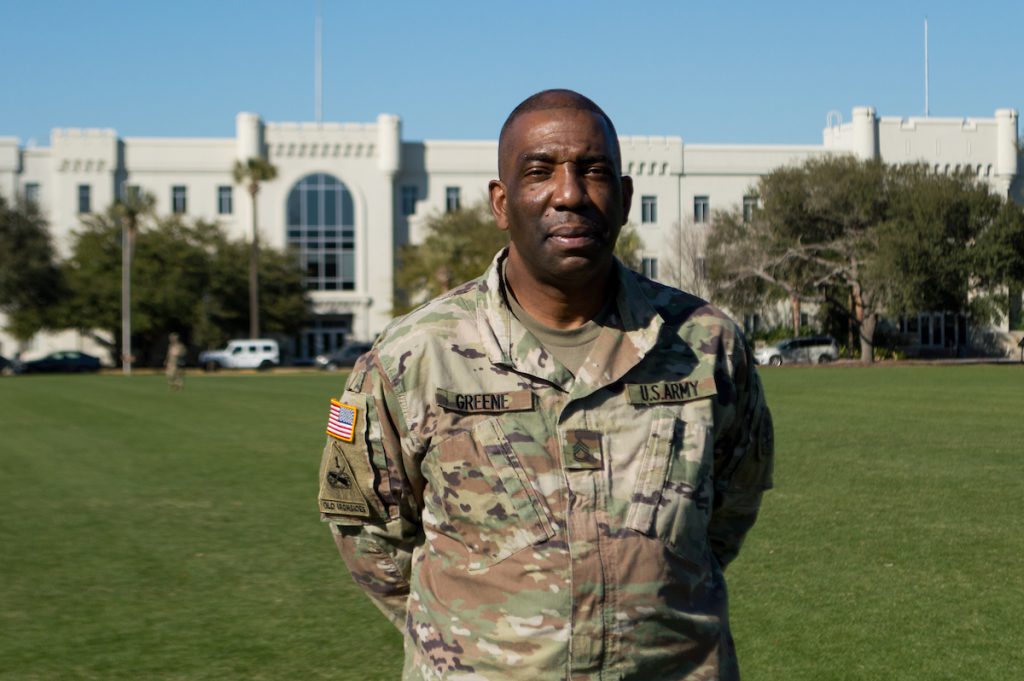 By Cadet Olivia Hime, Regimental Public Affairs NCO
Photo above: SFC Kenneth Greene, USA (Ret.), '09, poses for a portrait on Summerall Field at The Citadel in January 2022.
As Regimental Public Affairs NCO, part of my job is to help communicate what I believe are some of the advantages a cadet experience here at The Citadel provides. To me it is largely the people on campus, many of whom are veterans, who make such a difference.
There are a lot of heroes at The Citadel in my opinion. One of them is Sergeant First Class Kenneth Greene, USA (Ret.). He is the Operations and Training NCO here. Additionally, SFC Greene is the tactical officer for The Citadel Rifle Legion Drill Team.
After serving in and then retiring from the Army, he came to work at The Citadel in 2006 as a member of the Commandant's staff. He also earned a Bachelor's degree in Health Exercise and Sport Science in 2009 as a veteran student and staff member here.
I selected SFC Greene for this article based on his leadership style and his involvement on campus.
OH: Where did you grow up?
KG: I grew up right outside Philadelphia in a small town called Chester, Pennsylvania. It is exactly 20 minutes from the Philadelphia airport. Back then, people migrated up there because they were steelworkers. My mom was down in North Carolina, but there were no jobs there. So, at the time everyone was moving and Chester is where we settled.
OH: Do you have any siblings?
KG: Two sisters. I am not the oldest. I have one little sister who is back home and I have a baby sister in Virginia.
OH: Family seems important to us both. Do you know of any hardships your parents faced? Do you think you shared any with them?
KG: Back in the day, our parents always provided for us — we did not realize it until we got older — as far as food and clothing and the basics. Now it seems every time you go to a store there are things you want: I want this, I want that. It was not really like that when I was growing up and it was the same for my parents.
A prime example: when you had a pair of jeans and you had got a hole in those jeans, you put a patch over it, you didn't just go buy another pair. Another example is that when we came home from school, we took our school clothes off and put on our play clothes. We had to take care of what we had.
It was the same thing for church. When you came home, you had to take off your church clothes. Also, there was not any riding bicycles, washing cars or playing outside on Sundays. That was the Lord's Day, as our folks would say back then. I still hold true to those values and practices.
OH: Who inspired you the most when you were young?
KG: I had some teachers who did, but overall I would say my mom. Everything I wanted, I had to go through my mother. You saw how hard she worked. Every parent wants their child to be better than they were. That stuck in my mind.
You really do not see the big picture until you leave the house as a young adult. Everyone always says, 'I cannot wait to leave the house and be on my own.' And to that I always say, 'Be careful what you ask for.' Nobody told you about bills, insurance, paying for electricity and things like that. We're like a horse sometimes when we are in a small town family…blind to much of what's around us until the blinders come off.
OH: Tell me more about your family?
KG: My wife, Sylvia, worked in Bond Hall for over 20 years, was the Registrar for The Citadel, and now she is fully retired. I met my wife right here on campus. We have one son and one granddaughter who goes to private school in the area.
I was still in the army when we had my son. I was always gone, so a strong foundation was important. I wish I could have been around more to guide him, but my main goal was to provide and put food on the table. My granddaughter is 11 years old and will be 12 soon. She comes to The Citadel football games and she plays tennis.
OH: What made you want to enlist in the United States Army? What have been some of your favorite experiences?
KG: It helped me pay for loans and got me away from home. Looking back, I have no regrets. I would do it all over again. Traveling, meeting a lot of new people around the world.
I have been to so many places including France, Germany. Korea was cold; it was rough. I had three tours in Korea. My last one was at the DMZ, which was eight miles from the border. I was in Camp Greaves. If anyone knows anything about Camp Greaves…the barracks at The Citadel close at 2300…there, when the bridge closes, you are not coming across until it opens back up. Spain, France, and some other parts of Europe were the best places I have been military wise.
When I first joined, I saw a lot of seasoned men who had been to combat. I thought, 'Man, I would sure like to go to combat.' I tell people that it is not what you think it is. Some things I can talk about today and others I cannot. In all, it was a good experience and I would go through it again. I would not change anything at all. I am happy where I am now
OH: What were your first few weeks in the military like when compared to your last year in the Army?
KG: Both were challenging. In the first few weeks, I was excited, young and eager. You put your life on the line several times and you stop thinking about tomorrow. It was a big adjustment
The last year, I was like, 'Man, my career is coming to an end.' You never think about taking the uniform off because you tend to think you will be in the military as long as you can. The next thing you know, when it is time to hang the uniform up, you think 'What am I going to do now?'
OH: What brought you to The Citadel?
KG: I was at Fort Jackson near Columbia, South Carolina, and worked at the hospital. I had put my retirement papers in and I was looking for several different jobs. I had put in for highway patrol and had gone through the whole process and got accepted. I went to the academy in July and graduated one week before Thanksgiving. They asked me where I would like to be stationed and work. I said Charleston and they said, 'Perfect, we are looking for highway patrol in that area.' Two weeks before I had applied for that, I had applied for the operations job here at The Citadel. I came for an interview and it went well. They called and offered me the job. I retired in May and started here at The Citadel in February.
OH: What inspires you about working here?
KG: The people and especially the cadets. You want to mold them, so that they see no downfalls. You don't want them to make the same mistakes as you. I like to help guide them so they don't leave and realize they should've done things differently while a cadet. You'll realize many of the benefits later, especially if you have a family of your own.
OH: What colleges did you go to? What inspired you to go there?
KG: I went to Hampton University and then to The Citadel. I chose The Citadel after looking at alumni and their strengths. When being in the military, you never know who you are going to run into. Some people who had graduated from here told me I should think about going to The Citadel. One of them was Lt. Col. Gerhart. His son is actually here now.
Here at The Citadel there is a really good opportunity to train through the ranks. My advice is to go ahead and get your education when you can, that way you will be more marketable when you get out. That's a true statement. It makes a difference. You have to make a living — so if you are eager, and no matter how old or young you are, you have to stay focused and get a good education.
OH: Do you think the people that have influenced you have changed as you've aged? Is there anyone in the army, or others whose leadership impressions stayed with you?
KG: In the military, when you come in as an enlisted member, you are always are trying to reach a certain goal and say, 'I am trying to be like that person.' You always have some good leaders and some bad leaders. You try to follow that one person. The person that sticks out in my mind is MSG Merritt. He was my main supervisor and I was always trying to emulate him and wanted to be just like him.
OH: What is your biggest accomplishment?
KG: Retiring from the military and coming back in one piece. I met a lot of people that didn't get that. I would have given my life, if need be. That is a hard realization for some. You come back and see some friends that are still not in the right mind or on medication. Sometimes it's hard to see.
We still keep in contact, a pack of us. You see, with age, your friends wear down. They develop health issues like heart problems or are on dialysis. I told people that when I am retired, they'll never see me on a military installation. I've only been back to Fort Jackson a few times.
OH: Where do you see yourself in five years?
KG: Perhaps retired. Traveling more, golfing and relaxing. Life is too short. A tomorrow isn't promised at all. Here, when a class graduates, you'll never seem them as a whole again. Once they leave, life takes them.
When I retire, I will be a little sad and I will miss the conversations I have with cadets. I will miss the good and the bad people. I will miss the routine and life that exists here at The Citadel.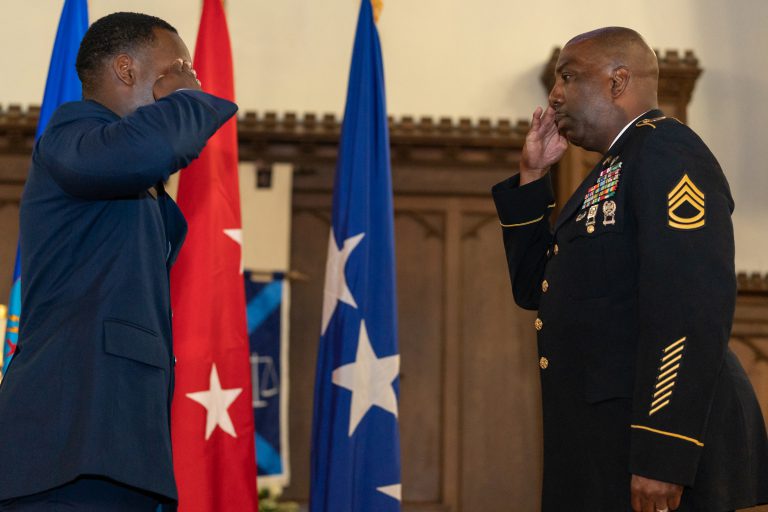 OH: What advice would you give to your younger self?
KG: Save your money. Stop buying CDs. Go hang out with your friends more. Invest more. When you are in your 50s, you want to make sure that you can walk away debt free.
What do you think the future holds for The Citadel?
I think it is a great institution with a lot of promising leaders. If you look at the leadership that has been through here, you see each class takes it to a certain level then moves out of the way for the next wave of leaders to develop it even further.
About the author
Cadet Olivia Hime is from Holly Springs, North Carolina, near Raleigh. She is a junior and a member of The Citadel Honors Program. Hime is majoring in Biology with a minor in Leadership. She has repeatedly earned gold stars and positions on the President's and Dean's Lists for academic excellence.
Hime is a member of numerous organizations on and off campus, including The Citadel African American Society. She serves as the Scalpel Reporter, which is the official Alpha Epsilon Delta honor society journal. Hime enjoys volunteering in the community and playing basketball.
Hime will graduate one year early, in May 2022, and plans to attend medical school to become a physician.