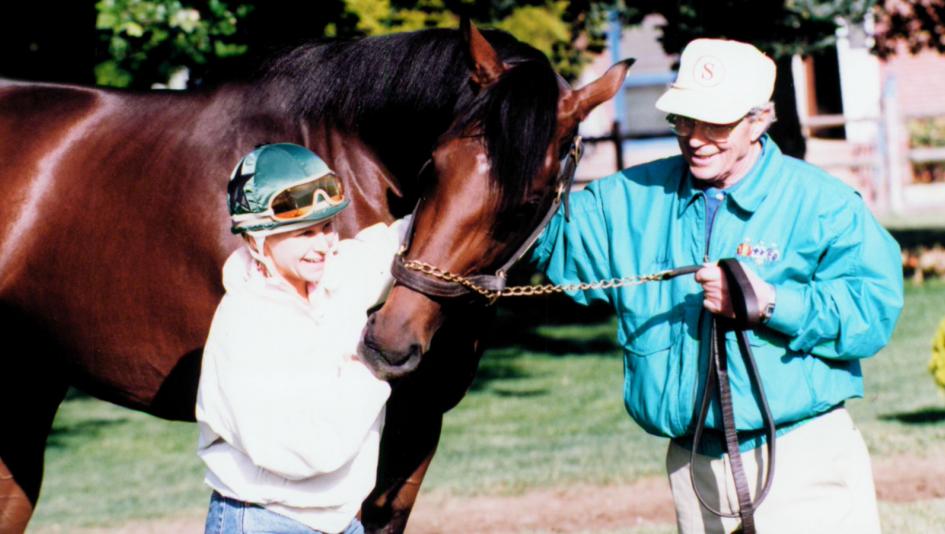 Photo: Scotty Schulhofer with jockey Julie Krone and 1993 Belmont Stakes winner Colonial Affair. (Patricia McQueen/Courtesy of BloodHorse Library)
(Note: Scotty Schulhofer was a member of the South Carolina Corps of Cadets for two years after serving in World War II.)
Flint S. "Scotty" Schulhofer spent almost all of his 80 years on this earth around horses and racetracks, but in a sense he was much like a fine wine.
Born as the son of a horse owner/riding academy operator, he went to work at the racetrack as a 17-year-old youth. Yet when he approached his 60s – at a time when most men would look to slow down and eye retirement – he enjoyed his greatest run of sustained success and assembled a stable that rivaled any in the sport.
"I worked for Scotty for 17 years," trainer Sal Russo told BloodHorse at the time of Schulhofer's death in 2006. "He was a special man; a first-class kind of person. Not that he wasn't tough, because he was. I learned a lot from him, but I just wish I had the horses he did. He's always telling me to hang in there, because it took him a long time.
"He was a very good caretaker. If he could have taken them home with him at night, he would have. He always preached: if you treat them right, they'll treat you right."
And horses certainly treated Scotty Schulhofer right.
Born in Aiken, S.C., on May 30, 1926, Schulhofer took his first racetrack job in 1943, schooling horses for trainer Oleg Dubassoff. But it was short-lived as he soon joined the Army and served as an infantry man in Germany during World War II.
He attended The Citadel following the war and took pre-med classes before returning to work for Dubassoff and eventually becoming a steeplechase jockey from 1950-62.
After retiring as a rider, Schulhofer took out his trainer's license and won his first race at Aqueduct in 1962. His career took off in 1969 when he was chosen to replace the retiring John Nerud as head trainer for the esteemed Tartan Stable of owner William L. McKnight.
While with Tartan, Schulhofer handled his first champion, the outstanding female sprinter Ta Wee.
A winner of 15 of 21 starts, Ta Wee's victories included the 1969 Test, Vosburgh, and Fall Highweight Handicaps and the 1970 Fall Highweight, Monmouth, Regret, and Hempstead Handicaps. Inducted into the National Museum of Racing and Hall of Fame in 1994, she was named the champion sprinter of 1969 and 1970.
Schulhofer parted ways with Tartan in 1972 and opened his own stable. He trained a steady string of stakes winners, horses such as Honey Fox, Proud Nova, and World Appeal.
Then in 1978, Schulhofer campaigned his second champion with the grass star Mac Diarmida. A winner of 12 of 14 starts in 1978, Mac Diarmida reeled off 10 straight stakes wins, including the Washington D.C. Invitational, Canadian International Championship, and Lawrence Realization, en route to an Eclipse Award as the year's champion turf runner.
Yet a few years later, as he approached 60, Schulhofer's career amazingly started to reach new heights.
In 1985, he sent out Frances A. Genter's Smile to finish second in the Breeders' Cup Sprint at Aqueduct, then won the race a race year later with Genter's colt.
After Smile, with some help from his son Randy who served as the stable's assistant trainer, a steady stream of Grade 1 winners began to pop up in Schulhofer's barn.
In 1987, he won the Grade 1 Florida Derby with Cryptoclearance, who raced in all three legs of the Triple Crown, finishing fourth in the Kentucky Derby, third in the Preakness, and second in the Belmont Stakes. Later in his career, Cryptoclearance posted Grade 1 wins in the Pegasus, Donn, and Widener and earned more than $3.3 million.
In 1989, he trained one of the year's best sprinters, Sewickley, who reeled off wins in the Tom Fool, Fall Highweight Handicap and Vosburgh.
The following year, Schulhofer added another championship to his already glittering resume when Fly So Free closed the year with wins in the Grade 1 Champagne and Breeders' Cup Juvenile to capture the 2-year-old championship for males. Winner of the Grade 1 Florida Derby, Fly So Free faltered in the 1991 Kentucky Derby and finished fifth, yet he still managed to finish his career with more than $2.3 million in earnings.
In 1992, the year Schulhofer was inducted into the National Museum of Racing and Hall of Fame, Rubiano gave Schulhofer another champion when he won the Westchester, Carter, Tom Fool, Forego, and Vosburgh and earned an Eclipse Award as the top sprinter.
Owned by Centennial Farms and ridden by Julie Krone, Rubiano's banner season foreshadowed a milestone victory in 1993 by a stablemate.
Colonial Affair not only gave Schulhofer his first Triple Crown triumph when he won the 1993 Belmont Stakes, he also broke a long-standing barrier. The Centennial 3-year-old made Krone the first – and to this day still the only – female jockey to win a Triple Crown race.
Winner of the Grade 1 Whitney and Jockey Club Gold Cup at 4, Colonial Affair earned $1.6 million in his career.
Six years later, Schulhofer recorded a second Belmont Stakes victory when Lemon Drop Kid thwarted Charismatic's bid for a Triple Crown sweep. Lemon Drop Kid, an earner of $3.2 million, followed up his 1999 Belmont win with a victory in the Travers and wins at 4 in Grade 1 tests such as the Whitney and Woodward earned him an Eclipse Award as the year's champion older male.
In 2002, Schulhofer decided to retire, closing the book on a career that included 1,328 victories and earnings of $54,657,686.
It was a long and storied ride, and one that never really slowed down. It actually grew better as the years went by.
Fun Facts
He ranked among the top 10 nationally in earnings on seven occasions.
Schulhofer also worked as the trainer for Harbor View Farm in 1982.
Among the other stakes winners trained by Schulhofer were Cahill Road, Collins, Dr. Carter, Montreal Red, Scan, Senor Pete, Shared Interest, Strategic Maneuver, Tappiano, Twining, and Unaccounted For