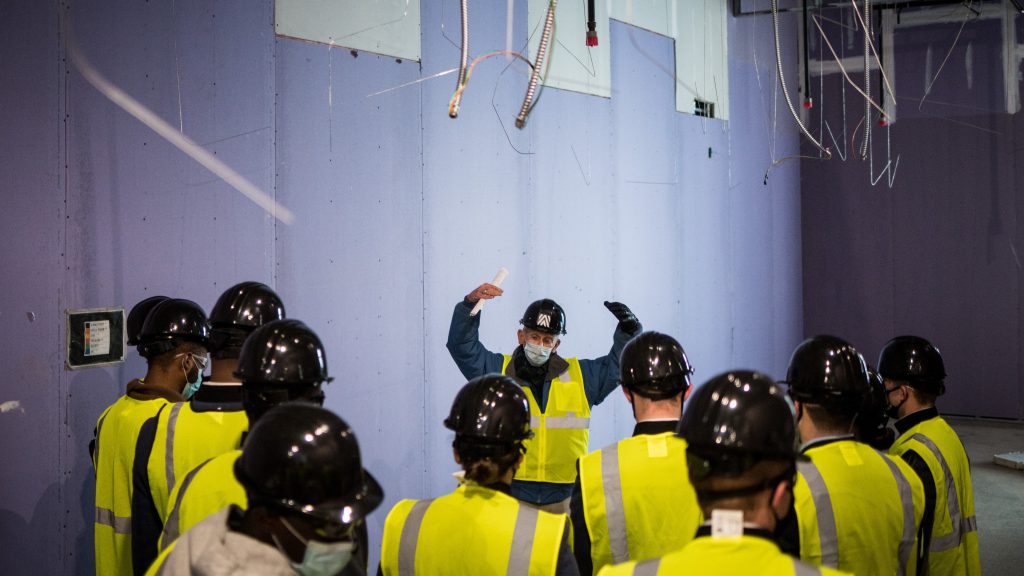 Photo above: Citadel cadets and students enrolled in the course "The Why and the How: The Making of the International African American Museum" tour the site of the museum with Professor Joseph P. Riley Jr., the former Mayor of Charleston, on February 2, 2021.
First recorded class session airing Sept. 18
The International African American Museum (IAAM) in Charleston is expected to open in 2022. The founder and champion of the IAAM, former Charleston Mayor Joseph P. Riley Jr., is a professor at The Citadel and a member of The Citadel Class of 1964.
Class segments from one of Riley's courses, co-designed and taught by Kerry Taylor, Ph.D., a professor in The Citadel Department of History, are being broadcast by the C-SPAN American History TV channel, beginning on Sept. 18. "The why and the how: The making of the International African American Museum" recorded class sessions will also be available on the C-SPAN American History TV website.
Riley was mayor for 40 years and a career-long civil rights activist, serving as one of the most important figures in American municipal government. After retiring from public office, he assumed the position at The Citadel as the first person to serve in a professorship named for him: the Joseph P. Riley Jr. Endowed Chair of American Government and Public Policy Professor.
Here is a description from C-SPAN.org:
The International African American Museum in Charleston, South Carolina is slated to open its doors in the summer of 2022. We sat in on a course at the The Citadel looking at how and why the museum came into existence. Former Charleston Mayor Joseph Riley — who first proposed the idea for the museum more than 20 years ago — co-taught the course with history professor Kerry Taylor. Their guest speaker for this class session was Smithsonian Secretary Lonnie Bunch, who shared his experiences as the founding director of the National Museum of African American History and Culture. The Citadel provided this video.

C-SPAN.org
The course, taught mostly remotely in the spring of 2021, featured leading global figures Riley engaged to contribute what Riley calls "the under-told stories of African American experiences."
The cadets and students in Riley's class also toured the IAAM construction site, led by Riley.
"The International African American Museum site is sacred ground. The location was crucial because every day it is painfully evident that America continues to be fractured by our structural defect resulting from the days of enslaved Africans. This fissure exists because we Americans do not know this important part of our country's history," Riley said in response to being asked a about why he developed the course.
For Riley, an IAAM board member, the museum represents an extension of his political commitments, dating back at least to the time of his first mayoral election in 1975.
A clip of the first class shown, featuring the Secretary of the Smithsonian Institution Lonnie Bunch III, is below.