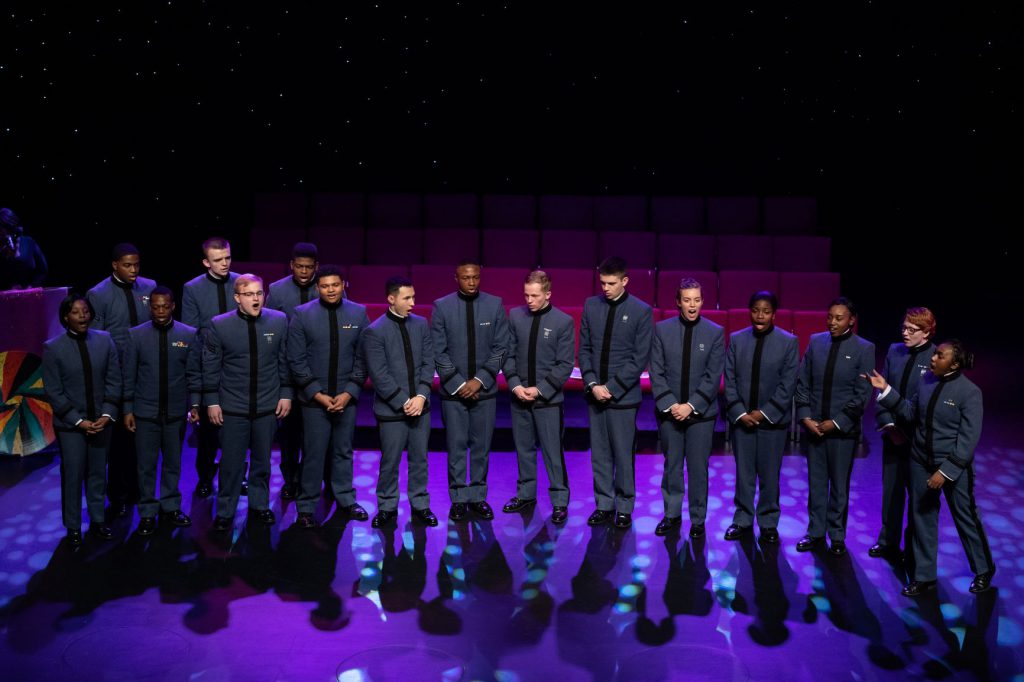 Photo: Citadel Gospel Choir performing at MLK Picture Awards
By Cadet Rhaei Brown
"It's a family."
That's what Regimental Executive Officer David Days says that The Citadel Gospel Choir means to him. It is a sentiment shared by over 60 diverse men and women who sing together every week on campus. Senior cadet Michael Rice says, "The Gospel Choir means everything to me, because it's my family."
Cadets and students volunteer to be part of the choirs, using their voices to share songs of joy and praise intended to touch hearts and lift spirits. Cadet Rice went on to say, "When we're in practice on Tuesdays and Thursdays the rest of the world and all my problems don't matter. I want everyone who joins to have that same experience. We're a volunteer organization, we have a lot of people doing it, and it's a diverse group."
Thanks to a lot of practice and a growing presence, the Gospel Choir can be heard singing not only on campus, but around the Charleston area as well.
"Each member in our choir is completely committed to our mission of making the love of Jesus famous. The love we're spreading represents a gift, which has been given freely to all people. Having a choir that represents people of every crowd is indicative of the power that gospel music has to transcend homogeneity and even cultural upbringing," said Marcus Milhouse, 2nd Battalion Religious Officer.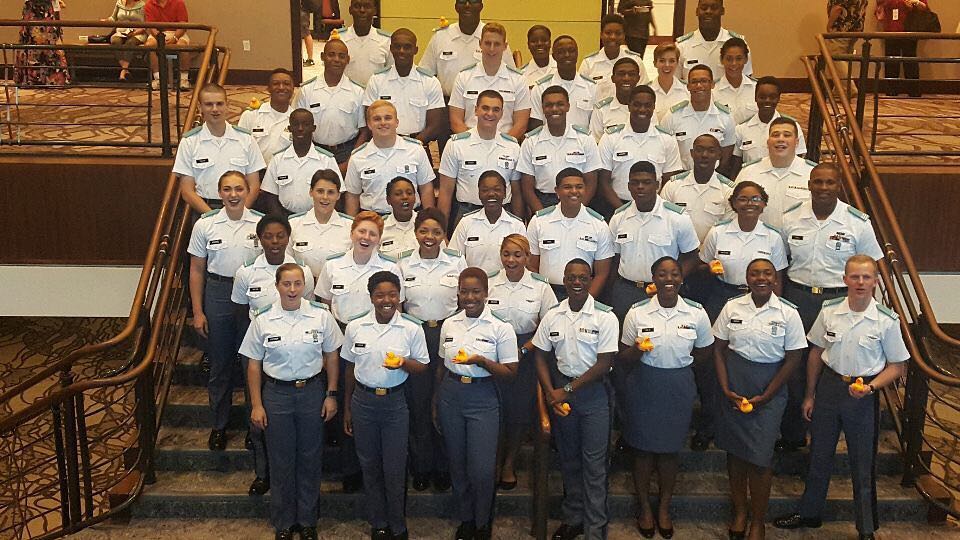 According to Days, Milhouse, and Rice, The Citadel Gospel Choir was originally started in the 80s, but was revived when they arrived on campus in August 2015. Recounting the early days of the group, Rice said, "I remember sitting with Marcus Milhouse and David Days for Chapel Orientation during Challenge Week, and we heard about the different choirs we could join on campus and we thought a Gospel Choir sounded good. We were all trying to find something that was like back at home, because our first week here was tough."
When discussing the first time the new group started singing together, Rice said, "We all loved singing for Christ, which is something we had been doing our whole lives. We started with three, and then others joined like Christina Capers, who was part of our first performance, Octavia Wolfe and Sheldon Herbert. As we have progressed, nothing has changed except the numbers."
Today, The Citadel Gospel Choir is led by Reverend Rodney Barrentine and Class of 2000 alumnus Momolu Cooper, who have worked with the group for two years.
"We grew up doing it, and we find joy in singing. That is our way of saying how good God is to us. That's what Gospel is; telling the Good News of Christ which is that he died for us, and is living in us today," said Rice.
For the second year, they had their own float in Charleston's Martin Luther King Jr. Day parade, which was received with much love from the crowds lining King Street. The choir also represented The Citadel at the 2019 Rev. Dr. Martin Luther King, Jr. Picture Awards, hosted by Rep. Wendell Gilliard, and Black History Month Intercollegiate Consortium's MLK Awards Ceremony at Trident Tech.
Days says, "It's just really cool to be part of a new generation of the Gospel Choir, and hopefully when I come back as an alum for homecoming and different events and can see it still thriving, and I can know that I was able to help revive something that I believe is fairly important on campus."
An Evening of Inspiration and Unity
The Citadel Gospel Choir will host a Black History Month concert at 4 p.m. on February 24 in Summerall Chapel. The concert will be live-streamed on The Citadel's Facebook page and YouTube.