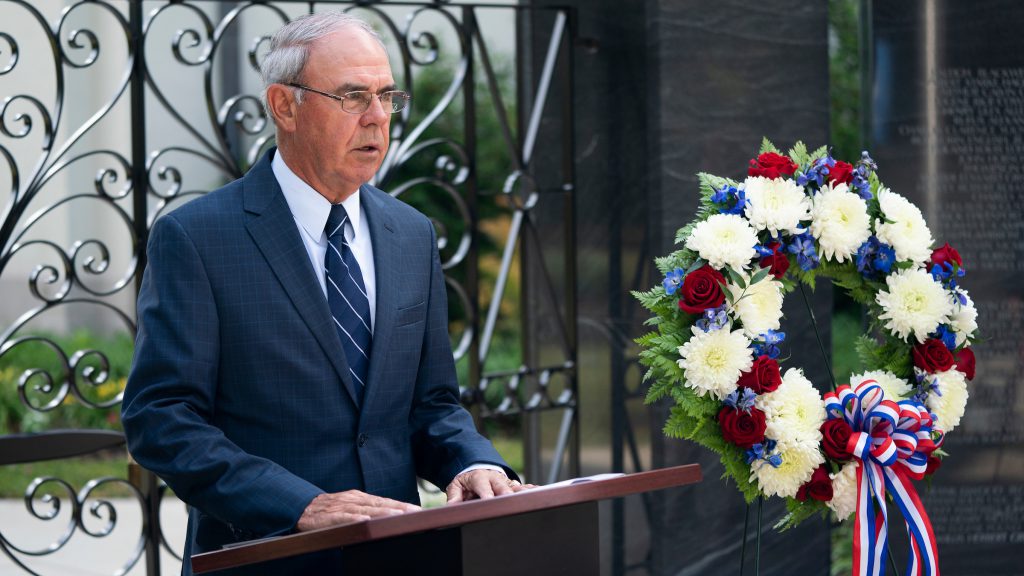 One red, white, and blue wreath and one small gathering of physically-distanced people in masks — encircled by raven-black granite bearing hundreds of names. Despite the inability to host a more traditional event with a crowd, Memorial Day 2020 would not be disregarded by the Association of the U.S. Army (AUSA) local chapters and The Citadel Alumni Association (CAA).
To honor The Citadel alumni who were killed in action, and all of America's service people lost in war, the organizations held a ceremonial wreath laying at The Citadel War Memorial on campus, meant to be shared with others digitally through images and video.
The memorial, rooted near the center of the college next to Summerall Chapel, was the vision of the Class of 1967. Fittingly, a member of that class, Brig. Gen. Tom Dickinson, USA (Ret.), also a member of the Coastal South Carolina ASUA chapter, provided the remarks during the May 21 wreath laying.
Dickinson's small audience included The Citadel President, Gen. Glenn M. Walters, USMC (Ret.), and Judith Ranger Smith, the daughter of Capt. Terry Cordell, '57, representing America's Gold Star Families, as well as few AUSA, CAA and Citadel staff members. Cordell was killed in action in Vietnam.
Today, we stand along the Avenue of Remembrance at The Citadel's War Memorial. During this unprecedented time in American history, we remember the Soldiers, Sailors, Airmen, and Marines who paid the ultimate sacrifice for our nation. We remember conflicts in which these alumni fought and are eternally honored at the Memorial. We invite everyone to enjoy the beauty of this monument here at The Citadel and pay tribute to the fallen.

Originally known as Decoration Day, one of the first recorded gatherings and laying of flowers on graves was done by a group of freed slaves right here in Charleston. Memorial Day became an official federal holiday in 1971 and occurs on the last Monday within the month of May. Memorial Day observances occur officially at 3PM locally across the nation.

The wreath we will place is adorned in the patriotic colors of our nation. Red representing valor and honor. White representing innocence and purity. And Blue representing hope and perseverance. Throughout this weekend, remember our fallen heroes, remember our veterans, and remember those currently serving. As we place this wreath, please take a moment of silence to remember our fallen.

Brig. Gen. Tom Dickinson, USA (Ret.), Citadel Class of 1967 and member of the Coastal South Carolina Chapter of the Association of the United States Army
Though the group was small, the meaning of the day was not diminished.
"The Citadel has a special connection with Memorial Day. Our graduates served in every conflict since the Mexican War and are serving on the front lines today.

The Citadel War Memorial enshrines the names of all Citadel alumni who gave their lives in these conflicts. It takes on special significance each Memorial Day. I am honored to represent The Citadel as we mark this remembrance.

As with many events in the past weeks, we cannot gather to reflect as a group. We can all take a moment to reflect on those who made the ultimate sacrifice and mark this Memorial Day in our own ways.

I wish everyone in our Citadel Family a safe, healthy Memorial Day."

Gen. Glenn M. Walters, USMC (Ret.), president of The Citadel and member of the Class of 1979
Citadel Alumni Association Memorial Day 2020 video