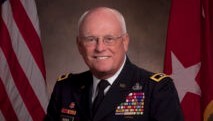 Maj. Gen. Arthur Hamilton Baiden, III, U.S. Army, (Ret.) of Greenville, S.C., passed away on March 8, 2021 after living the life of a principled leader.
Baiden was a member of The Citadel Class of 1962 and dedicated much of his life to serving his alma matter. He was Chairman of the Board of Visitors, Vice Chairman of the Board and President of The Citadel Alumni Association during his lifetime.
Baiden earned a Bachelor of Science in Civil Engineering and recognition as the second honor graduate when he graduated. He accepted a commission as an officer in the Army, a career that spanned more than three decades. He then has a second, civilian career lasting almost as long.
Baiden retired from his 32-year long civilian career in 2005 as president and CEO of what was then called Potter Shackelford Construction Company in Greenville. Prior to that, he retired with the rank of major general after serving America for 35 years in active duty and the reserves.
While in the Army, Baiden served three combat tours, one in the Dominican Republic and two in Vietnam. His awards and decorations included the Distinguished Service Medal, Legion of Merit, Bronze Star, Purple Heart and Air Medal. He was a master parachutist and ranger. In 1994, South Carolina Governor Carroll Campbell presented the Order of the Palmetto, to Baiden, the state's highest honor, for his service as commanding general of the 120th Army Reserve Command in support of Operation Desert Storm. He subsequently served as the first Commanding General of the U.S. Army Reserve Readiness Command and as a member of the Army Reserve Forces Policy Committee at the Pentagon.
Baiden served his community as president of the Wade Hampton Sertoma Club; Chairman of the Board of Carolinas AGC, the largest construction trades organization in the Carolinas; and was vice chairman for the Board of Habitat for Humanity of Greenville County.
In addition to his degree from The Citadel, Baiden earned a Masters Degree in Civil Engineering from North Carolina State University; and in 2009 he was awarded an honorary Doctorate of Military Science from The Citadel. Additionally, Bainden graduated from the U.S. Army War College.
Baiden was married for 54 years to Jean Parsons of Fayetteville, North Carolina, who passed away on Aug. 8, 2020. She was also known for her expansive philanthropic service. Her obituary can be read here.
The Baidens are survived by a daughter, son, brother, and three granddaughters.
The Baiden family invites friends and family to leave remembrances about "Art" and Jean at this website where information about services will be posted at a later date.