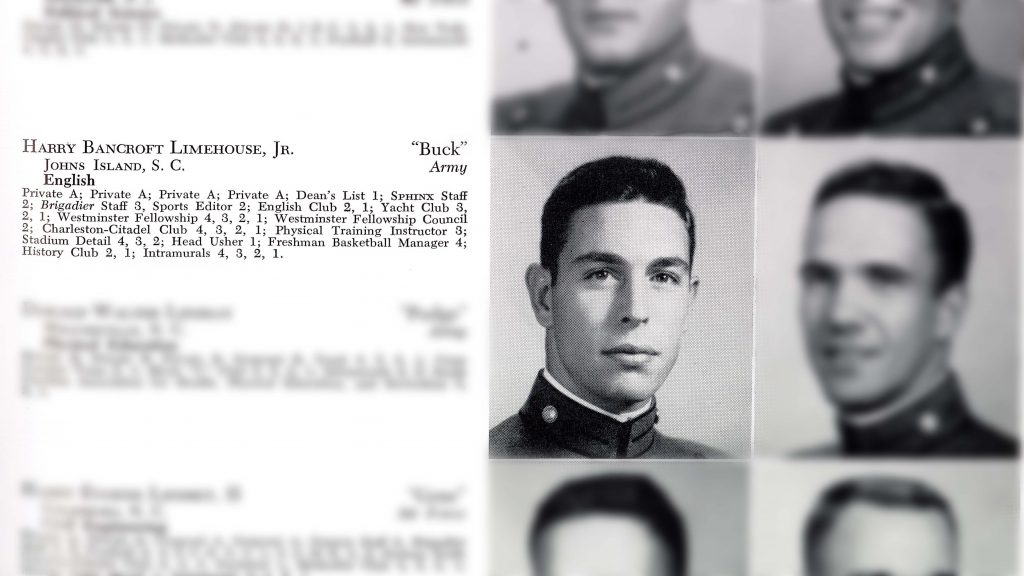 Note: Harry Limehouse Jr. graduated from The Citadel with a Bachelor of Arts in English in 1960. Limehouse served on The Citadel Board of Visitors from 2004-2007.
"I am thankful I had the pleasure of knowing Mr. Limehouse, who everyone called Buck, though I wish I'd known him much longer," said Cadet John Acker, '23, a friend of the family. "But in a short amount of time, I easily observed that he exemplified everything a cadet should aspire to be: he was a family man, a man of God, a servant of South Carolina and, most importantly, he was a Citadel man. Buck was one of a kind, a legend."
The service for Harry Limehouse Jr. will be held at 12 p.m. on Saturday, Feb. 26 in Summerall Chapel. Family and friends are invited to a reception — which held in Buyer Hall, on the second floor of Mark Clark Hall — immediately following the service.
Harry Bancroft "Buck" Limehouse, Jr. Johns Island – Harry Bancroft "Buck" Limehouse, Jr., 83, of Johns Island, SC, passed away on February 3, 2022, at home, after an extended battle with cancer.
Buck is survived by his wife of 60 years, the former Frances "Frankie" Fennell of Walterboro, SC. He and Frankie have four sons: Harry Bancroft "Chip" Limehouse III of Charleston, SC, Wilbert O'Brien Limehouse (Lauren) of Charleston, SC, Barry Walter M. Limehouse (Sandra) of St. George, SC, and James Bradley Limehouse of Ocala, FL. They have nine grandchildren: Chase Limehouse (Kaitlin), Eliza Limehouse McBride (Struthers), Elaine Paige Limehouse, Wilbert O'Brien Limehouse, Jr., Alston Limehouse, Lina Limehouse Bass (Zeb), McLain Limehouse, Morgan Limehouse, Barry Walter M. Limehouse, Jr.; and one great-grandson, Patton McBride. Buck is also survived by two brothers: Richard Limehouse of Costa Rica and Jack Limehouse (Andrea) of Johns Island, SC. In 1972, a new family member was added, Anne K. "Stinne" Fogh, of the country of Denmark. She became the family's Au Pair and has been with them for over 50 years.
Buck was a life-long native of Charleston, SC, where he was a 1960 graduate of The Citadel. Buck was founder and owner of Limehouse Properties, a commercial real estate company that manages his business interests, which include the Indigo Inn, the Meeting Street Inn and the Jasmine House, all in downtown Charleston and two franchised properties in Summerville, SC, and St. George, SC. He had been a licensed real estate broker since February, 1974. In recognition of his business skills, the South Carolina Hospitality Association named him "Hotelier of the Year" for 1994.
In 1995, he was awarded an Honorary Doctorate degree in Hospitality Management from Johnson & Wales University and in 1996 The Citadel bestowed upon him an Honorary Doctorate degree in Business. Civic associations, regional organizations and Republican causes have all benefited from Buck's active and committed style of leadership. His involvement ranges from the Charleston Board of Realtors (where he was Charter President of their Commercial Real Estate Division) to the 1992 Chairmanship of the Southern Governors' Conference and membership on the U.S. Presidential Delegation to the Paris Air Show of 1987.
He served on The Citadel Board of Visitors from 2004 to May 2007 when he resigned his position after being appointed Executive Director of SCDOT.
Buck was also a long time member of the Hibernian Society. Buck grew up an avid sportsman in the marshes and woodlands along the precious South Carolina coast. His vow to protect the water, land and air is backed up by his record. Until recently, he owned land in the heart of S.C ACE Basin (Airy Hall Plantation) and granted a conservation easement there to protect the property from future development. He was the founding President of the Palmetto State Games, being appointed by Governor Richard Riley, and was former Chapter President of Ducks Unlimited. Buck was named as South Carolina's 1997 Conservationist of the Year by the SC Wildlife Federation and the National Wildlife Federation.
Buck served numerous roles at SCDOT. He was elected to the SCDOT Commission representing the 1st Congressional District in 1993. In 1994, Governor Carroll Campbell appointed him to serve as the Commission's Chairman. He was reappointed as Chairman by Governor David Beasley in 1995, serving until 1999. During his tenure as SCDOT Commission Chairman, Buck was instrumental in the creation of the State Infrastructure Bank (SIB) in 1997 and served as a member of the SIB's board from 1997-1999 where he was involved in the initiation of several transportation projects that totaled in the billions of dollars in value. Some of those projects included the Cross Island Parkway, the Conway Bypass (SC 22), the Carolina Bays Parkway (SC 31) and the US 17 Ace Basin project. He also led the effort for SCDOT to acquire Sandy Island in Georgetown County. This preservation purchase permitted SCDOT to create a mitigation bank of 9,000 acres. That action allowed the coastal projects to move forward at an accelerated rate. In addition, the island was protected from further development and remains a national treasure today.
In 2007, he was appointed by Governor Mark Sanford as South Carolina's first Secretary of Transportation and served in that position until January 2011. Buck was dedicated to improving the operations of SCDOT. His initiatives will have an impact on transportation in South Carolina for many years. The SCDOT was recognized as the most efficient Department of Transportation in the nation during his tenure as Chairman. The South Carolina Transportation Policy & Research Council named him "Transportation Advocate of the Year" in May 1995 and he also earned the 1996 "Friend of the Taxpayer" award from the SC Association of Taxpayers for his fight against waste in government. In addition to the previous mentioned service, Buck was also Chairman of the SC Public Railways Commission and on October 29, 2015, Buck was appointed to the SC Education Lottery Commission, serving until December 2018.
For his years of service, he was recognized several times. In January 1995, Governor Carroll Campbell honored Buck by awarding him The Order of the Palmetto for his distinguished service to the state of South Carolina. In January 1999, before leaving office, Governor David Beasley honored Buck with a second Order of the Palmetto for his distinguished service to the state of South Carolina.
All friends and family are welcome to attend the memorial service honoring Buck at The Citadel's Summerall Chapel at a date to be published later. The service will be officiated by The Rev. Frank Limehouse of Hobe Sound, FL, and Dr. Harold Greene, Pastor at Bennetts Point Interdenominational Chapel. The service will be followed by a reception at Mark Clark Hall. In lieu of flowers, the family requests that donations be made to Bennetts Point Interdenominational Chapel at 123 Bennetts Island Drive, Green Pond, SC 29446. Arrangements by J. Henry Stuhr, Inc., Downtown Chapel. A memorial message may be sent to the family by visiting our website at www.jhenrystuhr.com. Visit our guestbook at legacy.com/obituaries/charleston