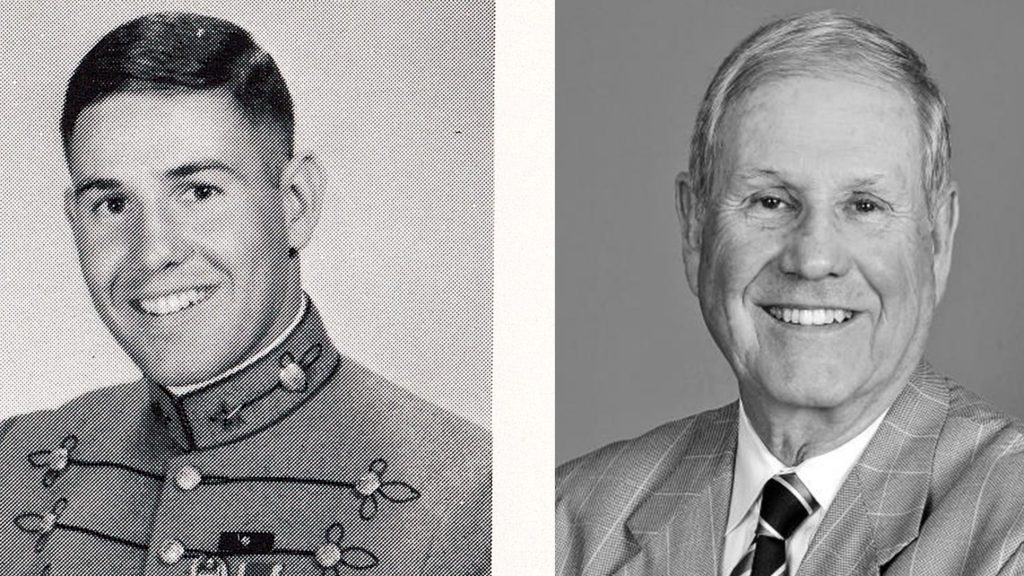 The Citadel is mourning the loss of one of its most passionate supporters, a prominent alumnus known for his generous contributions to his alma mater.
Dudley Saleeby Jr., a member of the Class of 1966, passed away on Sunday, May 15.
Just one day before, on May 14, The Citadel Alumni Association (CAA) passed a resolution recognizing his life-long contributions to the both the college and the CAA.
Be it resolved that The Citadel Alumni Association expresses its gratitude to Dudley Saleeby Jr. for a lifetime of selfless service to our beloved alma mater, said service being from the small to the large, in countless roles, all for the benefit of our cadets, the college, and the Association.

Portion of the CAA resolution passed in honor of Dudley Saleeby Jr., '66
In 2007, Saleeby was named Distinguished Life Member of the CAA — a title awarded to only 28 alumni to date. It is the highest honor bestowed by the Association, and recognizes alumni who achieved excellence in their professions and made meaningful contributions to The Citadel, the CAA and their local communities.
His contributions included serving a one-year term as president of the CAA, and more than 50 years as the Chair for the Class of 1966 with The Citadel Foundation.
In addition, Saleeby also served on The Citadel Board of Visitors from 1999-2005.
"Dudley Saleeby represented everything one could hope for in an alumnus of The Citadel: a servant leader for his colleges, his church, his community and his country," said Col. Dylan Goff, '02, chair of the BOV. "We are grateful for his years of dedicated service, and send our deepest condolences to his family as we join them in mourning his loss."
Saleeby also served as solicitor in Florence for decades.
"I had the great privilege to deliver the CAA's resolution to him Saturday afternoon," said Mark Brandenburg, General Counsel at The Citadel. "Sadly, I was his last visitor. The resolution touched him deeply. He loved The Citadel and was a great and passionate advocate for the school for over 50 years. His passing is The Citadel's great loss. I had the opportunity to share two alma maters with him — The Citadel and Duke Law School. Our seats in Johnson Hagood were on the same row, and we also sat together at many Duke basketball games. Both schools will miss him tremendously."
Dudley Saleeby, Jr. of Florence, SC, died peacefully at home in the company of his family on May 15, 2022.
Born in Florence on September 15, 1944, he was the son of Dudley Saleeby and Mary Frances ("Tumpy") Hammond Saleeby. He was raised in Dillon, SC, surrounded by an extended Lebanese family.
At Dillon High School, he played football, basketball, ran track, and put the shot. He also served as Governor of the Carolinas District for Key Club International, for which he traveled extensively to speak at meetings and conventions and made lifelong friends.
Later, at The Citadel, he continued this involvement through Circle K, eventually being elected International Vice-President. Mr. Saleeby graduated from The Citadel with a degree in political science in 1966, and received his law degree in 1969 from Duke University School of Law.
He dearly loved his alma maters and maintained a relationship throughout his life with both.
He served for over fifty years as Class Agent for the Citadel Class of '66, keeping in touch annually with every member of his class.
Having served several terms on the Board of Directors of The Citadel Alumni Association, he was proud to be elected its President in 1969. One of his happiest memories was taking the review of the South Carolina Corps of Cadets at the Homecoming Parade that year.
He also served for six years on The Citadel Board of Visitors, the governing body of the school, and for many years on the Board of The Citadel Foundation.
Dudley was also a fixture inside and outside of Johnson Hagood Stadium, where he rarely missed a Bulldog home game.
At Duke University School of Law he served as President of the Duke Bar Association and was also active as an alumnus. A devoted Duke basketball fan, he proudly attended all thirteen Final Fours of the Coach K era, including the one in New Orleans just a month before his death.
Following law school, Mr. Saleeby served in the US Army as a military intelligence advisor in Vietnam, attaining the rank of captain.
Dudley's law career was primarily as a public servant, serving the state as a criminal prosecutor. He loved the discipline of preparing cases for trial, working with law enforcement officers, and bringing justice and closure to victims and their families.
From 1972 to 1975, he was an Assistant Attorney General, trying cases statewide on behalf of the SC Attorney General.
In 1979, following his relocation to Florence with his wife Lalla, he was elected Solicitor of the Twelfth Judicial Circuit of South Carolina and served Florence and Marion Counties for twenty years in that capacity. When he retired from full-time prosecution, he continued to serve as a part-time assistant in both the Twelfth and Third Circuits. He enjoyed swapping courtroom stories with colleagues from across the country at the annual summer conference of the National District Attorneys Association.
Mr. Saleeby was a life-long Presbyterian. At First Presbyterian Church in Florence, he enjoyed being a teacher of the Price Sunday School Class. He was a former chairman of the Board of Deacons, and later an Elder, serving as Clerk of Session. He also served on various Presbytery committees. The Christian fellowship of his church family was an anchor in his life.
Dudley loved to travel, and enjoyed planning and taking interesting trips. Favorite destinations were national parks, Ireland, Scotland, and European sites associated with military history. He also loved sitting on the porch of his weekend home in downtown Charleston.
Mr. Saleeby is survived by his wife of forty-nine years, Lalla Harrison Saleeby, originally from Leesburg, Virginia; his daughter, Catherine Ravenel Saleeby McDowell (Cat) and her husband, John, of Raleigh, NC; his son, Wilson Dudley Saleeby (Wil) and his wife, Quinn, of Bluffton, SC; and five grandchildren: Mary Katherine Saleeby, Robert Saleeby, Adger Saleeby, Jack McDowell, and Charlotte McDowell. He is also survived by a large group of extended family and in-laws.
The funeral will take place at 3:00 on Thursday, May 19, at First Presbyterian Church, 700 Park Avenue, Florence, SC, followed by interment in Mount Hope Cemetery with military honors.
The family will receive at their home from 5:00 to 7:00 pm on Wednesday evening.
Waters-Powell Funeral Home is serving the family. Memorial donations may be made to First Presbyterian Church, 700 Park Avenue, Florence, SC 29501 or The Citadel Foundation, 171 Moultrie St., Charleston, SC 29409.