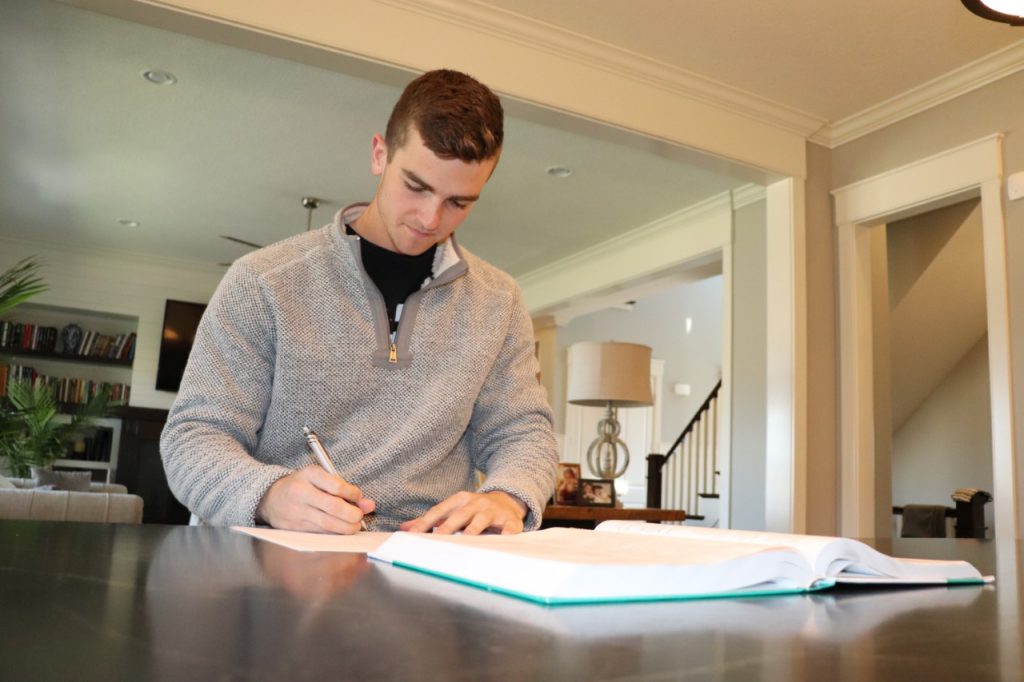 By Cadet Col. Richard "Ben" Snyder, Regimental Commander, South Carolina Corps of Cadets
As I wake up each day at my parents home in Delaware, Ohio, I look at my schedule and assess what I need to accomplish. That part is really no different then how I begin each day on campus. I do PT. I have meetings with Corps leadership and Capt. Paluso. I take classes. I study. I have the same goal we all share: completing this semester successfully.
Despite where we are right now, we all still share so much in common. We know why we became part of the great South Carolina Corps of Cadets and we know we can push ourselves through what must be done to succeed and finish our year, and for seniors, to graduate.
These days can seem monotonous and blend together. But if we stay focused and continue forging those unbreakable bonds we have with other cadets we can continue with purpose.
No one from the outside can understand it the bonds we share, and they will never get a chance to. We've all been blessed with the experience. You can call it cut short or a missed opportunity, but I'd say this experience we are living during the pandemic is just part of the climb. A climb that is pushing you to grow and to continue to lead, giving you the chance to spend more time with your family and is giving you stories to tell for years.
For every cadet who has someone stepping into your position next year: when it comes to training your replacement, this last month is still very important. There is now a greater responsibility for everyone in a leadership position to over-communicate with those you lead and those you will help transition to your old role successfully. Pour genuine thought and sincere effort preparing the cadet who follows you, regardless of class or rank.
We all came to The Citadel for a unique experience and we are getting exactly that in an extreme manner. Take it and find some meaning. There is nothing to regret and no point to it wishing it happened differently. From here it is memories to take, lessons to pull from, and a part of your life that can't be recreated. So, take a moment and appreciate the sunset, appreciate the people, but wake up tomorrow and continue the climb because life goes on and you are more prepared and more blessed than the rest.
My suggestions for success from home
1. Make and keep a daily schedule based on your primary goals. Have a set time for working out, doing schoolwork, and relaxing—then stick to it.
2. Find someone to hold you accountable to all aspects of your responsibilities.
3. Prioritize and keep a list of things you need to do for each of your key goals.
4. Be a mentor to the younger cadets that might need extra help by staying in touch with them and providing consistent communications.
5. Limit the distractions. Don't work with your phone next to you, with the TV on, or people around you.
6. Juniors and seniors, brush up on your interview skills by setting up a virtual session with The Citadel Career Center or by asking a parent or mentor (virtually) to do a mock interview with you.
6. Spend time enjoying things you don't normally get to do while at school, and remember to be a servant leader. Have fun with your family in your home doing some of the things you used to do when you were younger. Connect with old friends on the phone or through Face-time or WhatsApp free video calls. Consider how you can help in your community, in a safe way, such as picking up a prescription or groceries for an elderly neighbor and leaving them on their porch to limit contact. Make the most of getting this rare chance to be home again.
Very respectfully,
Ben
Read more about Cadet Col. Snyder here.