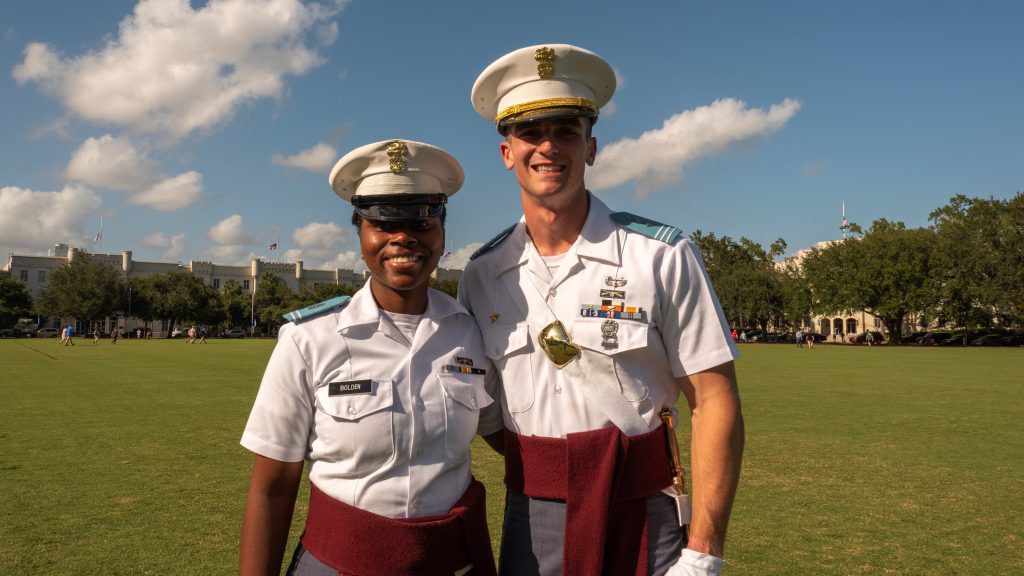 Photo: Ruby Bolden, Regimental Public Affairs non-commissioned officer and Benjamin Snyder, Regimental Commander
By Cadet Ruby Bolden, Regimental Public Affairs NCO
Each homecoming season, the Regimental Public Affairs NCO meets with the sitting Regimental Commander for a conversation that helps The Citadel community get to know the cadet colonel who is leading the South Carolina Corps of Cadets.
This year it's my turn. Recently I had the pleasure of interviewing Cadet. Col. Richard "Ben" Snyder about his inspirations and values.
First, here's a little more about him:
Snyder was born in Winter Park, Florida, but he grew up in a variety of other places. His dad's side of the family is from Greenville, South Carolina, and one of his uncles there attended The Citadel. Snyder's uncle was instrumental in Snyder's decision to become a cadet at The Citadel.
In his fourth year, Snyder is a majoring in Business Administration, is a member of the Summerall Guards and Junior Sword Arch, in addition to serving as Regimental Commander. He enjoys maintaining his personal fitness as well as spending time with family and friends.
Snyder is attending the college on a three-year Army Contract and will commission in May 2020 after graduation. He hopes to become an infantry officer and, later, to transition into business.
Getting to know Cadet Col. Benjamin Snyder, Regimental Commander, South Carolina Corps of Cadets
RB: When you were a kid, what was your dream job?
RBS: I never had a dream job when I was little. I really didn't think I wanted to join the Army until I was a senior in high school, and it wasn't until I was a sophomore at The Citadel that I was certain about my aspirations to join the military. I always had a great admiration for people in the military, but I never thought I would join myself. I grew up extremely blessed and extremely grateful to have grown up in the United States, so I look at the military as an opportunity to give back.
RB: If you could describe your life with a song, what song would it be?
RBS: Simple Man by Lynyrd Skynyrd.
"Mama told me when I was young
Come sit beside me, my only son
And listen closely to what I say
And if you do this it'll help you some sunny day.
Oh, take your time, don't live too fast
Troubles will come and they will pass
You'll find a woman and you'll find love
And don't forget, son, there is someone up above"
RB: If you could change something in the world, what would you change and why?
RBS: I wish more people lived to serve others rather than themselves, according to the servant-leader model we learn about here at The Citadel. I believe too many individuals are focused on themselves, therefore cripple parts of our society.
RB: What is one quote that keeps you going?
RBS: "The road goes on forever, but the party never ends."
This is a quote I use a lot, along with Brennen Zeigler, who is our Deputy Regimental Commander, and Hunter McGee, our Regimental Academic Officer. It's a reminder that attitude is everything around here. No matter the situations we have to deal with, we enjoy every moment of it and look at those difficult moments as opportunities for growth or opportunities to develop another person.
RB: Who inspires you and why?
RBS: My peers at The Citadel. Being surrounded by so many individuals who aspire to be a part of something greater than themselves, who strive to better themselves everyday, who want to do something different with their college experience is a daily reminder of why I came here and why I am grateful to have an opportunity to try and give back to this institution.
RB: Why did you choose to come to The Citadel?
RBS: I moved around a lot when I was younger and never really had consistent relationships. I came here for the bonds that I would have when I left. The education and the opportunity to join the military are both important to me, but that can be attained at just about any college. No college experience gives you relationships like the ones you get here. It can't be explained to anyone who hasn't experienced it for themselves.
RB: What made you want to serve the Corps as regimental commander?
RBS: When I first came to The Citadel, I wanted to assume as much responsibility and make these four years as challenging as possible to prepare myself to be a platoon leader in the Army upon graduation. As I went through sophomore and junior years, I began to develop a genuine passion for this institution as well as the people who walk its streets everyday.
RB: What is one thing that Regimental Commander Ben could tell Knob Ben?
RBS: Trust the process. It's a four-year experience, and you're not going to get everything you want out of this institution in the first semester or in the first year. Be patient with the system, but continue to embrace every facet of discipline it has to offer.
RB: What is the most challenging thing about leading your peers?
RBS: The most challenging part about leading my peers doesn't have anything to do with them as individuals. Cadets here are ingrained in the culture, the good things, and the not so good things from days past. Trying to influence over 2,000 young adults to make good decisions and to do the right thing seems like an impossible task. Having that opportunity as a 21-year-old and is amazing from a learning standpoint, and more than could have ever asked for.
Ruby Bolden, a member of The Citadel Class of 2021, is the Regimental Public Affairs non-commissioned officer. She is an exercise science major from Grovetown, Georgia.