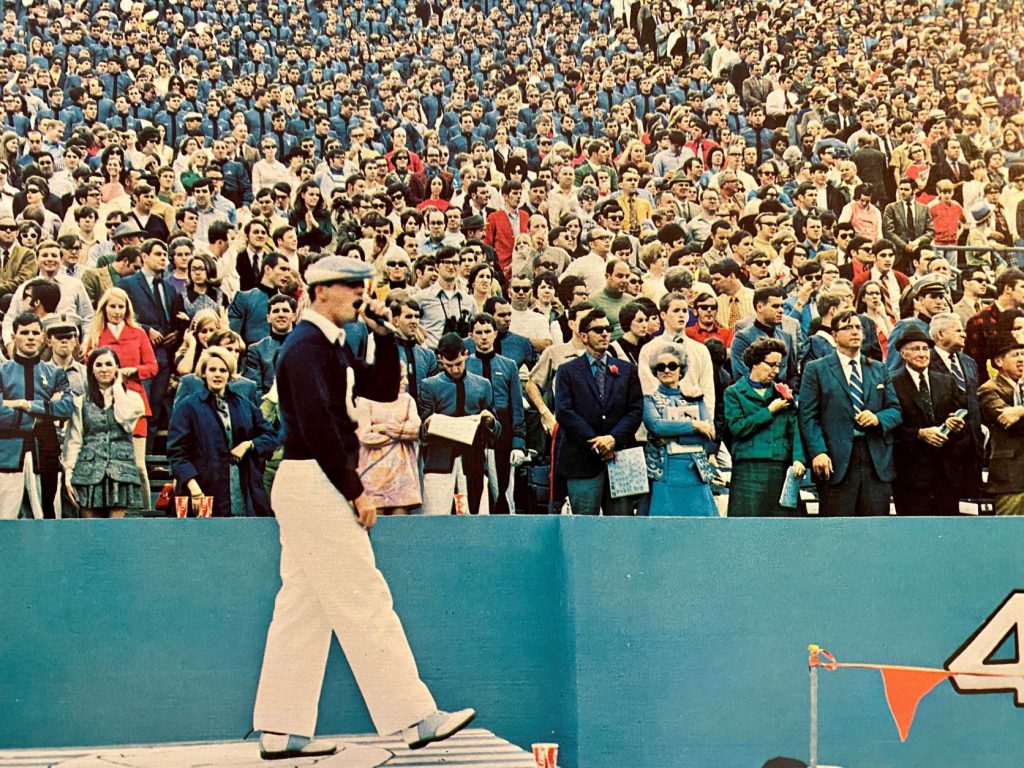 Class of 1971 celebrates 50th anniversary
Photo above: Fans at Bulldogs football game on The Citadel campus taken from the 1971 Sphynx yearbook.
Homecoming 2021 will bring members of The Citadel Class of 1971 back to campus to celebrate their 50th anniversary reunion and to walk the field during parade. The Class of 1996 will get together for their 25th reunion. The Bulldogs will play Wofford before an enthusiastic crowd of alumni. And, a portrait of the first two African American graduates will be displayed in the Daniel Library. Those are just a few highlights of the activities on campus planned for November 11 – 14.
"We are elated to be able to hold a traditional homecoming weekend for our alumni this year, after the past challenges presented by the pandemic," said Tom McAlister, associate vice president of alumni affairs. "Homecoming weekend is a revered occasion and a foundational component of The Citadel family culture, whether alumni are coming back for a major class anniversary reunion, or just a chance to be back on campus for parades, tailgating and a Bulldogs game with friends."
As early as the Class of 1886, Citadel graduates have been holding reunions on campus to celebrate their achievements and catch up with their classmates. Homecoming now spans three days and includes not only reunion celebrations, but a host of activities that highlight the Corps of Cadets and alumni achievements.
Rundown of events
Many of the Homecoming 2021 events are listed below, or at this link.
Not listed below is a memorial service being held for Brigadier Gen. Carl Nuttall, '72, by his family and friends. Nuttall passed away August 5, 2021. The service will take place at 1:20, on Friday, Nov. 12, in Summerall Chapel, followed immediately by a Color Guard 21 gun salute outside, before an inurnment of his remains in the columbarium. The service is open to all.

Thursday, Nov. 11
| | | |
| --- | --- | --- |
| 2:30 – 5 p.m. | Stray Dog Society cruise | City Marina |
| 6 – 9 p.m. | Junior Sword Drill, JSA Reunion | Holliday Alumni Center |
Friday, Nov. 12
| | | |
| --- | --- | --- |
| 10 a.m. – 12 p.m. | Citadel Alumni Association Annual meeting and awards | Holliday Alumni Center |
| 12 p.m. | Citadel basketball vs. Morris College | McAlister Field House |
| 1 – 3 p.m. | Tommy and Victoria Baker School of Business open house for donors and alumni | Bastin Hall |
| 5:10 p.m. | Twilight Parade | Summerall Field |
| 5:45 – 7 p.m. | The Citadel Young Alumni Reception | Holliday Alumni Center |
| 6 p.m. | Citadel volleyball vs. WCU | McAlister Field House |
| 7 – 11 p.m. | Stray Dog Society Jamboree | Off campus |
Saturday, Nov. 13
8:30 –
10 a.m.
Open barracks and cadet performances
Barracks, Summerall Field
8:40 a.m.
Summerall Guards performance
Summerall Field
9:45
Charles Foster, '70, and Joseph Shine, '71, portrait presentation
Daniel Library
10:45 a.m.
Homecoming Review Parade
Summerall Field
11:30 a.m.
School of Engineering Alumni BBQ
Grimsley Hall
2 p.m.
Bulldogs vs. Wofford
Johnson Hagood Stadium
7 p.m.
Citadel volleyball vs. UNCG
McAlister Field House
Sunday, Nov. 14
| | | |
| --- | --- | --- |
| 9 a.m. | Protestant Service | Summerall Chapel |
| 10:15 a.m. | Alumni Memorial Service | Summerall Chapel |
| 7 p.m. | Catholic Mass | Summerall Chapel |