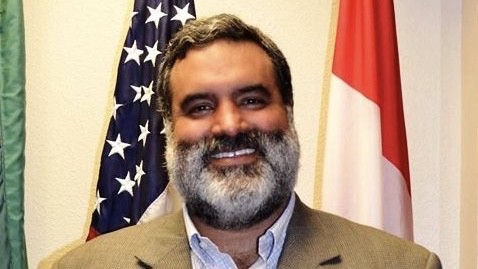 Intelligence and Security Studies now headed by Dr. Larry Valero
Protecting America is a relentless pursuit, requiring continually expanding teams of highly trained intelligence and security professionals.
For example, the Department of Homeland Security says it is fighting COVID-19 fraud on several fronts, including by transnational criminal organizations shipping prohibited medical supplies.
The National Counterintelligence and Security Center says the areas where "foreign intelligence entities are hitting us the hardest and where we need to devote greater attention" include: critical infrastructure, key U.S. supply chains, the U.S. economy, American democratic institutions, and cyber and technical operations.
And, when speaking at The Citadel during an Intelligence and Cyber Security conference, former Director of National Intelligence Dan Coats said, "China and Russia are more aligned than at any point since the mid-1950s and the relationships is likely to strengthen," a statement that appeared in the 2019 Worldwide Threat Assessment of the U.S. Intelligence Community.
The Citadel is helping meet the need through its burgeoning Intelligence and Security Studies undergraduate and master's degrees, supported by a growing department. The newest faculty member is Larry Valero, Ph.D., who is now head of the Department of Intelligence and Security Studies.
"As a nation, we face challenges ranging from infectious diseases and other natural hazards, to terrorism, to peer-to-peer conflict on the global stage," said Valero. "I am delighted to be a part of The Citadel and the talented Department of Intelligence and Security Studies team, educating the next generation of intelligence leaders who will analyze these threats effectively to provide for the security of the United States."
Valero's research and teaching interests focus upon U.S. intelligence and national security, strategy, and modern warfare. He holds a Ph.D. in International History from University of Cambridge, an M.A. in War Studies from King's College London, and a B.A. in Political Science from UCLA.
Valero currently serves as an American Council on Education faculty evaluator for military programs in the field of intelligence studies. He was the president for the Association for Intelligence Education from 2014-2019. Additionally, Valero was Scholar in Residence at the National Security Agency, Ft. Meade, Maryland and served on the faculty of the Department of International Security and Military Studies at the U.S. Air Command and Staff College, Maxwell AFB, Alabama. He was honored with the 2011 Outstanding Instructor Award by the International Association for Intelligence Education.
"Professional, educated, and principled intelligence and security experts are critical for the future safety of the United States, and we are confident in the training such future leaders will receive under the skilled direction of Dr. Larry Valero and the rest of the department," said Brian Madison Jones, Ph.D., dean for The Citadel School of Humanities and Social Sciences. "Larry's distinguished pedigree, relevant scholarship, and practical experience in program development and funding will be critical assets as we advance our vision for our rapidly growing intelligence and security studies program."
Valero moves into the department head role following the retirement of the founder of The Citadel Intelligence and Security Studies programs and department, Carl Jensen, Ph.D. Jensen becomes a professor emeritus for the college as he retires from a career that, in addition to his leadership at The Citadel, included service in the Navy and 22 years of service in the Federal Bureau of Investigation where he was a field agent, supervisory special agent for the Behavior Science Unit, and lead instructor for the FBI National Academy's terrorism course.
About 315 cadets and evening undergraduates (non-cadets) are currently pursuing a B.A. in Intelligence and Security Studies and approximately 50 graduate students are pursuing an M.A. in Intelligence and Security Studies. For more information, or to apply, visit this website, or call (843) 953-6886.