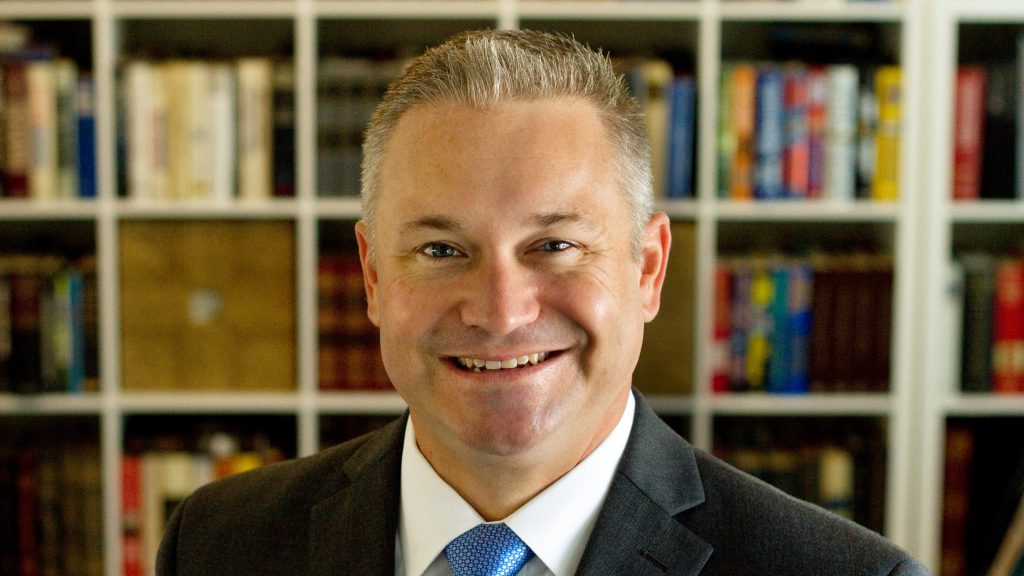 Dr. Brian Madison Jones of Johnson C. Smith University to lead SHHS
There will be a new dean leading The Citadel School of Humanities and Social Sciences, the largest academic unit of the five schools comprising the college. The Citadel Provost and Dean of the College announced today that Brian Madison Jones, Ph.D., the current dean of the College of Arts and Letters at Johnson C. Smith University, came out on top in The Citadel's search process.
"We searched for a dean who would be a collaborative leader and an advocate for faculty, cadets, students and staff, while fully embracing The Citadel culture and core values of honor, duty and respect," said Sally Selden, Ph.D., SPHR, provost and dean for The Citadel. "Dr. Jones, a seasoned leader, has a demonstrated commitment to supporting a diverse and passionate faculty and a spirit of academic innovation."
Jones joined Johnson C. Smith University (JCSU) in 2007, serving as a professor before rising to the rank of Dean of the College of Arts and Letters there. He also serves on JCSU's president's administrative team and oversees more than 30 faculty members in four different departments. Jones holds a Ph.D. in History from Kansas State University, a Master of Arts in History from University of North Carolina at Greensboro, and a Bachelor of Arts in history form Appalachian State University.
The School of Humanities and Social Sciences Jones will lead is comprised of the following departments: English, Fine Arts, and Communications; History; Modern Languages, Literatures and Cultures; Political Science; Criminal Justice; Intelligence and Security Studies; and Psychology. The school enrolls approximately 951 undergraduates in its degree programs, and 210 graduate students in seven masters programs and an Ed.S. program offered through The Citadel Graduate College. Every cadet is required to take numerous English and History courses under the SHSS umbrella as part of the general education curriculum. 
Jones will be responsible for the daily operations of the school and supporting a range of educational activities with the 72 tenured and tenure-track faculty. Among the professions most pursued by the school's majors are business, the armed forces, law & law enforcement, education, and public service in a variety of local, state, and federal agencies.
Dean Winfred "Bo" Moore to retire
Leading and directing the growth of the School of Humanities and Social Sciences since 2008 is Winfred "Bo" Moore, Jr., Ph.D. Moore retires at the end of the Spring 2020 semester. His leadership impacted every cadet attending The Citadel over more than four decades.
"Dean Moore's leadership has been an immense asset to The Citadel. He was instrumental in launching initiatives that led to the development of a multitude of new programs including American Government & Public Policy, Oral History, Fine Arts, Overseas Studies, Diversity Education, and Intelligence & Security Studies. Dean Moore also successfully led the planning of a new building to replace Capers Hall, which will house and advance the School of Humanities and Social Sciences. He will be greatly missed."
After serving in the U.S. Army Signal Corps, Moore joined the faculty of The Citadel in 1976, rising through its ranks as a professor and department head, then finally as dean 12 years ago.
"Of all of the memorable sentences spoken by John F. Kennedy, my favorite is: 'We love our country, not for what it was—though it has always been great—not for what it is—though of this we are deeply proud—but for what it someday can and, through the efforts of us all, someday will be.' Those sentiments, in my mind, apply not only to our country but also to the faculty, staff, and students of The Citadel's School of Humanities & Social Sciences," Moore said regarding his retirement. "Moments of transition such as these always contain heightened potential for generating and taking advantage of new ideas for advancing on to new educational frontiers. Under the leadership of our new dean, I am confident that the SHSS will."