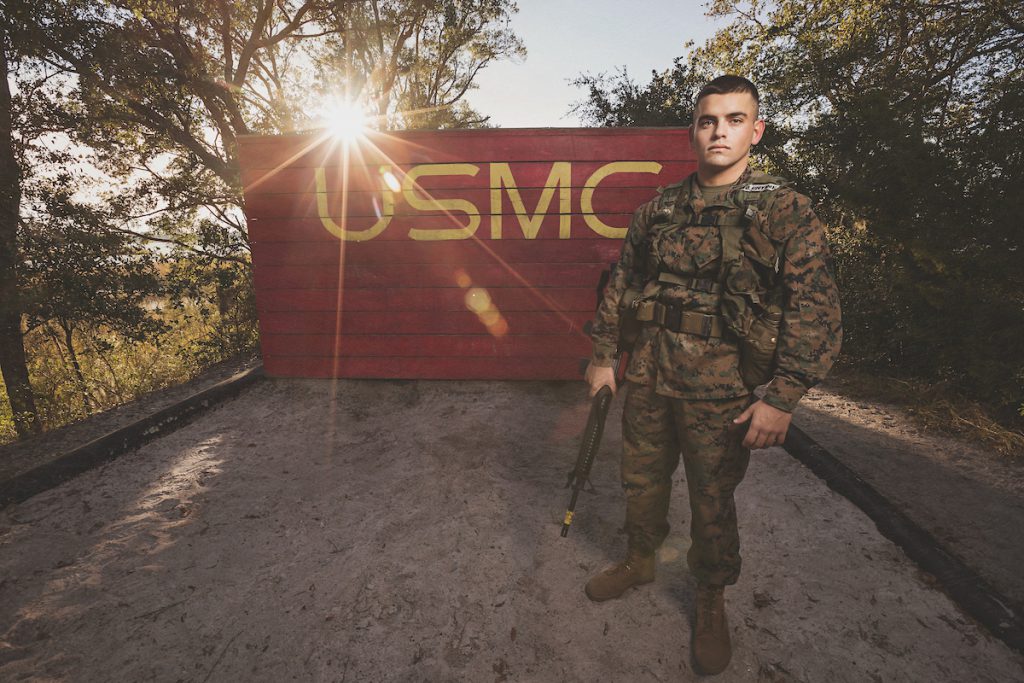 The sun gleamed off the black granite slabs of The Citadel War Memorial and shone right onto Cadet Rene Valentine's face. This moment made all of the hard work of the last four years worth the effort.
The Citadel War Memorial was dedicated during Homecoming 2017 to honor fallen alumni, and this year was the first ring ceremony of the War Memorial's existence.
"It's probably the most beautiful monument on campus, and it represents the purest ideals of The Citadel."
As senior class president, one of Valentine's responsibilities was to create a legacy for the Class of 2019. At this year's ring ceremony, the most anticipated event of senior year, when senior cadets see their hard work, dedication and perseverance recognized, Valentine took his responsibility to heart, determined to incorporate a new tradition that would create a legacy for the Class of 2019. The legacy—a new tradition in which the senior class wearing their new bands of gold salutes The Citadel's fallen alumni at the site of the War Memorial.
"It honors our fallen alumni, those who we should aspire to be like every day, those who most represent the ring. It cannot be removed or tarnished, nor can it be taken away or broken; this goes in the history books forever."
Click To Tweet
Determined to leave his mark, Valentine arrived in Charleston with his eyes set on one goal—to find his purpose. Prior to his career at The Citadel, Valentine called many places home. Growing up on military bases, Valentine knew he wanted to serve his country as a Marine. Watching his mother, an Army lieutenant colonel, Valentine knew firsthand the rigors of military service. And wanting to be the best, he enrolled at The Citadel, whose challenging military environment added to its U.S. News & World Report ranking as the No. 1 college in the south offering up to a Master's degree.
His first obstacle as a freshman was to fit in and find his place.  With wide eyes, Valentine idolized the ranking officers and wanted to be one of them, but he also realized that everyone matters, not just the ranking officers. Determined to make the most of his cadet experience, Valentine challenged himself at every opportunity. The desire to make a difference drove him to become class president.
"It was through drive and grit that I became class president. I didn't want to be average, and I knew that I wanted our class to make a difference."
Click To Tweet
Having completed his last semester at The Citadel, the political science major's future is bright.  Valentine made his mark on The Citadel.  His next obstacle—Marine Officer Candidate School in Quantico.
To view more student and cadet stories, visit mighty.citadel.edu.