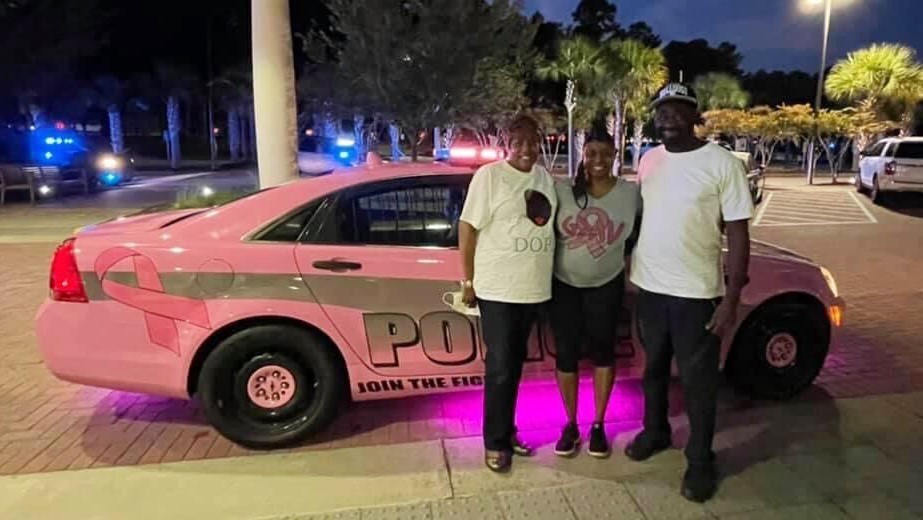 Photo: North Charleston police officer Ashley Thompson, with her parents Barbara and Ed Thompson, is pictured in front of a department cruiser marked for breast cancer awareness with a pink ribbon and pink lights before her cancer surgery on Oct. 5, 2021. Police and firefighters escorted Thompson to Roper St. Francis Mount Pleasant Hospital for her first breast cancer surgery following chemotherapy. (Courtesy: North Charleston Police Department)
Note: Ashley Thompson graduated from the South Carolina Corps of Cadets in 2009.
A North Charleston police officer received a slew of support in the form of a bright pink patrol car as department members escorted her to her first surgery following chemotherapy as part of her breast cancer treatment.
Between 25 and 30 police officers and staff members participated in the early morning escort, including North Charleston Police Chief Reggie Burgess. They followed officer Ashley Thompson from her home in Mount Pleasant to Roper St. Francis Mount Pleasant Hospital on Oct. 5.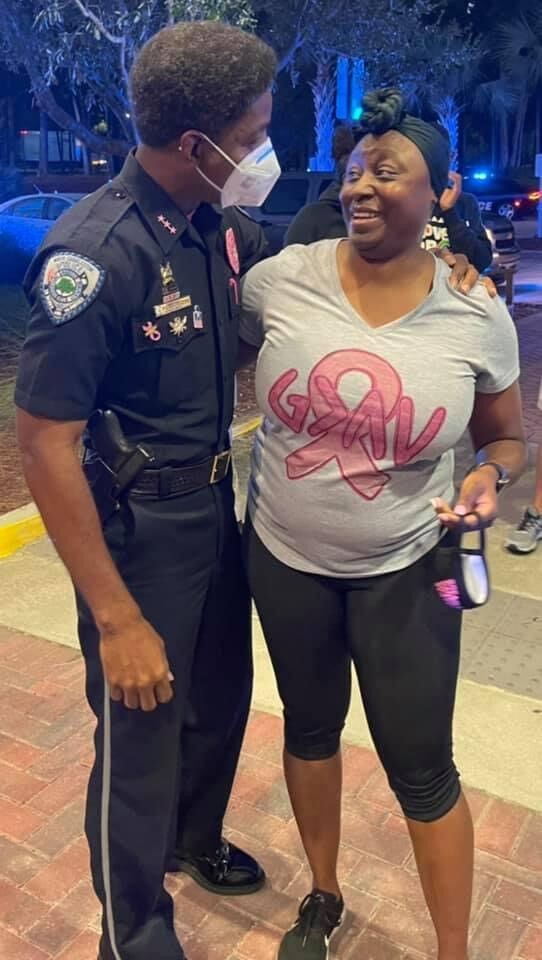 North Charleston's oath of office states, "I will faithfully serve the citizens of the City," Burgess said.
"Ashley's service to the North Charleston (residents) is faithful," he said. "Please say a prayer for Pfc. Ashley Thompson."
Thompson has been with the department since June 2010, spokesman Harve Jacobs said. She is a neighborhood resource officer who works on community engagement efforts and special events.

Lt. Ryan Terrell, who leads the Neighborhood Resource Unit, organized the escort. These types of escorts are done only when the officer gives the department permission, Jacobs said.
Two special vehicles were included in the procession — a pink North Charleston patrol car emblazoned with a breast cancer ribbon and the words "Join The Fight," as well as a pink North Charleston Fire Department truck bearing the message, "We Support The Fight," along with hundreds of handwritten messages scrawled over its exterior.
Thompson, a graduate of The Citadel, was traveling to the hospital to receive her first post-chemo operation as part of her breast cancer treatment. She was diagnosed last year, Jacobs said.
"Please pray for her recovery as well as others that are fighting this awful disease," according to a post on the North Charleston Police Department's Twitter feed.
Each October marks Breast Cancer Awareness Month, an annual international health campaign organized by charities.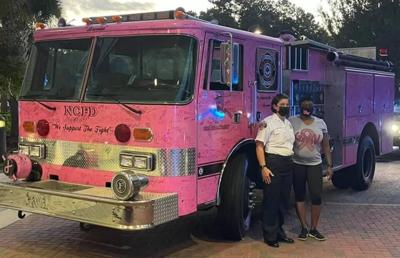 In South Carolina, breast cancer among women was the most commonly diagnosed form of cancer between 2014 and 2018, according to data from the National Cancer Institute. There were nearly 129.9 breast cancer cases diagnosed per 100,000 women. This was higher than the national incidence rate of 126.8 cases.
It is the second-deadliest type of cancer for women in the state, next to lung cancer, according to the S.C. Department of Health and Environmental Control.
Early detection of breast cancer is key to survival, because the cancer has had less time to spread to lymph nodes or other locations beyond the breast, according to DHEC.
Common breast cancer symptoms include lumps, skin changes or any other breast changes. Health professionals suggest women do monthly breast self exams, visit their doctor each year for a breast exam and have a mammogram once per year if they are over the age of 40.