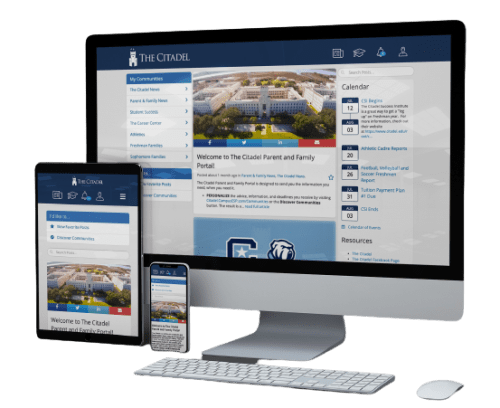 The rigorous cadet experience at The Citadel is like no other college experience in America. That is one of the reasons parents and family members of cadets are particularly driven to stay up-to-date on what is happening on campus – especially if they live far away.
Additionally, parents and other family members often serve as advisors or mentors, so supporting that link can be crucial to a cadet's success. That is why The Citadel engaged CampusESP to provide this service.
"Our goal is to simplify finding information for parents and families by putting the resources they'll need on one, simple web platform," said Kelly Brennan, Ph.D. associate provost for Enrollment Management at The Citadel.
The college's new CampusESP parent and family portal is a free information site for all members of The Citadel family, including parents, grandparents, siblings and extended relatives.
After creating an account on the website, families will be able to access The Citadel's resources and news in one place. The site will also maintain an up-to-date schedule of events. The information provided will be tailored to each user's preferences and areas of interest.
To sign up go to the link above, or here, https://citadel.campusesp.com/.
This is not a part of the regular, Citadel.edu website. To set up your account enter your email address and create a password. The first time you login, the platform will direct you to a survey to establish the news you want to follow and how often you want to receive the e-newsletter.
Please email parents@citadel.edu with questions.