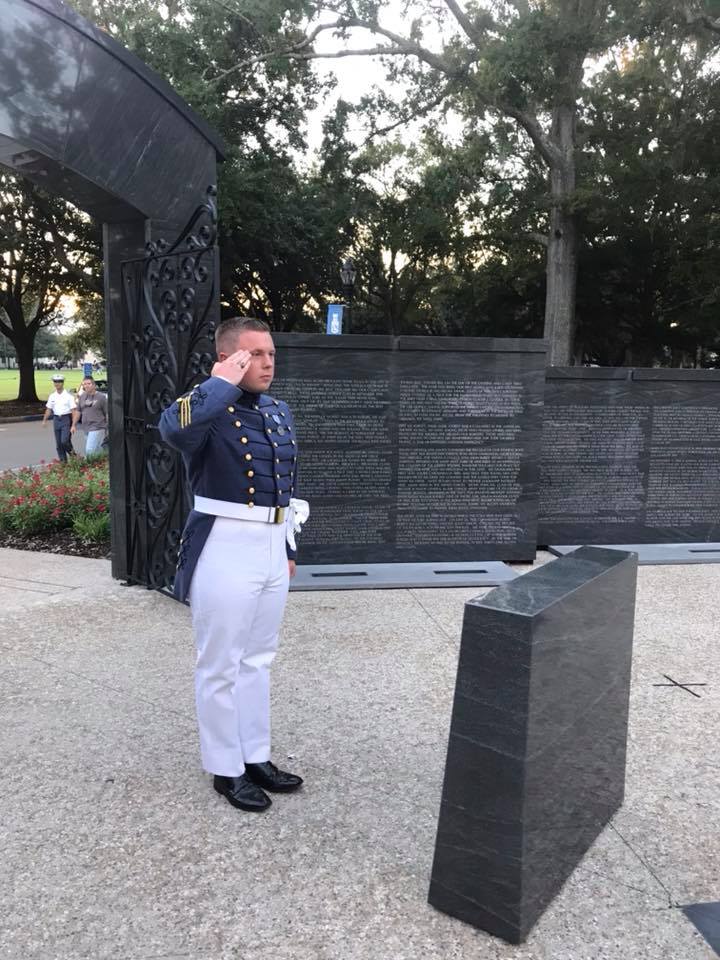 By Cadet Caleb Carter, Civil Engineering Major
"To revere God, love my country, and be loyal to The Citadel." These are the first words in "The Citadel Code," written by Gen. Charles P. Summerall. That code is one of my favorite parts of The Guidon, which is the small book freshmen receive when they arrive at The Citadel on Matriculation Day. That little book includes all of the information freshmen (or knobs as we call them) are required to know.
This code has served me well during my time as a cadet. It also guided me toward cultivating a lifestyle based on honor, integrity and a desire to live a life in service to others.
I come from the small town of Baxter, Georgia. There, most of the high school students start their jobs right after graduation or attend a local college. My choice to go out of state to attend The Citadel made my parents very proud. Others from my hometown were very excited for me as well.
I made that choice because I wanted something different from my college experience. I longed to develop a very close group of friends; friendships that would last a lifetime forged through shared challenges and accomplishments. That is exactly what we get here at The Citadel during our four years working to attain our bands of gold.
I can honestly say that I received everything I wanted from the Fourth Class System as a knob and from all of the years that followed. My Lima Company friends and I have lived in our corner of the 3rd Battalion the entire time, riding through the hills and valleys of cadet life together as members of The Citadel Class of 2019. We lost classmates along the way that we will remember, but I am happy to say that we all received our bands of gold together on Ring Day, a day in the fall of our senior year we will not forget.
That ring means different things to all of us, and to me, personally.
It serves as a symbol of the obstacles that I, through the help of my God, my family, and my classmates, have overcome to reach this point in my life.
The ring will remind me of the memories made with classmates, and of the education and training I received as a cadet.
The ring will be a tool of motivation that constantly reminds me of the goals that I have set for myself in the years to come.
Ring Day brings a time of reflection when we examine our achievements and sacrifices, and those of Citadel alumni before us. We have truly worked hard to this point to receive our bands of gold.
I hope to be a Citadel graduate that exemplifies what the ring represents – all of those commendable qualities laid out for us in The Guidon.
When others see my ring, I pray that what they see is a man who can be trusted. I want others to see a man who has been trained in a rigorous, disciplined environment and emerged on the other side a well-rounded, confident professional who is ready and willing to do what he is trained to do – lead.
Going forward, my words to my fellow members of the Class of 2019 are:
Our journey is not over; we must continue to earn our rings. Let us all keep working to honor our families, revere God, love our country, and be loyal to The Citadel.