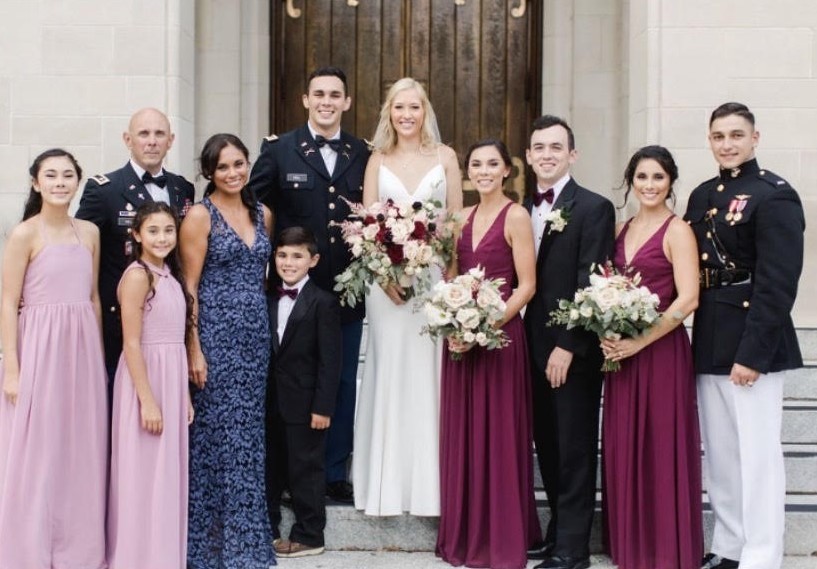 Meet Catherine Hill, Charlottesville, Virginia, '21
Photo above: Cadet Catherine Hill is fourth from the right. "This is when my brother got married in August at The Citadel. It's the only picture we have of all of us, my family is huge! My mother is Pamela and my father is LTC Ruston Hill. My older sister is 2nd LT Alexandra Gibbs and her husband is 1st LT Aaron Gibbs. My oldest brother is 2nd LT Russ Hill and his wife is Lauren. My fiancé is Ryan Jackson. My little sisters are Sophia and Victoria, and our youngest brother is Caleb.
Who or what inspired you to attend The Citadel?
My entire family inspired me to go to The Citadel.
I come from a big military family of eight and it became a family tradition to attend a military college. My Father, LTC Ruston Hill graduated from The Citadel in 1990, my older sister 2nd LT Alexandra Gibbs graduated from VMI in 2018 and my older brother 2nd LT Russ Hill graduated from The Citadel in 2020. When it was time to apply to college I couldn't imagine myself going anywhere else.
The Citadel had just opened a new nursing program and I received an Army scholarship before I matriculated, I knew I wanted to come here. I have wanted to be a nurse for as long as I can remember. My mother, Pamela Hill who is a nurse, inspired me more than anyone to graduate from The Citadel with a BSN.  Without the support of my family I wouldn't be here today.
What was the most difficult obstacle you conquered that made you feel you earned the honor of wearing the ring?
In short I would say that throughout my time here I have learned the importance of always doing the right thing, even when it wasn't the popular decision to make. I can honestly say that at the end of the day, I know that I have always tried my best to do the right thing by my classmates and the knobs that I watched over while being an HA CPL, SGT, and officer.
What is inscribed on the inside of your ring and what is the significance?
Inside my ring is a Bible quote, "But even if you should suffer for what is right, you are blessed," (1 Peter 3:14). It's significance to me refers to the moments that were the hardest to make decisions to stand up for what is right.
Note: You might remember Cadet Catherine Hill from her freshman year. She was featured in one of the college's first Our Mighty Citadel stories. You can watch it at the bottom of this story. Seems like it was just yesterday, Catherine. Congratulations!
What is a song that describes your emotions leading up to Ring Day/Parent's Weekend and why that song selection?
The song that comes to my mind is "5 More Minutes" by Scotty McCreery. The song talks about time flies and how we wish we could pause and have 5 more minutes to take it all in and be in the moment.
Why do you think it is important that cadets and/or people in general understand the symbolism and weight that the ring holds?
It is important because we chose to take "the road less traveled." Anyone who has graduated from The Citadel will tell you that it wasn't easy. Every year brought new challenges and we had to become more resilient and better leaders.
"We wear the ring" is a repeated phrase amongst Alumni. What does it mean?
When we came to The Citadel we were just 18 year old young adults who had no clue what the next 4 years were going to hold for us. Here we learned the importance of Honor, Duty, and Respect. We learned how to follow and we learned how to lead. I don't think you will find a single senior here that will tell you that they think they are the same person they were when they matriculated. We have learned so much here and will continue to carry our Citadel legacy for the rest of our lives.
What obligations do you feel you have in the future as a member of the Long Gray Line?
I am honored to be connected to a long line of alumni that I have shared similar experiences with. You just don't get this experience and connection with people anywhere else. If i could go back in time I would make the decision to come here all over again.
I feel that I am obligated to uphold a standard as a nurse and an officer in the Army. We didn't go through four years of The Citadel to throw away all that we have learned while we were here. It is our job as future graduates to take what we have learned here and apply it to our daily lives as we graduate and become adults.
Hill is 2nd Battalion human affairs officer, a nursing major and will commission as an officer in the U.S. Army upon graduating.