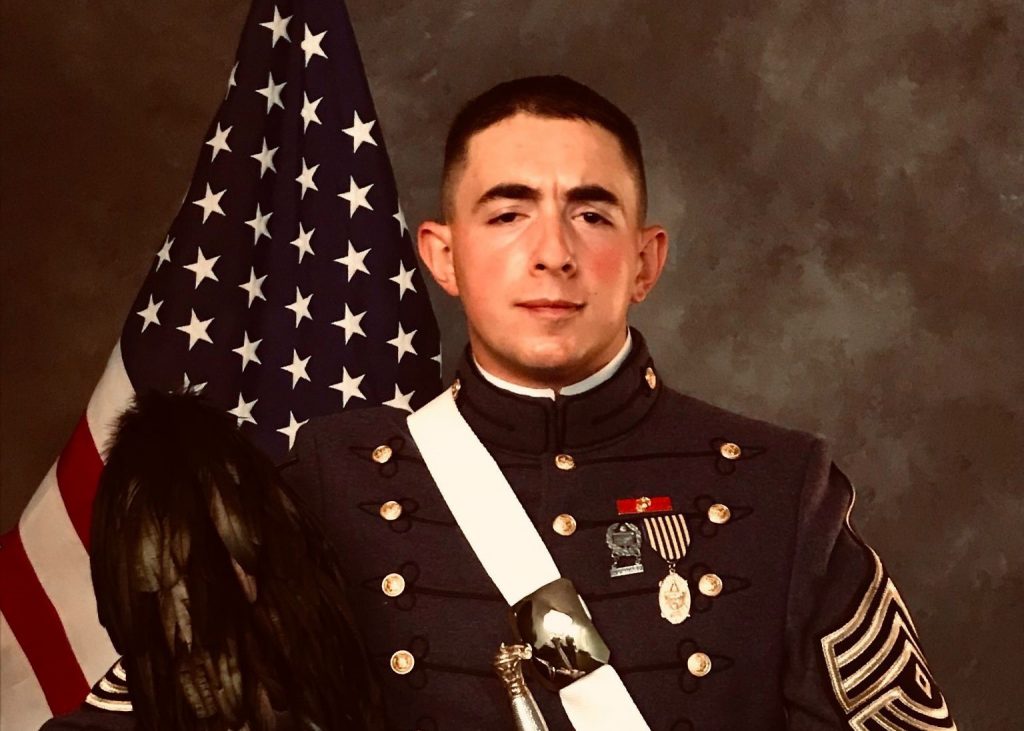 When I first came to Charleston, I fell in love with it. I decided to begin my journey to become a Marine Corps officer at The Citadel. I will be forever thankful for The Citadel and all it has bestowed upon me. When the easy seems difficult and the difficult seems impossible, I will look down at my ring and stay in the fight until the end.

Cadet Major Jayden John Bossian, Regimental Adjutant, the South Carolina Corps of Cadets
Jayden John Bossian is majoring in Criminal Justice and is from Holly Springs, North Carolina. He is attending The Citadel on a U.S. Marine Corps scholarship and, as the Regimental Adjutant for the South Carolina Corps of Cadets, holds the rank of Cadet Major. Additionally, Bossian is a member of the Semper Fi Society, the Criminal Justice Honor Society and The Citadel Fine Arts Club.
Bossian will accept a commission and will graduate in May 2022 as an officer in the U. S. Marine Corps, reporting to The Basic School in Quantico, Virginia.
Q. What quote is engraved inside your ring and what is the significance?
A. The quote engraved in my ring is "pray to be stronger men." It is a shortened quote from President John F. Kennedy, who said "do not pray for easy lives, pray to be stronger men."
The daily rigors we endure at The Citadel will cease the moment we graduate. Those will immediately be replaced by a lifetime of new challenges and hardships. We will never escape such things. The difference is, we now proudly wear the ring of The Citadel. We will face each and every one of these challenges head-on with ferociousness and confidence. We should never pray for easy lives, we should only pray to become stronger men and women.
Q. Did you ever envision actually getting to have the band of gold on your finger?
A. I have envisioned this moment every day from the time I received my letter of acceptance to The Citadel in the mail. It is not terribly hard to be accepted to The Citadel, but it is the challenge of a lifetime to stay at The Citadel. Those who quit, find it is not for them, or dishonor our institution and are dismissed will never understand or have the feeling of fulfillment and achievement we have now. We have all earned this. The Class of 2022 has done this together.
Q. What obstacles did you conquer to earn your ring?
A. When I look at my band of gold, I remember the feeling of doubt, uncertainty and fear coursing through my veins as I hiked on the hallowed grounds of Parris Island for the first time while a cadet. I remember each endless early morning physical training evolution. I remember feeling my body being pushed to the breaking point. I hear the psychotic screaming, footlockers crashing and the sergeant instructors charging into the squad bays to turn our worlds upside down at Officer Candidate School last summer. Second to the Eagle, Globe, and Anchor, my band of gold will forever be a symbol of my transition from a Citadel Cadet to a United States Marine. 
Q. What obligations do you feel you'll have because you wear the ring?
A. The Citadel ring is heavy for a reason. My ring's weight will never fail to remind me that I must always strive to be a man of virtue and character. I will always strive to do the small things like showing up on time, dressing with pride and walking with a sense of purpose. Never leaving anything in the tank. Never leaving anything unsaid. Helping someone in need. Making the hard decisions. Never turning a blind eye to evil. Those are the beautiful burdens of The Citadel ring.
Q. In what ways has The Citadel most impacted your life?
A. This institution has served as an incredible training ground for my development in my goal to become better leader, son, brother and friend. My brain has been re-wired to approach every situation with an open mind. As Citadel cadets, we productively accomplish more by noon than the average American college student accomplishes in one week. I have never appreciated all of life's small gifts more than I have since putting on the Duty uniform for the first time. This institution strips you of many of the comforts and happiness we enjoy in our normal lives. It teaches you to humble yourself, to take care of yourself and those around you. To work hard, to feel the rich rewarding feelings that come after you know you have given it your all.
A. What Citadel memories will stay with you?
A. The memories I have made here at The Citadel will forever be ingrained in my head. I will remember the unforgiving humidity and showers of sweat that seem to never escape us in uniform. I will remember all of the little moments with my classmates, from pushing every fifteen minutes on 4th division together as knobs to becoming the salty mess carvers we are now. I will remember the endless support my family gave and gives me. I will remember all of the mistakes I have made, and all that I have learned from them. I will remember all of my successes here and the hard work that led me to them.
About The Citadel Class of 2022 Ring Stories
The Class of 2022 received their ring in the fall of 2021. The stories presented in this series are the result of the leadership of Regimental Public Affairs officer, Major Samantha Walton, and Regimental Public Affairs Non Commissioned Officer, Cadet Olivia Hime. Both women graduate in May 2022.
Walton, who is from Macon, Georgia, attends The Citadel on an U.S. Army scholarship and will accept a commission to become an officer upon graduating. She is majoring in Political Science.
Hime, who is from Holly Springs, North Carolina, is a junior and a member of The Citadel Honors Program. She is majoring in Biology, has repeatedly earned gold stars and President's List positions for academic excellence. Hime will graduate in May, a year early, and plans to attend medical school to become a physician.