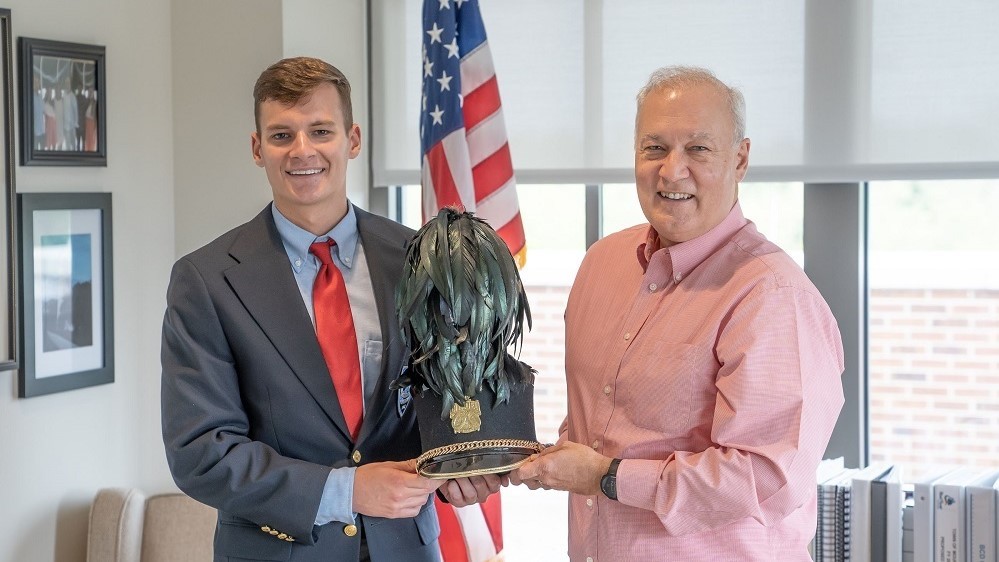 Mayor Will Haynie met with The Citadel's newest Regimental Commander of the South Carolina Corps of Cadets, Brandon Johnson, Friday to congratulate him and discuss the time-honored responsibility.
The Wando High School graduate's new role was announced during a ceremony in Jenkins Hall on March 8.
The leadership positions in the South Carolina Corps of Cadets, which make up the military component of The Citadel's student body, are appointed by the Commandant after a series of performance reviews and increased rank throughout their academic career.
As Johnson rose through the ranks from Company Clerk his sophomore year to Battalion Sergeant Major his junior year, he developed a passion for helping cadets reach their potential. As he enters his senior year, he hopes to hone his leadership skills in his new rank.
"Cadet Johnson embodies the spirit of Mount Pleasant and he will undoubtedly carry those principles into this demanding leadership role," said Mayor Haynie. "We couldn't be more proud of his accomplishment and look forward to seeing the bright future he has ahead."
In his role as Regimental Commander, holding the rank of Cadet Colonel, Johnson will lead The Citadel Corps' five battalions and 21 companies during the 2023 academic year.
This meeting was an especially sentimental and proud moment for Mayor Haynie as he held the same position in the Corps of Cadets.