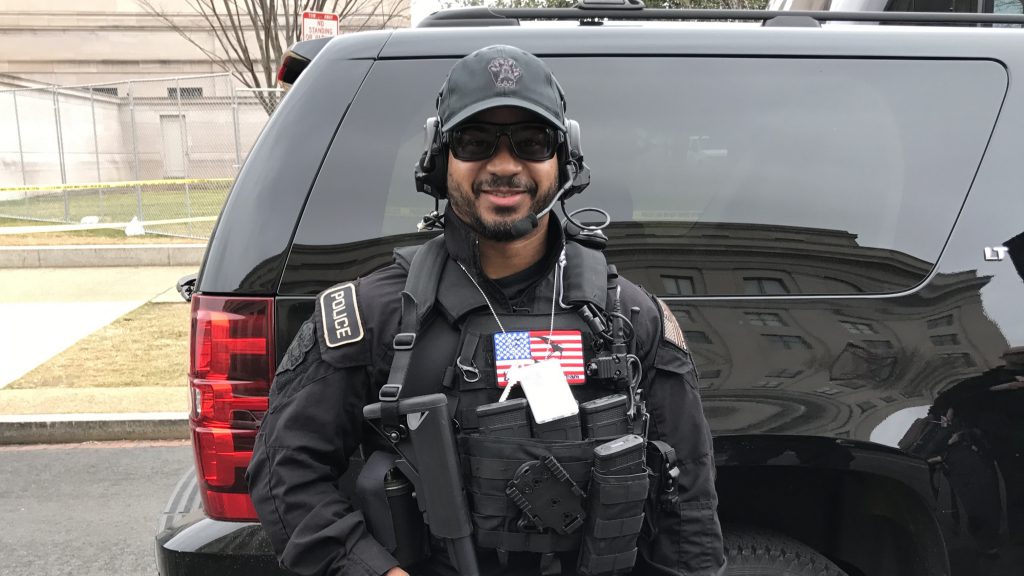 After publication of our story "Mission Essential," we learned about two more Citadel graduates currently serving in the United States Secret Service. Beyond being selected for the Counter Assault Team, an elite unit that provides tactical support to the president of the United States, the two men are part of the mere 7% of Secret Service agents who are Black, in an organization that is nearly 75% white. In honor of Black History Month, we are privileged to share their stories of success in a career that few achieve.
Rashid Ellis, '04, is no stranger to hard work, but he didn't get the first job he interviewed for. The job was at McDonalds, and Ellis was 10. "They were just kind enough to grant me an interview because of my persistence," he said. But when Ellis turned 12, he landed a construction job where he worked for a family friend. At 15, he went to work for GameStop, where he boasts setting the company record for pre-purchases of PlayStation 2. Today, the 41-year-old graduate is 12 years into a successful career with the U.S. Secret Service.
Ellis was born to a young law school student from New York and an immigrant from Ghana. As the young couple struggled to make ends meet, life took them to the District of Columbia, Texas, Virginia, North Carolina and Georgia. They eventually divorced, and Ellis divided his time between the two households.
He attended three different high schools, which gave him multiple opportunities for reinventing himself, and he was involved in a number of sports, including wrestling. As a junior, Ellis attended Fort Dorchester High School in North Charleston, where he became familiar with The Citadel. As a senior at Westover High School in Albany, Georgia, he discovered the periodic table while taking chemistry and, even more importantly, discovered Teisha Grant, who would eventually become his wife.
Attending The Citadel was not in Ellis' plans, but an unexpected acceptance letter combined with the dogged determination of a single mother who raised two children while carving out a successful career for herself in mortgage lending outweighed his objections. "In the end, Mom won, of course," said Ellis, "and I had to say a very sad goodbye to my girlfriend."
In the early days of co-education, Rashid Ellis found himself matriculating in August 2000, just after the second woman had graduated from the South Carolina Corps of Cadets. The Citadel was challenging, but Ellis found allies in his F-Troop roommate Adam Padgett and Commandant's Office staff members, Susan Redmond and retired Army Col. Tony Lackey, '61. He also embraced the Cadet Honor Code: "A cadet does not lie, cheat, or steal, nor tolerate those who do." For Ellis, the code by which all cadets live became a lifelong creed.
"It's not that I didn't have honor going in," he said, "but I learned what it meant to be honorable – to have integrity." Most importantly, Ellis learned that simply tolerating – or having knowledge of an honor infraction – can jeopardize a person's honor. "Regardless of what I'm doing, if I see a wrong, I have to do something about it because if I don't, I'm compromising my own honor."
Once a reluctant cadet, Ellis embraced his path by senior year and even took a young F-Troop cadet under his wing to ensure her success.
After graduating, he spent seven years in corporate America and two years in graduate school. The application process for joining the Secret Service took Ellis more than five years, and he joined in May 2011. He spent his first four years in the Miami Field Office, investigating counterfeiting crimes, then he joined the Counter Assault Team, and later he served on presidential protection detail. Today he is an instructor at the U.S. Secret Service James J. Rowley Training Center, where he teaches new and experienced agents about counter surveillance.
When reminded that February is Black History Month, Ellis was quick to respond. "I'd like to make it a full-time focus of ending race identity in America, calling each other American instead of Black or white," he said. "That's my dream."