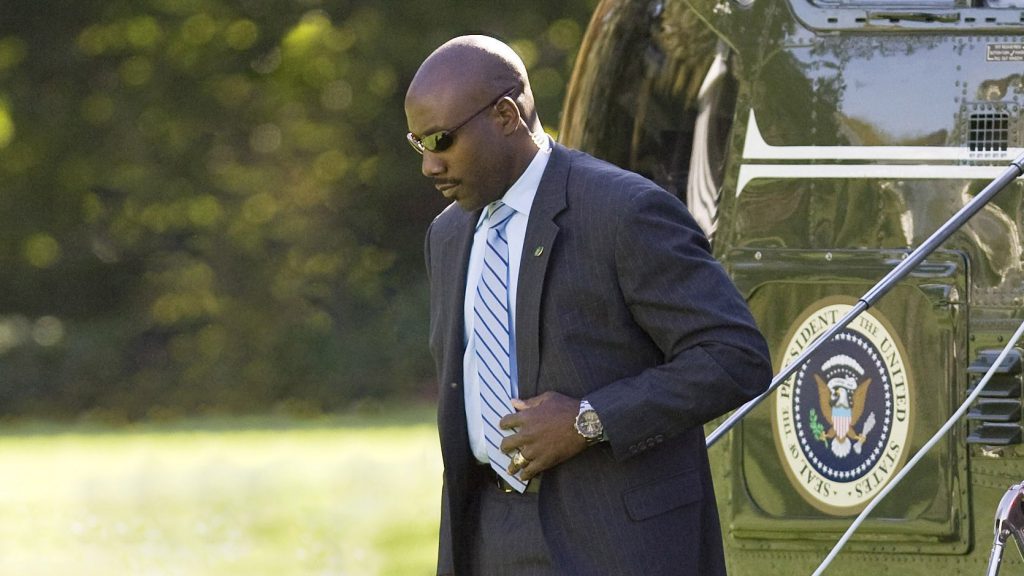 After publication of our story "Mission Essential," we learned about two more Citadel graduates currently serving in the United States Secret Service. Beyond being selected for the Counter Assault Team, an elite unit that provides tactical support to the president of the United States, the two men are part of the mere 7% of Secret Service agents who are Black, in an organization that is nearly 75% white. In honor of Black History Month, we are privileged to share their stories of success in a career that few achieve.
Eddie Colter, '90, did not plan to go to college. "I had already gone to a recruiter, and I signed up for Security Police in the Air Force." But after an "adult conversation" with his mother, Colter agreed to apply to one college, which happened to be The Citadel.
"I was kinda hoping I wasn't going to get selected," says Colter. So when an envelope from The Citadel showed up in the mail, he was anxious. Upon learning of his acceptance, Colter was excited but also a little scared. College tuition would put a strain on the family's modest resources, but Colter's parents vowed to make it happen.
Still wanting to join the military, Colter enlisted in the South Carolina Army National Guard in 1986, right after graduating high school and before starting at The Citadel, where he was assigned to the Regimental Band.
Initially, Colter struggled academically. "It wasn't because I wasn't intelligent. I was not prepared to enter an academic environment and do the things I needed to succeed." After a rough stint in engineering and then computer science, Colter was pulled aside by his political science professor, Gardel Fuertado, Ph.D., who said, "If you're having a tough time, come talk to me." It was the beginning of a crucial mentorship for Colter.
"I ended up switching to political science," says Colter, "and I went from failing grades to Dean's List."
Colter was offered a full-time position as an active-duty Guard, allowing him to finish – and pay for – his new degree. He was then selected for the state component of Officer Candidate School, graduating at the top of his class and receiving his commission as a second lieutenant in the Army National Guard.
"Everything I had gone through up to that point," says Colter, "really prepared me to succeed."
Colter credits Fuertado with lighting the spark that got him interested in the Secret Service. "Go research all of the federal agencies," Colter remembers the professor saying, "and see what appeals to you, then pursue it."
Colter followed his advice. "I decided that the Secret Service was the most appealing of all of the federal agencies, says Colter. "'That's the job for me.' I said to myself."
In late 1993, more than two years after starting the application process, Colter was offered a position in the Secret Service in Washington, D.C. After his first full-time presidential detail, protecting President Bill Clinton at the tail-end of his second term, Colter was selected for the Counter Assault Team.
While Colter has experienced many memorable moments in his nearly 30-year career, two in particular stand out. "Being on the president's detail when the first Black president was elected – that was a once in a lifetime experience," says Colter of the 2008 election of President Barrack Obama.
The other? Shaking Nelson Mandela's hand.
"I'll never forget that day for the rest of my life."
Colter says that after his experience as a Citadel cadet and in the Army, he was no stranger to a high-stress environment, setting him up for success in the Secret Service. "You learn to thrive and operate at an exceptionally high level."
As much as Colter still loves his job three decades in, he knows at some point it will be time for him to move on, if only so someone else can get a chance to succeed as he has.
"As long as we're developing our subordinates, they deserve an opportunity to ascend the ranks and assume responsibility, and I don't want to stifle that."
Jennifer Healy is a graduate assistant in the Office of Communications and Marketing, pursuing her master's degree in international politics and military affairs. She earned her bachelor's degree in journalism from DePaul University in 2008 and served four years on active duty in the U.S. Air Force. She is currently a Reservist, stationed in Charleston.