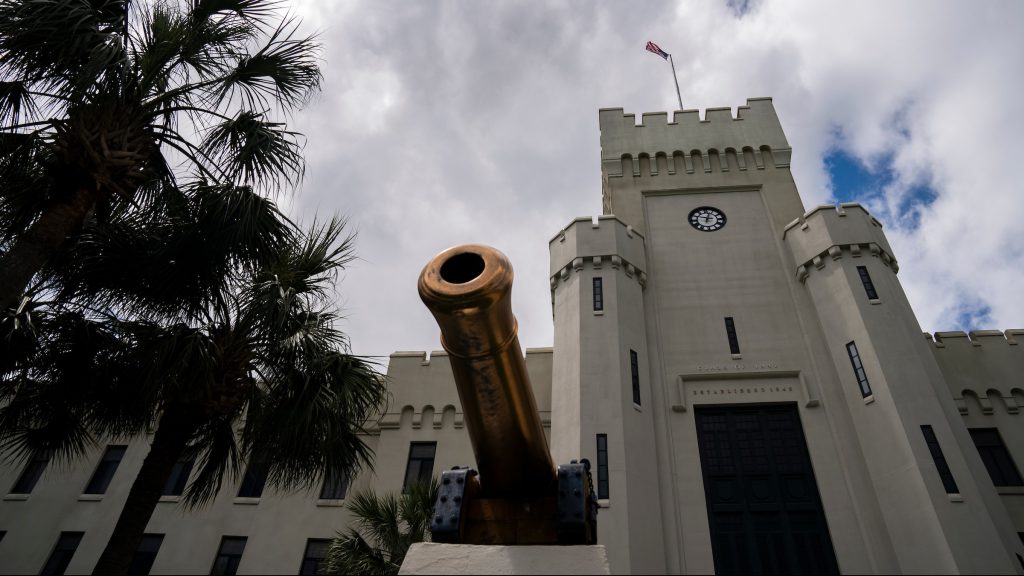 A dream job, a slice of the shipping industry and a non-profit for adults with special needs
The Tommy and Victoria Baker School of Business educates and develops innovative leaders of principle to serve both their global and local communities. These excellent outcomes are never more apparent than in the spring, when graduates leave The Citadel and begin their new careers.
The Citadel's business degrees are some of the most popular, offering graduates an infinite number of career paths through the three departments and associated pathways: Accounting & Finance – Management & Entrepreneurship – and Marketing, Supply Chain Management & Economics.
Take a look at some of the outstanding outcomes from the Baker School of Business's Class of 2020:
Cadet Michael Lima, headed to his dream job
Bachelor of Science in Business Administration — Accounting
Michael Lima's Citadel story started when his father saw an advertisement for The Military College of South Carolina, and wished that he could attend. Now he's part of The Citadel family, as his son prepares to graduate and start his dream job.
Lima (no, the Lima Company is no relation) says that Ernst & Young, thanks to an employee and a member of The Citadel Class of 2012, will usually take one or two Citadel cadets as interns during their junior year. But Lima got lucky. He received an email from The Citadel Career Center this year, inviting him to apply for a full-time position.
Thanks to hard work – a Citadel connection – and a little bit of luck, Lima landed a job at his "dream firm since sophomore year."
Other Baker School of Business success stories from the South Carolina Corps of Cadets include:
Cadet
Plans after graduation
Raymon Garrell
Accounting
Working in the Charleston area with Campus Outreach
Chase Kinsey
Business
University of South Carolina School of Law
James McClary
Business
Air Force Test Pilot Training
Hunter McGee
Accounting
Risk advisory consultant, Ernst & Young
Richard Snyder
Accounting
Infantry Basic Officers Leader Course for the Army
Jeremy Ward
Business
Working in logistics for a college ministry in Charleston
Griffin Bunch
Business Administration minor
Police Officer, City of Charleston
Cpl. Isaiah Lowman, USMC (Ret.), sailing into big business
Bachelor of Science in Business Administration
Isaiah Lowman will be using his Citadel business degree to help keep the global economy flowing. During his time at The Citadel, Lowman turned a class internship into a full-time position.
He was recently promoted to Container Operations Coordinator for the South Carolina Ports Authority. Among his many responsibilities, Lowman tracks import and export containers across all of the terminals in Charleston.
Lowman was initially hired as an intern, through a class with Shawn Swartwood – Citadel business professor and director of the annual Baker Business Bowl competition. After earning class credits as an intern for two semesters, Lowman was promoted to his current position.
He joined the U.S. Marine Corps shortly after graduating from Wando High School in 2011.
"The Citadel is the most prestigious college in the state, especially in Charleston, so having that band of gold along with your veteran experience makes you a golden potential hire in the area," said Lowman.
Danni Bloom, using education to help her community blossom
Master's of Business Administration
Danni Bloom may have earned her bachelor's degree in social and behavioral sciences at age 43 – however, she's anything but a late bloomer. Now she's about to earn her MBA from The Citadel; she plans to use her degrees to create a non-profit, aimed at helping young adults with special needs.
"I have a 21-year-old son with severe autism," said Bloom. "I'm seeking my MBA so that I can participate in the creation of a non-profit organization to help young adults with special needs get the training they need in order to transition successfully into the workforce and adulthood. I believe that an MBA from The Citadel will allow me to help my son and others like him who have special needs."
In addition to her education, Bloom is also a board member at The Arc of South Carolina, the state headquarters for a national non-profit that helps people with special needs get the services they need to succeed. She also works as a grassroots autism advocate for Autism Speaks.
"The best reason to attend The Citadel is to be a part of a rich history of educational excellence and to learn the principled leadership skills that will allow you to help shape the future," she said.
The Baker School of Business is the namesake of Tommy and Victoria Baker, dedicated philanthropists who make giving back to the Charleston community a priority. They support numerous charitable organizations, particularly in education, medicine and the arts. Baker, founder and owner of Baker Motor Company, studied business while attending the college as a veteran student with The Citadel Class of 1972 after returning from service as an enlisted Marine.