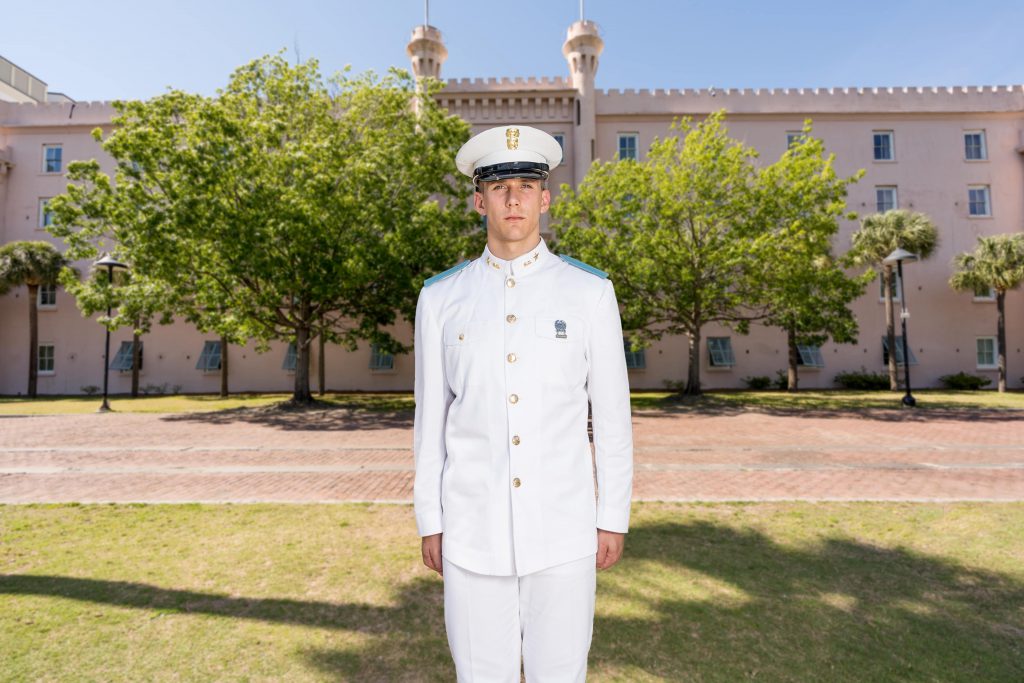 After spending a grueling year training under the rigid discipline of The Citadel, one of the nation's six senior military colleges that's based in Charleston, South Carolina, Aaron Daninger was prepared to face Recognition Day.
Known for its physical and mental challenges, Recognition Day pushes fourth-class cadets (referred to as "knobs" in their first year of school) to their limits.
For Cadet Daninger, who has multiple family members who served in various branches of the U.S. military, overcoming the challenges thrown at him on Recognition Day is just one more step toward a future he's always dreamed of.
"In December of my senior year [at Melbourne High School], I made the decision that this is where I wanted to come to college," Cadet Daninger said. "All of my life I'd known that I wanted to go into the service, and now I had a really great opportunity to get my education and a commission in four years."
Cadet Daninger, along with his classmates, participated in The Citadel's Recognition Day earlier this year, on March 29.
According to The Citadel's website, completing this challenge doesn't just mean an end for "rigid formations, walking in single file at breakneck speed and the highly regimented way of life that is the Fourth-Class System," it means students will be recognized by their first names from upperclassmen and welcomed into the Corp of Cadets.
During Recognition Day, knobs are required to start their day before the sun rises to complete a series of endless exercises, from push-ups and sit-ups to running drills back and forth across Summerall field.
In the afternoon, knobs participate in "the gauntlet," a series of team-building drills during which knobs practice sandbag drags and carries to tire flips and buddy carries.
After an agonizing amount of time has passed, knobs then proceed to participate in a Spirit Run, return to their barracks and then complete their last set of push-ups.
The Citadel has a tradition for which in that last set of push-ups, where knobs have to carry out 100 of them, they also have to add extra push-ups for the number of the year they'll graduate. In Cadet Daninger's case, that was an extra 22 push-ups.
"From the amount of mental fortitude that was built up throughout the year from rigorous PT and the mentality that you have to get up every day to such a regimented routine, it really was just more of a mental game than physical," Cadet Daninger said.
"It was excruciatingly physical, but it was more of an 'I've almost done this, I have to get to the next station and keep pushing through it,'" he continued. "My motivation was the guys to the left and to the right of me. It's not something you feel sorry for yourself, like 'This sucks, I want to stop.' The guys to the left and right of you are going through the same thing."
At the end of an exhausting day, the former knobs listen to a message from their Regimental Commander and an announcement states that the Fourth-Class System is no longer in effect.
Having finished his first year at The Citadel with a high grade point average in both semesters, earning Gold Stars, Cadet Daninger will serve as a cadre corporal to a new class of knobs this school year.
A history major, Cadet Daninger said he plans to pursue a military career in the U.S. Air Force.
"I'd like to be an Air Force pilot," Cadet Daninger said. "If they offer me a scholarship or contract this year, or if I go through field training this summer, I'll be qualified and all I'll have to do is graduate and commission."
Cadet Daninger also added that he is very involved with The Citadel's Toastmaster's Club and he attends church every Sunday.
"I grew up Catholic and I've gone to church with my family all my life," Cadet Daninger said. "I have done all the sacraments up to and including confirmation. When I got to The Citadel I made it a point to continue my involvement in my faith. I did Bible study twice a week and ushered at Catholic mass on Sunday."
For more information on The Citadel and Cadet Daninger's journey, click here.