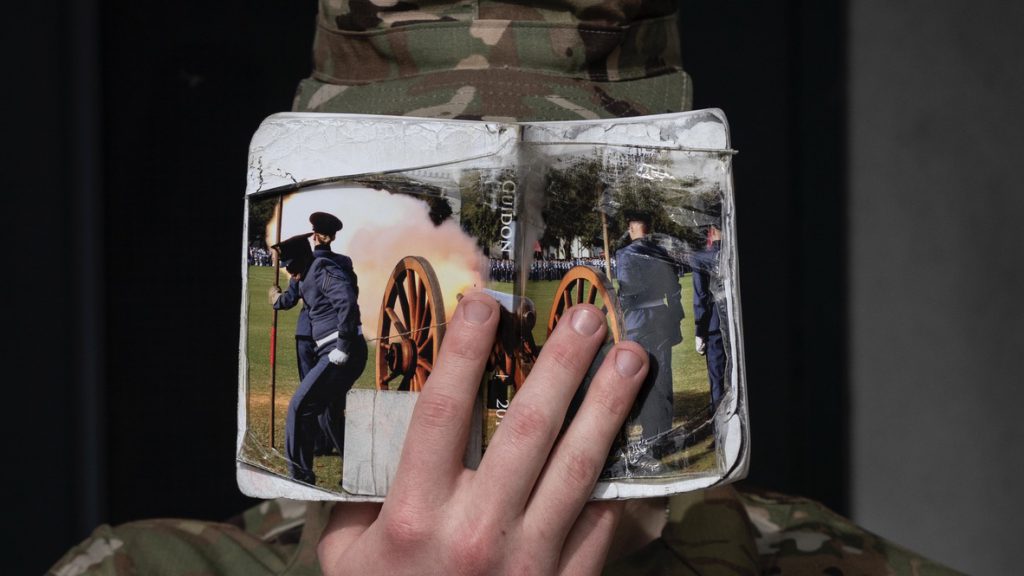 Even if you watched it, please read this article; two adjustments made to information provided during the town hall
As The Citadel moves forward with Operation Fall Return 2020, an agile, conditions-based plan to return cadets and students to face-to-face instruction, college leadership is communicating regularly to keep all constituents informed.
The Citadel President, Gen. Glenn M. Walters, USMC (Ret.), Sally Selden, Ph.D., the provost, and Capt. Geno Paluso, USN (Ret.), the commandant of cadets, led a virtual town hall meeting July 21 for the incoming Class of 2024 and their parents, to supplement the other communications related to the Aug. 8 Matriculation Day. Close to 800 people watched the live event. This was the third in a series of virtual town halls conducted for different campus audiences in July.
"This will be a good year for your freshman both academically and military. We have set conditions for safety and success, but every cadet must follow the rules for us to get this right, and for the sake of all," said Walters. "I am proud of how our staff and faculty have prepared for this operation. We are all here for the purpose of making your knob's experience productive and successful."
Walters said he expect about 700 knobs to matriculate.
The top 9 takeaways from the freshmen virtual conversation, which included real-time questions from cadets and parents, are as follows:
Freshmen must be tested for COVID-19 while still at home, approximately two weeks prior to matriculation. Those with negative test results need to email them by Aug. 7 to admissions@citadel.edu. Any cadet recruit receiving a positive test result should email it to the admissions address, and call admissions to discuss options and receive instructions at (843) 953-5230. If for some reason a cadet recruit cannot be tested, or does not receive test results prior to matriculation, that knob should report to campus and will be tested upon arrival.
NEW: Some parents expressed concerns during the town hall because medical providers had refused to test asymptomatic patients without an order from a physician. Dr. Carey Capell, The Citadel's physician, has written a letter that should help with these situations. You can download and print the letter here.
NEW: Matriculation Day instructions for parents: Arrive according to the pre-provided specific check in time. Follow traffic directions. Help your knob unload belongings in a timely fashion at the barracks curb where directed, say goodbye at curb and depart. After that, parents are asked to depart campus. Although Gen. Walters and the Citadel leadership team would have been delighted to meet parents in person on Matriculation Day, the matriculation planning team has adjusted the planned face-to-face engagement in McAlister Field House to a virtual engagement Thursday Aug. 13 at 7 p.m. This is a change from what was discussed on the Zoom engagement for incoming freshmen and parents.
Examples of COVID-19 protective measures being taken on campus include expert, robust sanitization of campus facilities as well as social distancing for classes, formation, mess hall, and in any required group setting. Additionally, no leave will be granted for any cadet until at least two weeks after reconstitution. The Citadel will also have testing capacity to test and, as appropriate, quarantine those who test positive for COVID-19.
Knobs will always wear masks other than for PT, eating, in the shower or in their rooms. It is part of their required uniform, as it is for the entire Corps. Arrive wearing a face covering and additional masks will be provided at check-in.
All cadets will register for times for breakfast and lunch based on their provided class schedules and need to abide by those times, which helps assure appropriate social distancing arrangements in the mess hall.
Components of fall semester such as parades, club or intramural sports activities, or Parents' Weekend are conditions-based, with decisions being made after the semester gets underway. The freshmen Oath Ceremony will be livestreamed on Facebook Monday, Aug. 10 at 4:30 p.m.
Socially distanced church services will be held in the chapel on campus. For knobs who wish to worship at Charleston's mosque or synagogue, for example, arrangements will be provided to facilitate that. Additionally, there are supportive faith groups for many denominations listed here. It's important to recognize that the ability of these groups to meet in person may be limited to maintain social distance and prevent virus spread.
Knobs should bring headsets or ear buds that work with their computer to use during study sessions and during the virtual portion of any coursework delivered through our hybrid model, which will help maintain social distance in high demand classes.
"This is a special place. This is not an easy place. For most knobs, there will be a time when they feel like quitting," said Paluso. "Parents should be supportive, but encourage them to be strong and consider the big picture of graduating to become part of The Citadel Long Gray Line, and all of the advantages that go with it. But they've got to earn it."
Any parents, knobs, cadets or students with questions about Operation Fall Return and COVID-19 protocols can find Frequently Asked Questions here, or use this form to send a question.
Watch the recorded Class of 2024 Virtual Town Hall below.