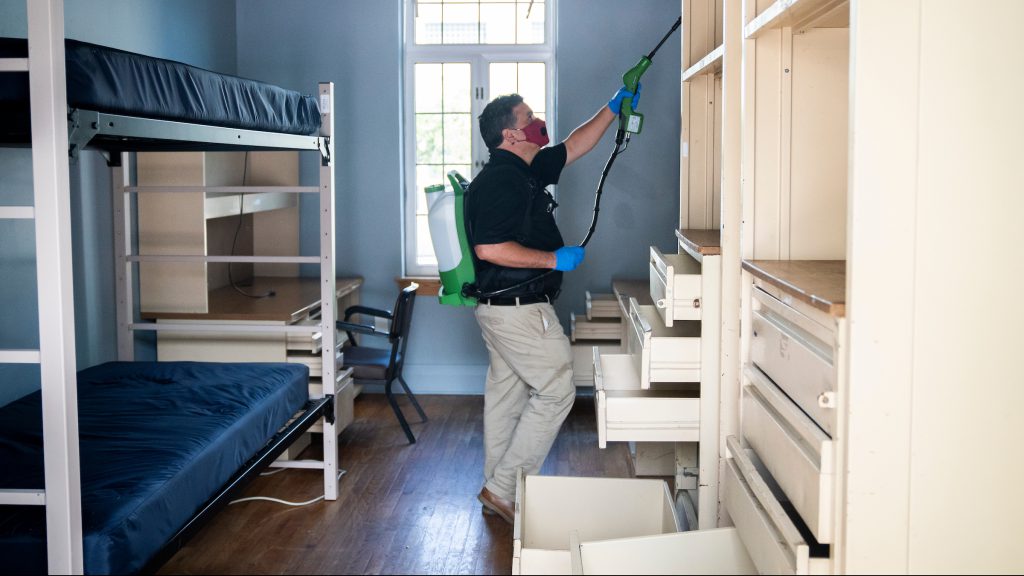 Photo: A member of The Citadel's professional sanitation team uses special equipment to ensure cadet rooms are virus-free.
It is our duty to protect ourselves and others from COVID-19
As Operation Fall Return 2020 continues and campus prepares to receive cadets and students for the new semester, The Citadel administration has laid out the COVID-19 testing requirements and return protocols. In-person instruction for all student populations begins Aug. 19.
The #1 regulation: if you are having any COVID-19 symptoms, stay away from campus and alert your TAC, the Admissions Office (for freshmen) or The Citadel Graduate College Office. The college will make every reasonable effort to enable cadets and students to catch up and continue their studies.
"My own three sons are returning to their college campuses this fall," said The Citadel Provost and second highest-ranking leader, Dr. Sally Selden, during a recent virtual town hall. "So, you can imagine how seriously I take our efforts to protect our cadets and students. I hope my sons' colleges are as prepared as we are at The Citadel."
The basic requirements are outlined here, with expanded details below according to cadet and student segments.
Every cadet and student must get a COVID-19 diagnostic test to show if he or she has an active case of the virus, as close to two weeks before they report as possible. If test results are positive, this timing enables appropriate recovery time before the cadet or student returns to campus.
Copies of negative test results should be provided to the college according to instructions for each student section below.
If a positive result is received, that student should immediately call their assigned reporting area outlined below.
All cadets and students are asked to self-quarantine as much as possible for two weeks prior to their report date. Doing so reduces your possibility of infection before arrival.
Everyone on campus must always wear a face covering, other than when alone in study room or office, or while eating. In addition, cadets do not need to wear masks in their barracks rooms.
Everyone on campus must practice social distancing and stringent personal hygiene. Campus-wide sanitization stations are installed in high-traffic areas for frequent handwashing/sanitization.
Facilities are being sanitized by an expert team daily.
To limit population density in classrooms, most classes will be converted to a "hybrid instruction" format with a mix of in-person and online instruction.
All dining facilities and retail spaces will observe physical distancing guidelines and decreased capacity.
The college requires self-monitoring, testing, and reporting for anyone who is symptomatic during the semester.
 Upper class cadets
Get a COVID-19 diagnostic test two weeks prior to your return and email a copy of the negative test result to your TAC before your report date. For example, cadre returning on Aug. 1 should have the test as close to July 17 as possible. If arriving for reconstitution Aug. 16, get a COVID-19 test by July 31.
If the result is positive, do not return to campus. Isolate at home and email a copy of the result to your TAC and call your TAC for further instructions. In this case, a cadet will begin classes remotely on August 19. After isolating a minimum of 10 days and receiving two negative COVID-19 tests, provide results to your TAC to obtain clearance for return.
If a cadet cannot get a COVID-19 test at home or your results are not delivered by the testing entity in time, communicate that to your TAC prior to your return, and a test will be administered upon arrival to campus at the infirmary.
The temperature of each cadet will be taken upon reporting to their assigned barracks. If a fever is detected, that person will go to the infirmary for testing.
Every cadet will be provided with four washable face coverings at check in. A face covering must always be worn other than when alone in a room or in living quarters with designated roommate.
Cadets should sanitize their rooms twice a day with material provided on each floor of the barracks.
Practice stringent personal hygiene by washing or sanitizing hands frequently.
Barracks access will be temporarily modified to reduce COVID-19 spread and cadets can only enter their own barracks at any time.
Self-monitor during the semester for COVID-19 for symptoms and report to infirmary for a test if you have a fever, cough, sore throat, shortness of breath or lose of sense of taste and smell.
Freshmen
Matriculation will be held on August 8, with staggered report times that will be shared in coming weeks.
Freshmen should get a COVID-19 test in their hometown by July 24.
A copy of the negative test result should be emailed to the Admissions Office at admissions@citadel.edu.
Should the freshman test positive, do not report and call the Admissions Office at (843) 953-5230 for a private conversation about next steps. Remote classes will be provided, and the cadet can return in the fall of 2021 for the required fourth-class (knob) training components.
If you cannot get a COVID-19 test at home, or your results are not delivered by the testing agency in time, email the admissions office prior to matriculation and a test will be administered upon arrival at the infirmary.
Prepare to:

Have your temperature taken upon check in

Receive four reusable masks and always wear a face covering

Sanitize your room twice a day with provided materials

Practice stringent hand washing/sanitation daily

Self-monitor for symptoms during the semester as described above and report to infirmary if having any symptoms
Students who are not cadets
These instructions pertain to all CGC students who take in-person classes including graduate, college transfer, veteran, veteran-day and active duty students.
Get a COVID-19 diagnostic test as close to Aug. 4 as possible, and email the negative test result to the CGC office at cgc@citadel.edu. Classes begin August 19.
To report a positive test result, call the CGC Office (843) 953-5089 and begin classes remotely.

Isolate for a minimum of ten days and get another COVID test. When receiving two negative results in a row, provide those results via email to the CGC office, CGC@citadel.edu, and return to campus for classes.

Always wear a face covering while on campus, practice stringent hand sanitization and self-monitor for symptoms during the semester, staying away from campus and getting a new test if experiencing symptoms.

No-contact temperature checks can be obtained in the CGC Office during regular business hours.
Need to talk confidentially?
Call your admissions officer, your company TAC, the CGC office, arrange for an appointment with The Citadel Counseling Center or an ombudsperson.
The Citadel's Ombudspersons, Robert Pickering and Shamus Gillen, are available to speak with any cadet or student who needs a confidential and safe environment in which to share concerns related to COVID-19. To schedule an appointment, email ombud@citadel.edu. Or call them directly at the phone numbers listed on this page.