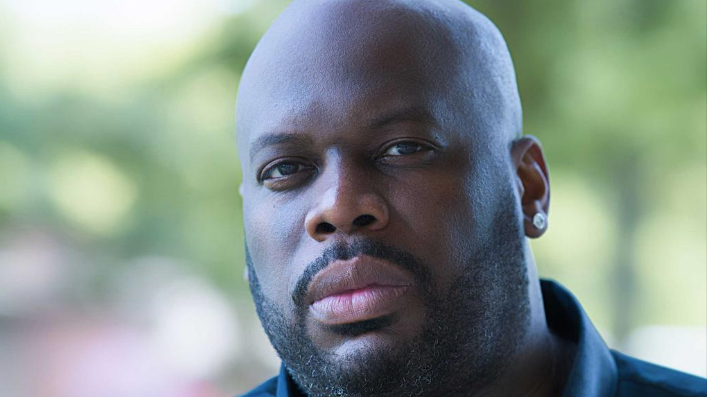 Photo: Morris Robinson portrays Porgy in the 2019 Cincinnati Opera production of "Porgy and Bess," which launches July 20 (Courtesy: JEQ)
Morris Robinson is the only former cadet and All-American football player at the Citadel to become a world-renowned opera singer. The opera bass, who stars in Cincinnati Opera's "Porgy and Bess" opening July 20, received an honorary doctorate and gave the commencement speech at the military college in Charleston, S.C., two years ago.
"At the Citadel, you obtain discipline, personal accountability, you understand the concept of teamwork, of overcoming adversity, of being flexible and of duty and responsibility," he said at Music Hall. "Then I got into my first opera rehearsal and I realized, the first thing I need to have is personal accountability and teamwork."
Robinson, who played offensive guard, hoped to play pro football but was deemed "too small" at 6-foot-2 and 285 pounds. Instead, he excelled in corporate marketing and sales. The son of an Atlanta Baptist minister, he also loved singing since age 6. When the director of opera at Boston University heard his resonant bass at an event, he was encouraged to study opera.
He "took the gamble" at age 30, giving up a paycheck, company car and expense account. To make ends meet, he worked at Best Buy, loading 36-inch televisions.
He knew he'd made the right decision when he auditioned for the chorus at Boston Lyric Opera. Instead, he was offered the role of the King in Verdi's "Aida." Since then, he's played "kings, godfathers and devils" at A-list companies such as the Metropolitan Opera, and locally at the May Festival and Cincinnati Opera, where he's also Artistic Advisor. In 2016, he sang his first Porgy in his debut at Milan's legendary La Scala.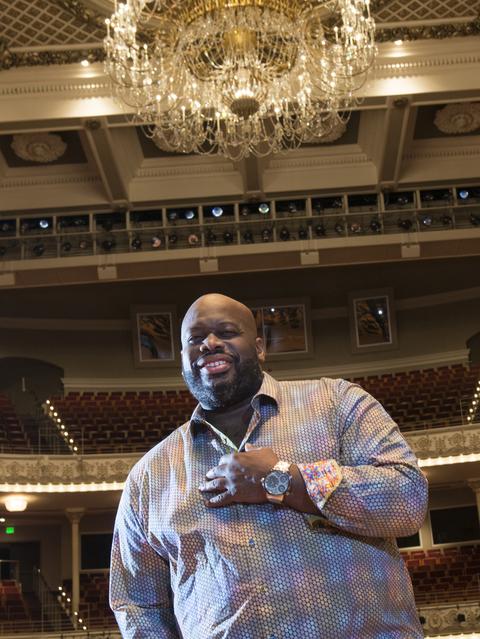 He credits it all to a higher power: "I'm just walking down the path that has been laid out for my life. Who else writes this script?"
Cincinnati Opera's "Porgy and Bess" by George and Ira Gershwin, July 20, 25, 27-28 at Music Hall. Tickets: 513-241-2742, cincinnatiopera.org.
Q/A WITH MORRIS ROBINSON
What was it like to return to your alma mater, the Citadel, for an honorary doctorate and to give the commencement speech?
Very breathtaking. You leave that place, and you are literally just happy to get out of there, because it is one of the toughest schools, not just academically, but because you have the regimen of the military aspect.
How has your education at the Citadel informed what you have done in business – with 3M and Advanced Elastomer Systems – as well as in opera?
I was in marketing first and then in sales. My first job I covered all of Virginia and Washington, D.C. accounts. I had a company car, a fax machine, a laptop and eventually a cell phone. It was up to me to go out and generate business and train my distributor representatives on the product line that we represented. I had literally hundreds of sales reps in various distribution centers that relied on my expertise to help them close deals in order to feed their families. So, it came with a sense of duty and responsibility, personal accountability, time management, account management, teamwork – all those things directly applied to corporate America.
Coming into the opera world, I very much thought I was going to walk away from that. … (But) it's a whole huge team of people putting all of their acquired skills on display so that we can present a product to the customer base. We sell tickets to customers. There's a whole business model there. We put a bad product up, they're not buying it. We're out of business. So, it is absolutely parallel.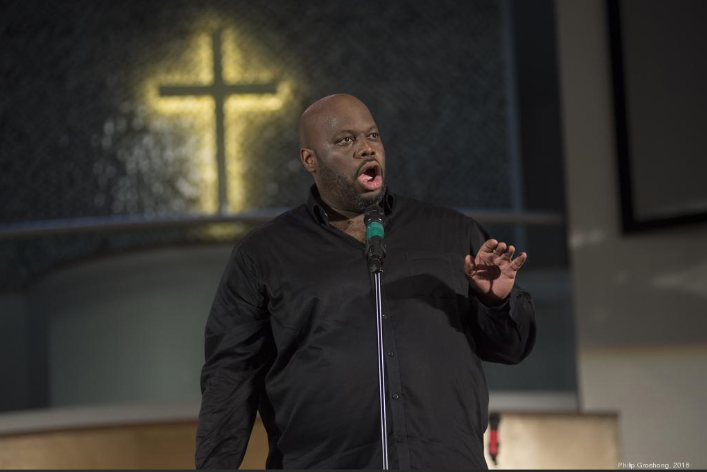 Unbeknownst to myself, the good Lord has a plan for us. So, when I embarked on this career, I was already fully equipped with those skill sets.
Did you grow up in a musical family?
My dad was a Baptist minister, and my mom was president of the gospel choir, so I grew up in a house when I went to church every Sunday morning, and there was music being played. My mother probably sang more than she spoke. There was music all the time. It was always in our ears.
She had us as kids join the Pastor's Choir – that's the children's choir. I joined that at age 6, and got my first solo at age 6, standing on a chair because I was too short to be seen over the banister. Then I realized that I don't want to do this. The cool people are playing drums and bass guitar. My dad bought me a drum set and I was church drummer at age 9 through high school.
Porgy, who is disabled, is so different from the booming authority figures that you usually sing – the Grand Inquisitor, the devil, the king, surrounded by gold and splendor. What was it like to sing your first Porgy at La Scala in Milan, Italy?
Singing Porgy at La Scala was a lot more intimidating than making a presentation in front of a board meeting at 3M.
Every other role I've sung for 99 percent of my career as a bass – the kings, godfathers and devils – you walk out, you take control of the moment, and everyone listens to you. Sometimes they sing about you for an hour before you even walk out. And when you do, you own the space.
It's very easy to walk out, as an African American guy who used to play football and went to military academy. I walk in the room and I'm used to people paying attention to me. That's easy. Porgy is not the same guy. The challenge was, this voice that I've nurtured and developed with these other roles is my voice, but how do I package that as someone who is emotionally sensitive to the situation?
How do you view Porgy's character?
He's been portrayed as the kicked puppy — mean old Crown has taken his girlfriend. But if you really look at Porgy as a character, Porgy is not a weak person. Porgy is the most respected person in Catfish Row. They sing about him, and how good he is, and how he's too good for Bess, and how she's not good enough for him. He's honorable.
But when he falls in love with Bess, as unlikely as it might have been, this is the first time in his life he's achieved this level of intimacy, love and compassion. … I've got a chance with this one girl, the most beautiful woman in the community, even though she has her issues, and she's with the bad guy. There's a moment where he says to her, "If there weren't no Crown, then what?"
He decides then he's going to kill the guy. That's kind of gangster. That's not a soft guy. I can't walk, but I'm going to kill the baddest guy around. Everyone is afraid of Crown. So, I do it with my bare hands.
That's believable!
Especially with me!