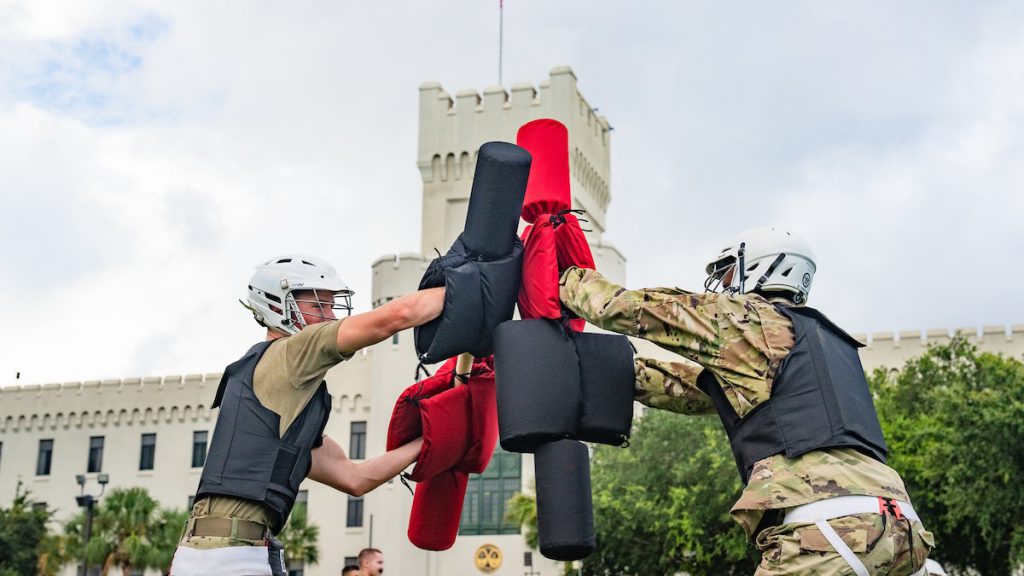 A key component of leadership is sacrifice.
Rather than spending a long summer at home, the cadre — the group of cadets tasked with instructing the incoming class — volunteered to return to campus early in order to get the training that will make them effective leaders.
A marquee event of the weeks-long training is a Leadership Training Exercise, or LTE, sponsored by the Class of 1970.
This year, more than 600 cadets participated in the LTE on campus, from 4:30 a.m. to 5 p.m. on Saturday, Aug. 6.
Consisting of eight different stations — ranging from an obstacle course to pugil sticks — the LTE is a rigorous and demanding event, designed to develop their professionalism, improve their teamwork, and instill empathy.
"The intent is to push the cadre to their limits so they remember what it is like to be a freshmen undergoing challenge week," said The Citadel Commandant of Cadets Col. Tom Gordon, USMC (Ret.), '91. "The Class of 1970's vision of creating a living legacy, by investing in the professional development of the cadre, is already bearing fruit. By investing in the professionalization of the process you improve the product."
The cadre will use the training they received over the summer to guide the Class of 2026 throughout their knob year.
Before the start of classes on August 24, the freshmen will complete Challenge Week — when they are introduced to the military lifestyle, environment and routine. The Citadel's Fourth-Class System uses intentionally designed developmental stress and rigid discipline to accelerate learning. Knobs are taught how to wear their uniforms, drill, clean their rooms and barracks, and become familiar with customs and courtesies.
"Our biggest goal is to develop principled leaders — that's what The Citadel's mission is and that's what our mission as cadets is to do," said Cadet Brandon Johnson, regimental commander for the Class of 2023. "So that stress and not knowing what is coming next feels uncomfortable in the moment, but it's incredibly beneficial for the freshmen cadet because it teaches them how to be a leader. The freshmen year is the building block for the rest of their cadet careers."
Click here to see highlights from last year when cadre traveled to Parris Island for their LTE, also thanks to sponsorship from the Class of 1970.