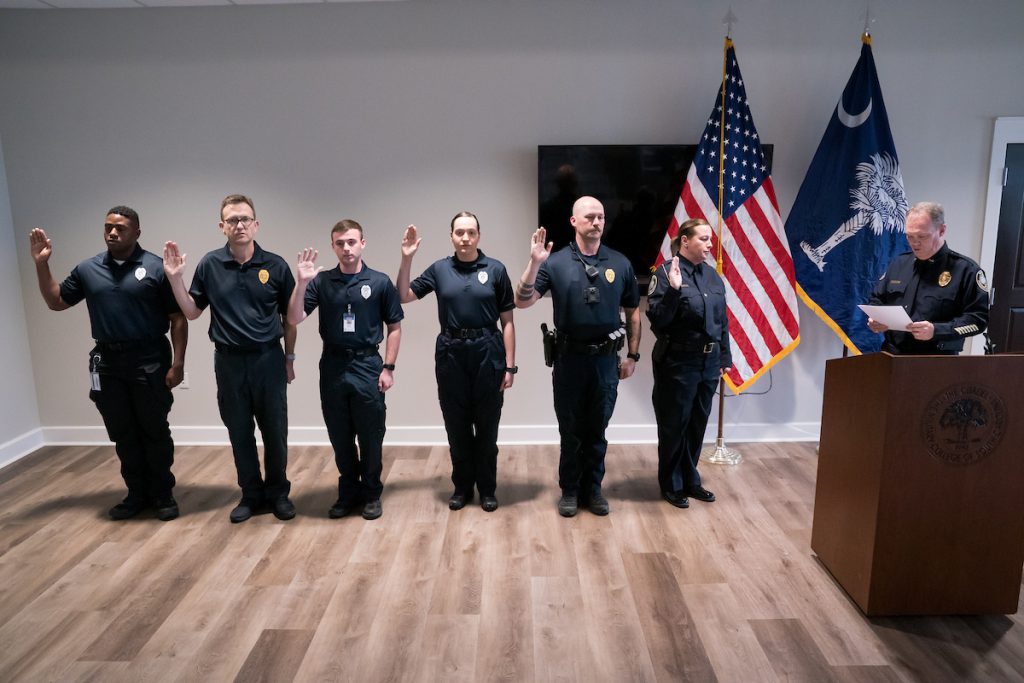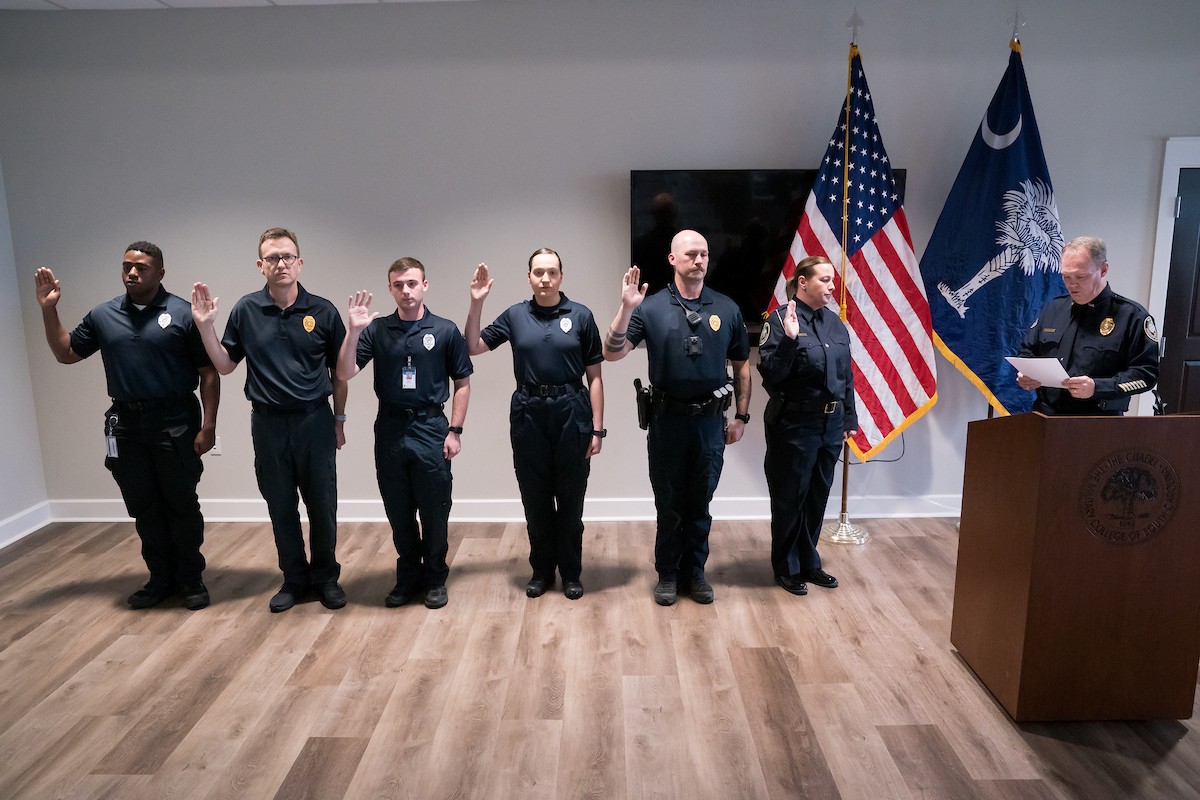 By Cadet Olivia Hime, Regimental Public Affairs NCO
The Citadel welcomed its first class of cadet Community Service Officers during a ceremony in early March led by the college's Department of Public Safety.
"This is a first in the history of The Citadel," said Captain Shaun Ferguson, who developed and oversees the Public Safety internship program. "We have never had interns who then went on to become sworn officers, serving their community, while they are still cadets."
Friends, family and other guests gathered for the event in the Swain Boating Center on campus. The three cadets were sworn in alongside a member of the college's faculty, and two experienced officers recently hired by Public Saftey.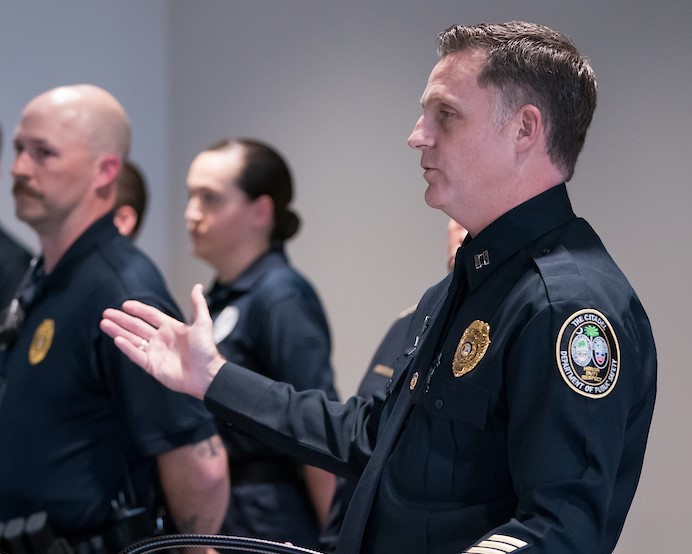 "Right now, the cadets will be working as community service officers, patrolling campus to identify any issues compromising safety and security and helping where needed, with the assistance of our more senior officers, like myself," Ferguson explained.
The next step is to guide the cadet-officers as they earn their Class 3 Constable Certification, attaining a degree of authority that allows young officers to experience the responsibilities and rewarding nature of law enforcement, according to Ferguson.
"I hope that this program helps the college produce the leaders law enforcement needs," said Mike Turner, chief of The Citadel Department of Public Safety and a member of The Citadel Class of 1986. "I worked with a lot of violent crimes early in my law enforcement career and the ability to bring closure to the families of victims has been one of the most rewarding aspects that I have carried with me. Working here at The Citadel, I want to make a difference not only for the college but for the cadets. Law enforcement is a constant process during which you will never stop learning and always have room for improvement."
Turner said the Public Safety team is looking forward to working with the cadet-officers and to growing the college's intern-to-officer program.
Introducing The Citadel's new Community Service Officers
Cadet Brandon Birsner– Mount Pleasant, South Carolina
Currently holding the position of Romeo Co. Human Affairs Sgt., Cadet Brandon Birsner is a junior majoring in Political Science. He plans to become a Class I Officer upon graduating in 2023. Birsner has helped to fuel The Citadel PSAF Internship program by fostering connections with agencies providing that provide NARCAN training to assist in saving the life of a person who has overdosed on opioids or other substances, as well as the local Polar Plunge fundraiser.
Cadet Imani Bowie – Augusta, Georgia
In addition to now being a sworn-in Community Service Officer, Cadet Imani Bowie is a member of the South Carolina National Guard. He is the South Carolina Corps of Cadets Squad Sgt., the Army Dept. Recruiting Sgt. and a future Honor Court Representative. Bowing is majoring in Intelligence and Security Studies and will graduate in 2023.
"I have learned a lot from this program so far and it has led me to consider pursuing a career in law enforcement after college," Bowie said. "It has also helped me with my confidence and opened my eyes to all of the work that goes into being a police officer. I have developed a lot of respect for those in this line of work."
Cadet Chelsea Sitarik – Folly Beach, South Carolina
A senior in Charlie Company, Cadet Chelsea Sitarik is studying Criminal Justice and Psychology. She plans to continue her education and earn a master's degree in Clinical Psychology following graduation. Sitarik is also pursuing a career in law enforcement. She has dedicated much of her time to the the internship program and the Public Safety team describes her as someone who will be a great asset to any law enforcement team in the future.
David Desplaces, Ph.D. – Citadel faculty member with the Baker School of Business
Professor David Desplaces, Ph.D., holds extensive experience in emergency management as a member of the Lowcountry Incident Management Team, the U.S. Coast Guard Auxillary, Captain in the South Carolina State Guard Provost Marshall Detachment (critical infrastructure protection unit), among other positions. On the other side of his career, Deplaces is a professor of Strategic Management with the Tommy and Victoria Baker School of Business at The Citadel, with expertise in global commerce and trade, cultural management, leadership, change management and entrepreneurial venturing.
New Class I Officers
Private First-Class Cameron McNeill
Private First-Class Cameron McNeill has 11 years of law enforcement experience. Earlier in his career, he served in both Dorchester and Collin counties as a sheriff's deputy and in North Charleston as a full time SWAT officer. For the last 12 years, McNeill served as a member of the State Department Bureau of Diplomatic Security. He conducted protective operations for U.S. diplomats in Afghanistan for approximately five years and trained in the High-Threat Operations branch for the following seven years. Upon completion of the academy, he will become a full-time trainer for The Citadel Department of Public Safety.
Sgt. Reagan Moore
Before joining The Citadel Department of Public Safety, Sgt. Reagan Moore worked with Coastal Carolina University's Department of Public Safety as an investigator. She has been a law enforcement professional for eight years, working for the city of Conway, the Green County Sheriff's Office and the J. Reuben Long Correctional Center. Moore has a wide range of experience and holds degrees in Criminal Justice, Criminology, Online Security and Education.