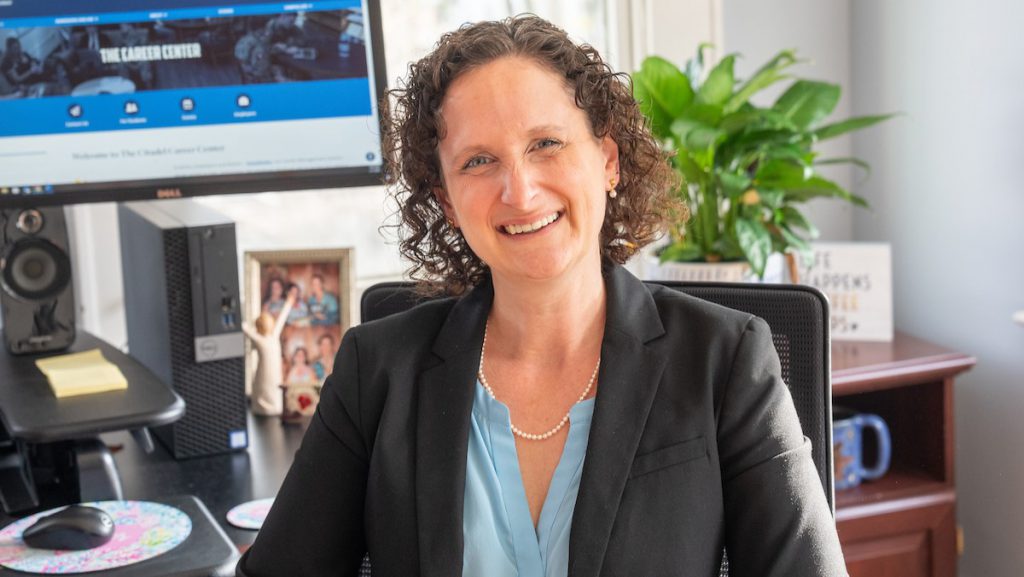 The Citadel community is welcoming Jennifer Santoro, the Career Center's new director. She most recently served as the Campus Director of Career Services for ECPI University's Charleston campus and is a certified business, career and life coach.
The Citadel Career Center educates, empowers and equips cadets and students to achieve their professional goals through providing career resources and tools. The Career Center helps provide internships as well, ensuring cadets and students are prepared for their career field once they graduate from The Citadel.
Santoro brings her broad knowledge and experience in student success and support, community collaboration and overall career growth to The Citadel.
Santoro holds a bachelor's degree in communication from Florida State University as well as a master's degree in integrated marking and management communication, also from FSU. Santoro is originally from Connecticut and previously lived in Florida. She began her career in higher education at FSU in alumni affairs and student affairs. She went on to co-found a software development company that led her to Charleston. But she found herself missing higher education.
"After being in the tech industry for six years, I missed my work in higher education and decided to follow my passion back to the field. That's when I transitioned into my work with ECPI University and now, The Citadel," said Santoro. "I am very impressed with the Career Center's team and the career development programming they have established. I look forward to supporting this programming and continuing to build from this great foundation as we move into the next chapter together."
In her previous role, Santoro led all career development efforts for ECPI University's Charleston Campus. This included implementing student career development programs, establishing employer relations, holding career events and graduate employment support. She helped assist students develop their resumes, prepare for interviews and learn to network — similar responsibilities she now fulfills at The Citadel's Career Center.
Through early career exploration, experiential learning opportunities and professional development with employers, campus partners and alumni, Citadel students who utilize the Career Center are fully prepared to enter the workforce after graduation.
Cadets and students are welcome to drop by the Career Center from 1 – 4 p.m. Monday through Thursday; they can also schedule in-person or virtual appointments Monday through Thursday from 9 a.m. – 4:30 p.m. through the Career Center's website.
"The Citadel community is a very special one, and I am honored to now be a part of it. I look forward to supporting the career development of our great principled leaders of the future," said Santoro.