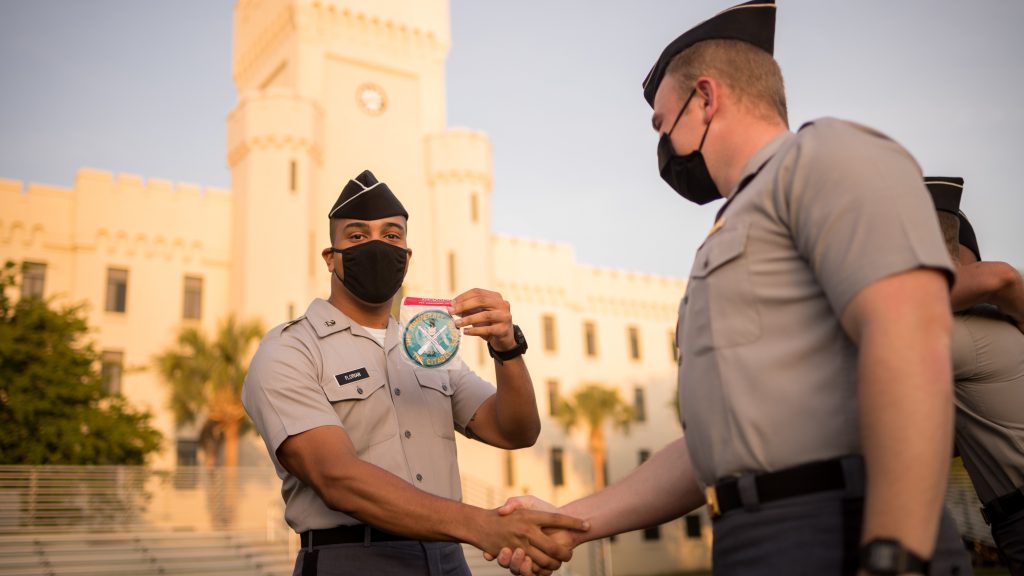 The process may not have looked the same — but the purpose didn't change.
During normal times, the changing of the guard ceremony would have taken place as part of the annual Corps Day/Recognition Day weekend ceremonies. That is when the Summerall Guards for the Class of 2021 would have performed their last precision drills as a unit and then passed their rifles to the new platoon.
This year, instead of passing rifles, the outgoing Summerall Guards handed the new class their patches. The old guard then went down the line to shake the hand of every new member.
Known around the United States as one of the elite military drill troupes, membership is a high honor at the military college of South Carolina. Created in 1932, The Summerall Guards have represented The Citadel at events around the nation, including performing in five presidential inaugural parades.
The platoon is named for Gen. Charles P. Summerall, former Chief of Staff of the U.S. Army and Citadel president from 1931 until 1953. It's purpose is to exemplify the exactness and thoroughness of a Citadel cadet's training through a unique series of movements based on old, close order Prussian drills. The maneuvers have never been written down, are passed from class to class, and are performed to a silent count.
The selection process includes weeks of Bond Volunteer Aspirant (BVA) training. More than 100 junior cadets who pass an initial physical fitness test take part in the six week long BVA training and tryout sessions. They must perform military pushups, sit-ups and rifle-bearing physical training, exhibiting exceptional physical condition and stamina.
The 61 seniors will be commanded by Cadet John Michne.
The Class of 2022 Summerall Guards:
Charles Bellinger
Robert Bickley
Zac Bishop
Austin Buttle
Ryan Cherrier
Chia-Feng Chiang
Josh Coats
Jonathan Cribb
Jackson Crimminger
Aaron Daninger
Luke Eafano
Jon Florian
Ronald Flowers
Trenton Gambrell
Rhett Garrett
Dallas Garwood
Grayson Gasque
Zavier Gebrayel
Dahrel Ghazaleh
Colton Gray
Cody Green
William Greene
Sylvester Guillermo
Ryan Harper
Bryce Hearsey
William Herbert
Blake Hill
Trey Holladay
Ryan Hooks
Kaleb Hyland
Grayham Ives
Ethan Jackson
Lane Johnson
Charlie LaRosa
Jacob Larsen
Emory Latimer
Brandon MacDonald
Micheal Makowski
Trini Martinez
Luke Meetze
John Michne
Cole Murphy
Liam Nolan
Francis O'Brien
Donovan O'Dea
Colton Parcell
James Peatross
Hayes Pruitt
Daniel Stone
Jonathan Stone
David Stringer
Garrett Summers
Charlie Tompkins
Juan Valencia
Brian Wall
Wilton Warner
Ryan Wehner
Samuel Wendt
Finn Willman
Josh Woods
Justin Zeilstra