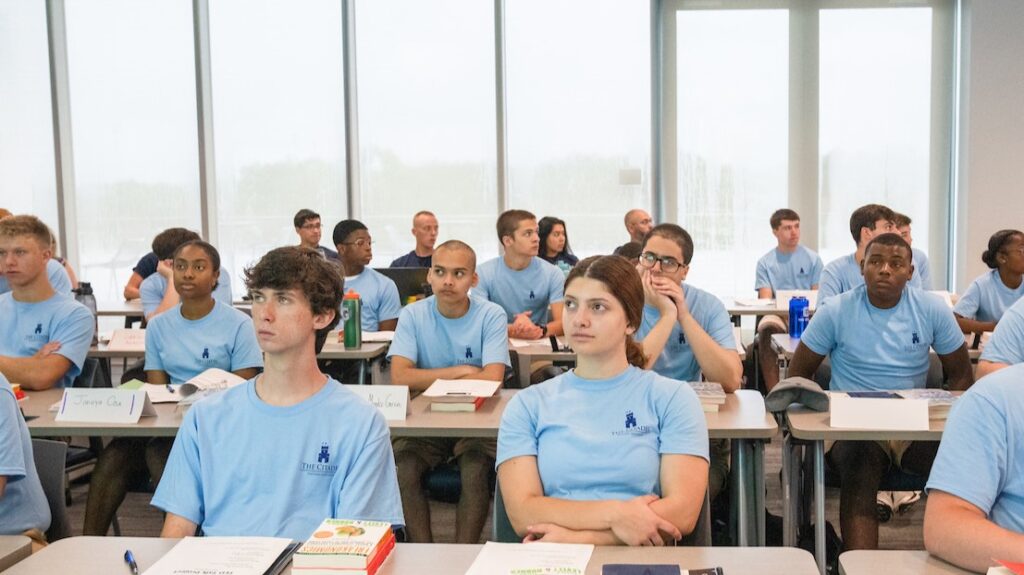 The Zucker Family School of Education is ensuring cadets from the incoming Class of 2027 are prepared through the new Summer Bridge Program, which is part of a $750,000 grant received from the South Carolina Commission on Higher Education, or SC-CHE. This program was developed to address learning losses due to COVID-19 and to promote retention during freshmen year.
The Summer Bridge Program is currently underway as part of The Citadel Success Institute, or CSI, which began on July 5. Through this program, future cadets — particularly those who are first-generation college students or those with high financial need — received full tuition coverage for CSI. This assistance benefits a significant number of students and breaks down financial barriers.
"We are so grateful for the support from SC-CHE that allows us to innovate — we have never before implemented a competency-based approach to teaching and learning at The Citadel," said Evan Ortlieb, Ph.D., dean for the Zucker Family School of Education. "We have integrated differentiated instruction as a cornerstone to maximize student achievement and in turn, aim to improve the retention and graduation rates of our ever-capable cadets. I give all the kudos to our team of exceptional teachers and peer tutors for turning this concept into reality."
The Summer Bridge Program's goal is to ensure incoming cadets who complete the program will enter their fall term with confidence, a network of support and a strong foundation of success for their time at The Citadel. For this summer's CSI, 50 students were selected for the program, with the grant covering all of their expenses, as well as more funding for other students next summer.
"The mission of the Summer Bridge Program is to support students' transition from high school to college by providing them with campus resources, physical fitness training, career counseling and academic success skills. Understanding that the extra cost may be a barrier to some students and families, we have identified students with financial need as well as those who are first-generation college students, and we have provided them with full scholarships to CSI," said Andrew Zutell, Ph.D., program manager of the Summer Bridge Program and professor at The Citadel.
Through this program, students receive a personalized summer learning experience that was built upon their strengths while developing reading comprehension, academic writing proficiencies and computational thinking skills. In addition, students are being taught by multiple teachers in small groups through peer learning communities and receive peer tutoring and career coaching. Currently, these cadets who participated in the Summer Bridge Program are taking EDUC 201, a general education elective course that can be applied to any major.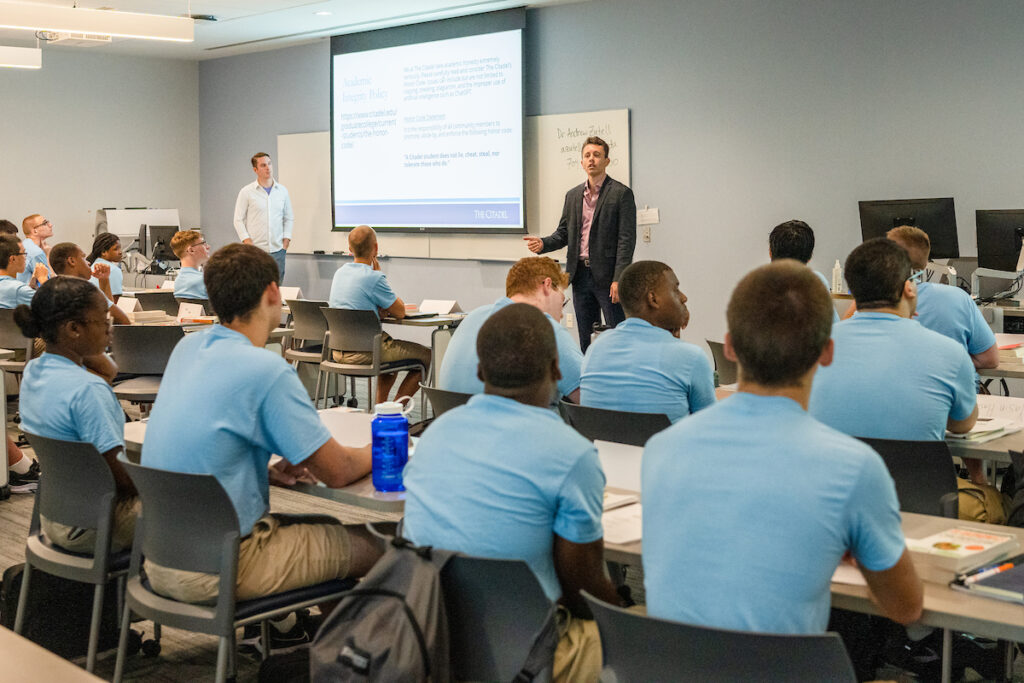 "Students in the program have been automatically enrolled in a specialized, interdisciplinary course that utilizes project-based learning and blended learning pedagogies and has been expertly designed to support students with essential college-readiness competencies," said Zutell.
The EDUC 201 course is taught by a world-class instructional team including two reading specialists, two writing specialists and two math specialists. These instructors, many of whom are K-12 educators from the local area, use project-based learning as the program's framework. Additionally, 12 peer tutors were hired through a rigorous application process, and they are tutoring these future cadets either in-person, online, individually or through small groups. The peer tutors are a mixture of recent Citadel graduates as well as current cadets and master's students. The peer tutoring element of the program will be incorporated throughout the participants' entire freshman year.
As part of the Summer Bridge Program, students will have the opportunity to share their end project — an original TED Talk style presentation related to their intended major. This event, taking place on July 31, will honor and celebrate each student's ideas and learning that they accomplished over the past month.