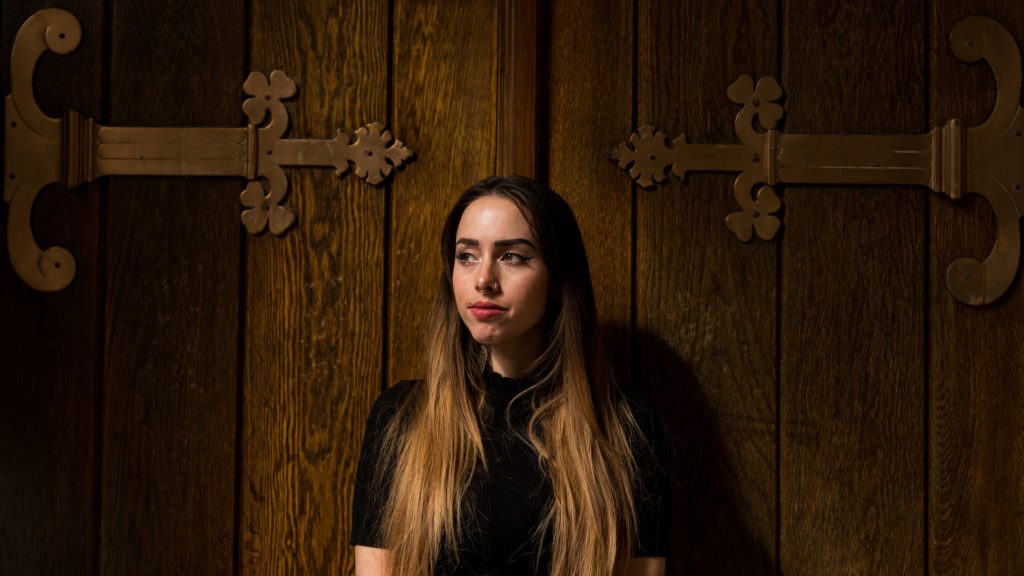 In recognition of Veterans Day on Nov. 11, The Citadel is highlighting some of the college's exceptional veteran students from different branches of the U.S. Armed Forces.
There are approximately 250 veterans currently studying at The Citadel, either as undergraduate or graduate students. They have the option of taking their classes as day students alongside the Corps of Cadets, as evening students with other non-cadet undergraduates or online. In addition, they are provided with multiple resources through the Veteran Student Success Center on campus.
Named #1 Best College for Veterans in the South for three years in a row, the Military College of South Carolina is honored to help our nation's heroes advance their education.
Q&A with Catherine Rodriguez, Class of 2023
Catherine Rodriguez is a veteran day student at The Citadel pursuing a degree in Business Administration with a minor in Fine Arts. After graduation, Rodriguez would like to own and operate her own art business. She volunteers for Greyhound Pets of America and, since Dec. 2018, has fostered 18 greyhounds.
What was your time in the military like, and why did you want to join?
After four years, I got out of the Army as an E5, so a sergeant. There are definitely a lot of hurdles that I faced while I was in the Army. But I grew so much as a person. I wouldn't be the person I am today, if it wasn't for my time in the Army. I became a more empathetic and stronger leader and better woman because of it. Even when I was working with terrible leaders — it's the terrible leadership that you learn the most from because you understand how it feels to have to deal with somebody like that at work.
My dad and older sister were in the Air Force. I wanted to be like my older sister and I thought being a service member was the most admirable thing that you could do. I just wanted to be a part of it. I loved the idea of being able to be a part of something bigger than myself and being able to have an impact on so many people and be able to do so many things that I couldn't just do as an individual person.
Did you come to The Citadel immediately after retiring, or do something else in between?
When I got out, I moved here in 2018. I didn't feel ready to be around a military environment at the time, so I started at the College of Charleston in fall 2018. I also just started going through a separation from my husband. I don't know what made me finally decide I wanted to do something different. I think that it felt like a lot of things were out of control. I thought it was going to be better if I went to The Citadel.
When I first got here, it was the fall of 2019. Then the divorce was so difficult. I don't have any family here, so I was kind of by myself. And I didn't want to let my GPA suffer, so I withdrew from all of my courses except for a painting class. I didn't come back until spring of this year. I took a year off, just because I wanted everything to be settled down with the divorce.
I felt really bad about withdrawing. I felt dumb for withdrawing, but I ended up making dean's list last semester. Now, when things get crazy, I try to keep in the back of my head that things will get better, things are temporary.
What experiences from your military service have prepared you to be a better student and/or citizen? (Or, to phrase it another way, how did the military make you better?)
Honestly, I faced a lot of challenges. And I really learned that, when bad things happen, they're going to happen to you whether you're a good or a bad person. It's not like life picks and chooses — you could be the best person and things will still happen to you. So I really adopted this perspective that things just happen and it doesn't make me a good person or a bad person. I've learned to not feel like bad things happen to me because I deserved them to happen to me.
I learned to appreciate things in my life. That's probably been the biggest thing that I've gotten from my time in the Army. I think empathy is just so important to make connections with people. I think that's what helps people. I don't know that it's going to fix a lot of the world's problems, but I think if people were more empathetic, things would be better. I've tried to take all of those experiences that I've had in and tried to be a more empathetic person. I've tried to take the way that I was a leader in the military and now I'm trying to apply it and take these not-so-great situations and mishaps that I've seen and make something better out of it.
Are there any advantages to being a veteran at The Citadel?
It's nice to be able to have this group of veterans that you can see in the class. It's something that makes it easier to talk to people. You can always ask 'Oh, what branch were you in?'
I think that the teachers are really understanding and really wonderful. And they know that I'm not an 18 year old who's living in the dorms, I have a mortgage I pay and all these responsibilities and other things going on in my life.
Do you ever get to interact with cadets on campus? If so, what are those interactions like?
It's nice when we talk to them and they're really interested. It's cool to be able to talk to people that really, really genuinely care and are excited to hear about what you have to say.
What's your favorite thing about The Citadel as a whole?
I just feel like it's just been such a better college experience at The Citadel than it would be at like any other university. And as veterans it's nice to have a small, special group on campus.
I think I'm just having an overall more positive experience. The Citadel is the biggest thing keeping me in South Carolina. I mean, I really could go anywhere for school, but because of the college's history and reputation, I really want to graduate from here. I can't think of a school that I would want to swap The Citadel with.
Veterans interested in attending The Citadel can find information about programs and opportunities here. Additionally, information about benefits for veterans can be found here.