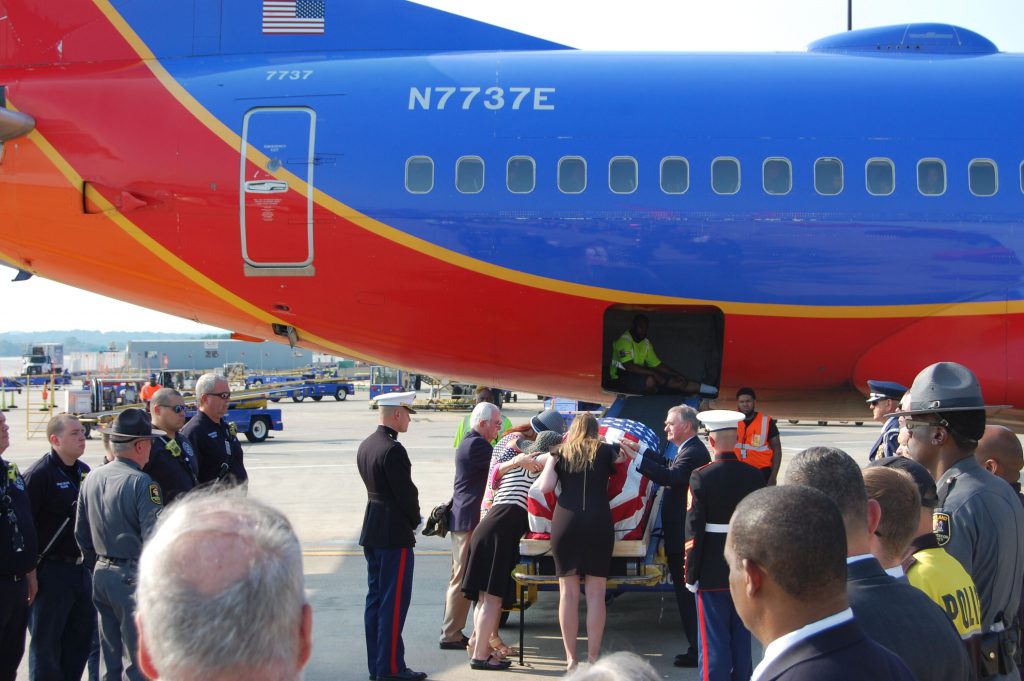 By Cpl. Edward Bartlinski, The Citadel Class of 2008, PIO, Maryland Transportation Authority Police
I was deeply saddened when I learned of the passing of 1st Lt. Hugh C. McDowell from the Washington, D.C. area after he was injured when a light armored vehicle overturned at Camp Pendleton, California. He was 24 years old.
Lt. McDowell had been in the Marine Corps since May 5, 2017 after graduating from The Citadel where he accepted a commission as a Second Lieutenant. His lifelong dream was to become a Marine. After commissioning, he attended the Basic Officer Course, Infantry Officer Course and the Light Armored Reconnaissance Leader's Course.
Lt. McDowell was assigned to the 1st Light Armored Reconnaissance Battalion, 1st Marine Division, where he was a platoon commander. While training, an accident occurred when the light armored vehicle rolled over injuring 6 other Marines and resulting in the death of Lt. McDowell, who was from Chevy Chase, Maryland.
To welcome Lt. McDowell home on the airfield were his parents, fiancé and her mother. Joining them were members of the Maryland Transportation Authority Police, BWI Airport Fire Department, family and alumni from The Citadel. Lt. McDowell will be buried at Arlington National Cemetery with full military honors.
This slideshow requires JavaScript.
As a member of the law enforcement community I think it is very important to show our gratitude to the members of our armed forces, who, like Lt. McDowell, make the ultimate sacrifice. I am honored to work for a law enforcement agency that truly values the sacrifices made by our men and women in the military.
I am an officer with the Maryland Transportation Authority (MDTA) Police. We are responsible for law enforcement at the MDTA's highways, tunnels and bridges; the Baltimore/Washington International Thurgood Marshall Airport and the Port of Baltimore. The MDTA Police is nationally accredited and is the seventh-largest law enforcement agency in the state with more than 600 sworn and civilian professionals.
MDTA Police officers conduct a planeside "Dignity Transfer" ceremony for all fallen members of the armed forces that arrive at BWI Airport and Lt. McDowell will be no different. We coordinate with the fire department to provide a water cannon salute, with the airlines to ensure the family can be present, with the TSA Honor Guard and with K9 units to be in attendance to show our appreciation for their sacrifice. We cater to the family's needs and wishes to maintain the dignity of the fallen.
This Dignity Transfer held special meaning for me as a member of The Citadel Class of 2008, who was in Alpha Company, like Lt. McDowell was when he was a cadet on campus in Charleston, South Carolina. It was an honor to be a part of his ceremony.
Cpl. Edward Bartlinksi, '08
Police Public Information Act Coordinator
Maryland Transportation Authority Police