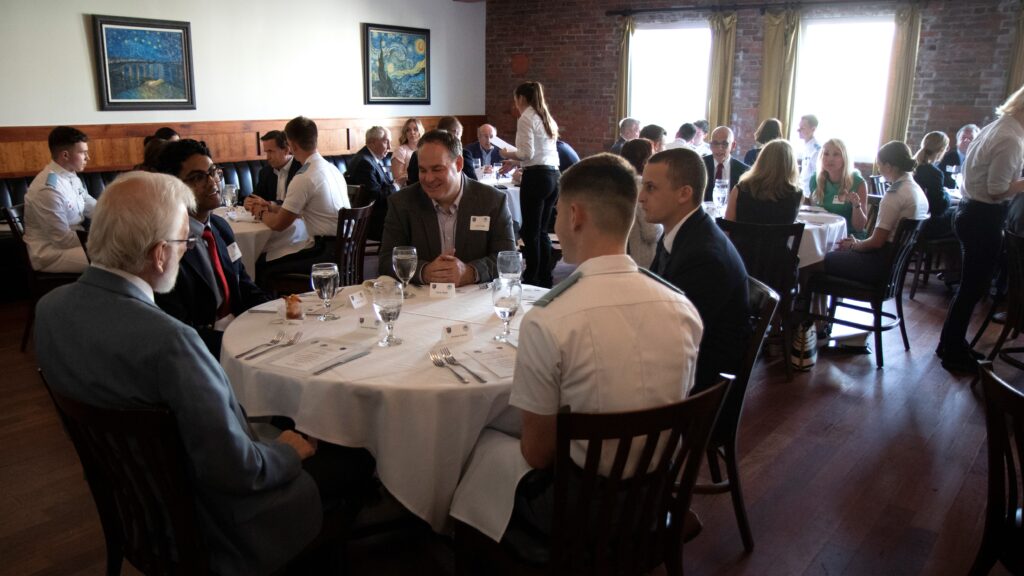 Photo: Members and supporters of The Citadel's Distinguished Scholars Program during the spring banquet dinner at Stars Restaurant in downtown Charleston (Courtesy: Citadel English professor Tom Thompson, Ph.D.)
By Ashlyn Howard, '24
The sound of silverware ringing against fine china could be heard around the room, as guests murmured in one of the adjoining dining spaces in Stars Restaurant. Citadel alumni, professors, mentors and the provost gathered at the King Street restaurant to honor 30 of The Citadel's top cadets and students, all members of the Distinguished Scholars Program who were selected for their academic achievement and ambition to better the world around them. The spring banquet dinner is an important aspect of the Distinguished Scholars Program, or DSP, as it offers cadets and students the opportunity to reflect and celebrate their achievements over the past semesters.
The DSP was created to enhance the scholars' educational experiences and provide them with the tools necessary for postgraduate endeavors. It was established in 2018 by Earl Walker, Ph.D., founding dean and professor emeritus at The Citadel's Tommy and Victoria Baker School of Business. Now, with supervision by the provost, Don Sparks, Ph.D., director and emeritus professor of International Economics, and Lauren Rule Maxwell, Ph.D., associate director and professor of English, administer the program with the help of Kathy Millard.
"Being part of the DSP has been one of the best decisions of my life. It was incredibly difficult and challenging, but it has given me the confidence to pursue postgraduate opportunities that I never would have thought possible," said Cadet Elissa Reckdenwald, a senior who serves as the Sierra Company commander. "I'm going to Cambridge next year, and I would have never imagined doing that in my entire life, but because of Dr. Walker and all of the faculty involved in this program, I am now on the way to pursuing my dreams."
Those in the program take five courses that were designed to empower the cadets and students. The first courses, "Honors British Homefront" and "Honors Advanced Writing," provides a better understanding of historical context and a chance to refine writing skills.
Following those classes, scholars take "Preparing for the Future: Learning from Distinguished Leaders," which readies them for fellowship or graduate school applications. The "Distinguished Scholars Project" class is taken in the final semester, where cadets and students share a project of their own, that positively impacts the world, with experts in their field.
Over the summer and winter breaks, the scholars are encouraged to engage in an international enrichment service project. Cadet Austin Curtsinger, a senior serving on 5th Battalion staff, had a desire to travel during his college experience, yet faced challenges during COVID.
"The Distinguished Scholars Program was the only way I was able to study abroad. I was able to get money to go to Spain and it funded my entire trip. It was honestly the best experience of my life to visit another continent I have never been to before, and it was only possible because of this program," said Curtsinger.
Sophomore Cadet Jillian Aylsworth, a corporal in Alpha Company, will also be traveling this summer, using funding through the DSP and the Star of the West scholarship.
"I am going to Kenya, and the reason I am going is because of the wonderful people in the Distinguished Scholars Program: Dr. Sparks, Dr. Maxwell and my other classmates," said Aylsworth.
Scholars are also able to use the program's funds to assist with internships over the summer. Cadet Rohan Shah, a junior, said, "The DSP helped me get two internships in the summer and meet a lot of great connections and people."
During their sophomore year, the scholars are paired with a mentor, who provides professional guidance and helps them explore opportunities to learn and grow.
Curtsinger elaborated, "Everybody in the DSP gets assigned a mentor. And that mentor meets with you regularly and they check up on you about your plans and what you're doing as far as graduate school goes. You just have a candid conversation about their experiences and they try to guide you on the right path."
Sophomore Cadet Gage Timberlake said, "The DSP has brought me into a community of equally motivated individuals who seek intellectual challenges, and it is really beneficial to be around those who want to push themselves as much as you want to push yourself."
Any rising sophomores interested in applying for the 2026 Cohort should fill out the DSP application at this link. Candidates will be selected for an interview process in October, and the new cohort will be announced shortly after.
Ashlyn Howard is an intern in the Office of Communications and Marketing pursuing a bachelor's degree in Marketing and Business Development with a minor in English. She is a Distinguished Scholar and a veteran day student, also serving as a paralegal in the Army Reserve.